The hottest baby names of the year
Nameberry.com releases its midyear list
By Pamela Redmond Satran
The hot baby names making the most dramatic leaps up the popularity list at Nameberry so far this year include names inspired by a beloved literary character, a historic president and a new pope; the name of a cuddly animal; and a term for a laid-back attitude.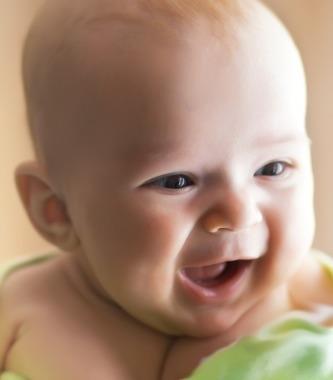 Our 2013 hot baby names list is made up of those names whose views on Nameberry for the first half of this year show the largest gains over views during the same period in 2012.
While our hot list includes a couple of traditional girls' names – Francine and Margo in all her spellings – along with one choice, the Irish Declan, that is decidedly a boy's name, most of the hottest names today can work for either gender.
Until recently, most have not been used as first names.  Sometimes it's a celebrity, such as funny girl Rebel Wilson, who brings a new name to the fore. Celebrity babies or pop-culture influences can also introduce new names to the lexicon. 
More from MSN: 11 ridiculous celebrity baby names
But mostly, what makes a name hot is some combination of factors that catches fire in the moment.
Our hottest baby names for the first half of 2013 are:
Azariah – There are 23 figures named Azariah – pronounced a-za-RYE-a or a-za-REE-a – in the Bible and Jewish history, including a king, the grandfather of Ezra and a guardian angel. While traditionally male, the name has ranked in the past few years at the bottom of the Top 1,000 for girls only, with both the Azariah and Azaria spellings. Interest in the ancient Hebrew name is up 120 percent on Nameberry.
Bear – Compared with Wolf, say, or Robin, Bear may seem an unlikely animal name to find popularity for babies, but views of Bear are up nearly 100 percent on Nameberry this year versus last. Influences include the Discover Channel's Bear Grylls, football coach Bear Bryant and celebrity babies Bear Blu, son of Alicia Silverstone, and Buddy Bear, son of Jamie Oliver.

Declan – The hottest boy's name on our site. Views of Declan are up nearly 600 percent over last year. A saint's name that may mean "man of prayer," Declan is popular in Ireland and No. 143 in the U.S., amazing for a name that debuted on the Top 1,000 only in 1998. It gained visibility as the real first name of Elvis Costello and more recently as the name of one of the lead characters on television's "Revenge."
Ellison – Is Ellison the new Allison? Views of the surname-name, a patronymic that means son of Ellis, are up more than 100 percent on Nameberry the first half of this year versus last.  Interest in the name is highest for girls, with Ellie the stylish, accessible short form, while for boys Ellison might honor Oracle founder Larry Ellison, a notable collector of Asian art.
More from MSN: Worst baby names of 2012
Emrys – Another name for the wizard Merlin, Emrys – pronounced em-riss – is a Welsh boy's name attracting nearly 120 percent more interest this year over last.   But while it is traditionally male, some American parents may judge the sound of the name appropriate for girls, a fresh entry to the popular Emma and Emily family.
Francine – Why is interest in the name Francine up nearly 650 percent this year over last? Is it the relationship to Francis, the singular name chosen by the new pope? Or is the world just ready for the return of this Frenchified name, off the grid since 1987? Or maybe everyone just loves Francine, gal pal of the cartoon Arthur, another up-and-coming former old-person name.
Huck – With the name Finn a bona fide hit, can Huckleberry be far behind? Well, yes – in its full form, Huckleberry is slightly ridiculous, but Huck is cute, irreverent, a modern-day Hank or Chuck. Views of Huck are up 124 percent.
Irie – Irie is the Jamaican term for perfect peace and contentment, a sentiment that was turned into a female name in Zadie Smith's novel "White Teeth." Irie, which bears a resemblance to both Iris and Irene, is up nearly 400 percent in the first half of 2013.
Larkin – This Irish surname name, which means rough or fierce, ranked in the Top 1,000 for boys from 1880 until 1909, then fell off the official scope more than a century ago. But now interest in Larkin, which has a surname feel and relates to birds, is up 117 percent. In 2012, it was given to 55 girls and 20 boys, proving its unisex appeal.
Lincoln – Barack Obama may have won re-election in 2012, but Lincoln was arguably the president of the year, the subject of an Oscar-winning film and renewed appreciation. Baby namers have leapt on the Lincoln bandwagon, with views up more than 100 percent for the first half of 2013, some undoubtedly inspired by actress Kristen Bell's choice of Lincoln for her baby daughter.
Margo, Margot and Margaux – If there's a single baby name on this list that we'd bet would continue to warm toward wider popularity as opposed to blazing brightly only to flame out, it's Margo in all her variations. We have met a handful of stylish babies named Margo and see it as a quirky classic that feels new without being flashy. After peaking in the 1940s, Margo and sisters dropped from sight in 1989. Views of all forms of the name are up more than 100 percent for 2013 over 2012, partially inspired by the feisty character in "Despicable Me."
Milan – Italian city name Milan, well-used as a first name throughout Europe for boys though given more often to girls in the U.S., is up nearly 150 percent for the first half of this year. That's partly thanks to its choice for her son by singer Shakira and partly because of its relationship to other stylish Mil names: Mila, Milena, Milo and Miles, for instance.
Nara – Nara is a Japanese place name as well as the surname of well-known artist Yoshitomo Nara. Nara is also a Celtic name that means happy and is attracting 168 percent more views for the first half of the year thanks to its same-but-different feel: It's like popular names Sara and Mara, but still feels new.
More from MSN: What NOT to name your baby
Oakley – This fresh entry to the boys' Top 1,000 after an absence of nearly 100 years can also work for girls. A surname-name that means oak wood or clearing, Oakley can be shortened to the sturdy boyish nickname Oak but also carries the feminine –ley suffix and relates to heroine Annie Oakley. This new nature name winner attracted 150 percent more views in 2013.
Rebel – Rebel as a baby name has taken off in the past few years with the notoriety of Australian funny woman Rebel Wilson and the general taste for bad-boy and -girl baby names such as Maverick and Wilder. Views of Rebel on Nameberry are 335 percent higher this year over last.
Sacha – The Sacha spelling of this diminutive of Alexander is directly connected to "Borat" creator Sacha Baron Cohen, whose name has attracted 400 percent more views in the first half of this year over last. The Sacha spelling definitely makes the name more masculine, with an equal number of girl and boy babies – 16 each – named Sacha in the U.S. in 2012. By contrast the Sasha spelling used by the first daughter was given to 687 girls versus only 26 boys.
More: Check out our new mommy blogs at Mom to Mom
News, stories, tips and laughs for moms & dads
Do you have the right mix of moms surrounding you?

It's hard to keep young kids entertained while being confined indoors, but fear not, for we have some fun ideas to keep the entire family from climbing the walls during rainy days.

Back in our day, ending up with the same exact backpack as your BFF was a legitimate back-to-school concern. Nowadays? There are so many options, it's dizzying!

It is a parent's eternal dilemma: What do I make the kids for lunch today? And tomorrow? And next week? We fall into ruts, succumb to the tried-and-true, give in to our children's demands for junk food. No more! These school lunch ideas—for everything from sandwiches to snacks to hot meals—will freshen up your daily routine, so much so you may be tempted to make them for yourself.

Whether your kids have recently gone back to school or are preparing to go shortly, it's never too late to start thinking about how we can make this year successful and low-stress, both for our kids and ourselves. With that, here are 6 things parents might want to stop doing this year in order to make it the best one yet...for all of you!

Some families spend their after-dinner time playing card games, watching television, or prepping for the next day. And that is fine and dandy, but be sure to incorporate some new, fun games and activities into your evenings to keep it fresh and exciting during the school year.

Head back to school in style with these fashionable, affordable picks

Helpful tips for easing first day jitters.

Get savvy tips for saving cash on your children's school supplies

There's the list of supplies the school sends you; then there's what your kid really needs. Here's how to get off to a smart start and keep things organized all year.

After a long, fun, and relaxing summer, the thought of going back to school is a harsh one. It's only been three months since you walked the halls of your school, but it might as well have been an eternity because your brain pretty much remembers nothing. From getting lost trying to find your class in Hallway C to trying to figure out which table to eat at for lunch, here are just some of the many first day struggles we've all been through.

It's time to start rifling through bins of composition notebooks, glue sticks and highlighter pens. Your kids are heading back to school! We've rounded up 10 relatively easy DIY ideas from Pinterest to satisfy any crafty (or wannabe) parent. Send your kids off with one of these cute concepts that are sure to deliver lots of 'likes' on your Facebook page.