Top baby name trends for 2013
Will we be deluged with a bunch of Baby Christian Greys?
With the recently released list of top baby names of 2012, we got to thinking ahead for the year to come. What's in store for us in 2013? Will there be an onslaught of Baby Katnisses, or perhaps Baby Biebers? We turned to the experts at Nameberry.com, who put together their best predictions for the coming year. Here's what they're guessing will be the big name-themes for 2013:
1. Biggest Big Picture Trend: Ancient Names
Movies like The Hunger Games have thrown to-be parents into naming frenzies with old-world gods/goddess-inspire​d monikers. Names like August, Maeve, Persephone, and yes, even Thor, are expected to be popularized next year.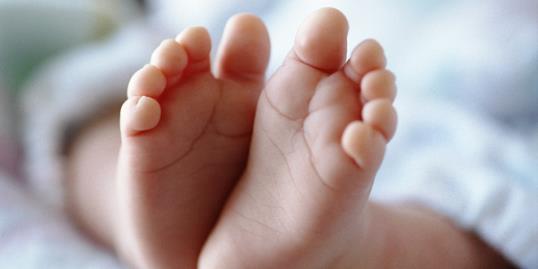 More on MSN Living: 10 ways your cat shows you love
2. Most Surprising Name Inspiration: Superstorm Sandy
No, people aren't likely to name their babies after horrible forces of mass destruction. That said, history shows that due to the repetition of the word 'Sandy,' we are more likely to use 'S' names and those with similar sounds, such as Sand, Sam, Alessandra, and even Storm.
3.  Trend Most Likely to Cross the Ocean: Lionine Names
Names like Leo and Leon are popular in Europe and are expected to become more so, here in the US. Leopold or Leona, anyone?
4. Coolest Middle Name Trend: Non-name Names
The idea of using a word as a middle name, as opposed to an actual name, is a concept revered by celebs, who've given their babies middle names like Ballerina and Bear. We just hope nobody else goes with 'Hashtag,' like this couple. Please, just...please, no.
More on MSN Living: Most popular kitten and puppy names
5. Hottest Trend Inspired by a Celebrity: Meaningful Place Names
Reese Witherspoon and her hubby went with 'Tennessee' for their baby boy - the birthplace of Reese's mother - which we love. Then there's Paris Jackson, or Chris Hemsworth's daughter, India. Wonder if anyone will go with Baby Saskatchewan?
6. Newest Retro Trend: Midcentury Nicknames
The popularity of Mad Men has driven an increase in 'grandma/grandpa' type retro names, like Hank and Hal. We sort of love Baby Minnie, ourselves.
7. Ethnic Name Group Most Likely to Rise: Scandinavian
Could the popular Siri, of iPhone fame, have inspired a rise in Scandinavian options for the coming year? It's possible, say the folks at Nameberry. They also suggest others such as Kai (a favorite of any Lego Ninjago fan), Astrid, Magnus and Axel.
More on MSN Living: Hot trends in baby products
8. Name Trend That's Jumped the Shark: Double L Names
Names that have a double-L sound, such as Lily, Lila and Lola may indeed be passé for 2013. We won't be too upset if baby Lollipop doesn't trend.
9. Freshest Botanical Names: Wildflowers
Out with Rose, in with Poppy. We love the trend toward fresh wildflower names, also including Clover and Thistle. Just steer clear of Baby Ragweed, expectant parents, and we'll all be ok.
10. Coolest Direction in Naming: North
Seasonal names are big, especially those with a cooler edge, like Winter, Snow, and Frost, particularly as middle names.
For more trends in baby names, check out the Nameberry piece here.
What are YOUR favorite baby names? Share on our Facebook wall
Bing: Weirdest baby names
More on MSN Living:
The reality of being a working mom
The secret life of a stay-at-home mom
10 hot trends in baby products
Are you sure you want to delete this comment?
News, stories, tips and laughs for moms & dads
Protect yourself and your family with these ingenious gizmos and smartphone apps.

Make sure your go-to gadgets are as cute as your style, with these trendy tech finds!

Oh, how the times have changed...

Get ready to hit the mall! Check out the hottest back-to-school trends—and get ready to make a major style statement this year.

Unique, or downright strange?

This is Kevin Droniak and his grandma. They're besties, they're awesome and they're YouTube stars.

It can be difficult to entice little ones to eat anything at all, let alone to devour a healthy plate. But feeding your kids nutritious snacks after school just got way easier, thanks to these adorably clever and cute snack ideas! For more smart and fun ways to get your kids to enjoy healthful and delicious foods, try one of these amazingly artsy lunch ideas.

Through a tonsillectomy all the way to brain surgery, my mother deserves some recognition. She's my spine, my birthday shadow, my BFF, my thunder buddy, so Mommy, thank you.

My son needs me, as much as yours needs you. Sadly, my son needs me more. He needs someone to have his back, when it seems that the police, the men he'd wave to with excitement as a little boy, see him as a being worthy only of prison or death.

If you know someone who has adopted and have made some of these comments, don't fret... now you know!

"Because you shine from within," I said, touching my finger to her heart. "Not everybody sees it, but I do. I see it. And my job is to protect that light. So when people say mean comments that squelch that light, I want you to tell me. I will protect your light by listening and loving you, my brave, courageous, and unique little firefly."

Studies have shown that it helps, top education officials have recommended it, and now doctors are officially saying the same.