Top baby name trends for 2013
Will we be deluged with a bunch of Baby Christian Greys?
With the recently released list of top baby names of 2012, we got to thinking ahead for the year to come. What's in store for us in 2013? Will there be an onslaught of Baby Katnisses, or perhaps Baby Biebers? We turned to the experts at Nameberry.com, who put together their best predictions for the coming year. Here's what they're guessing will be the big name-themes for 2013:
1. Biggest Big Picture Trend: Ancient Names
Movies like The Hunger Games have thrown to-be parents into naming frenzies with old-world gods/goddess-inspire​d monikers. Names like August, Maeve, Persephone, and yes, even Thor, are expected to be popularized next year.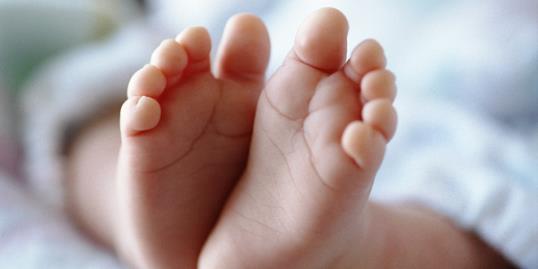 More on MSN Living: 10 ways your cat shows you love
2. Most Surprising Name Inspiration: Superstorm Sandy
No, people aren't likely to name their babies after horrible forces of mass destruction. That said, history shows that due to the repetition of the word 'Sandy,' we are more likely to use 'S' names and those with similar sounds, such as Sand, Sam, Alessandra, and even Storm.
3.  Trend Most Likely to Cross the Ocean: Lionine Names
Names like Leo and Leon are popular in Europe and are expected to become more so, here in the US. Leopold or Leona, anyone?
4. Coolest Middle Name Trend: Non-name Names
The idea of using a word as a middle name, as opposed to an actual name, is a concept revered by celebs, who've given their babies middle names like Ballerina and Bear. We just hope nobody else goes with 'Hashtag,' like this couple. Please, just...please, no.
More on MSN Living: Most popular kitten and puppy names
5. Hottest Trend Inspired by a Celebrity: Meaningful Place Names
Reese Witherspoon and her hubby went with 'Tennessee' for their baby boy - the birthplace of Reese's mother - which we love. Then there's Paris Jackson, or Chris Hemsworth's daughter, India. Wonder if anyone will go with Baby Saskatchewan?
6. Newest Retro Trend: Midcentury Nicknames
The popularity of Mad Men has driven an increase in 'grandma/grandpa' type retro names, like Hank and Hal. We sort of love Baby Minnie, ourselves.
7. Ethnic Name Group Most Likely to Rise: Scandinavian
Could the popular Siri, of iPhone fame, have inspired a rise in Scandinavian options for the coming year? It's possible, say the folks at Nameberry. They also suggest others such as Kai (a favorite of any Lego Ninjago fan), Astrid, Magnus and Axel.
More on MSN Living: Hot trends in baby products
8. Name Trend That's Jumped the Shark: Double L Names
Names that have a double-L sound, such as Lily, Lila and Lola may indeed be passé for 2013. We won't be too upset if baby Lollipop doesn't trend.
9. Freshest Botanical Names: Wildflowers
Out with Rose, in with Poppy. We love the trend toward fresh wildflower names, also including Clover and Thistle. Just steer clear of Baby Ragweed, expectant parents, and we'll all be ok.
10. Coolest Direction in Naming: North
Seasonal names are big, especially those with a cooler edge, like Winter, Snow, and Frost, particularly as middle names.
For more trends in baby names, check out the Nameberry piece here.
What are YOUR favorite baby names? Share on our Facebook wall
Bing: Weirdest baby names
More on MSN Living:
The reality of being a working mom
The secret life of a stay-at-home mom
10 hot trends in baby products
Are you sure you want to delete this comment?
News, stories, tips and laughs for moms & dads
Watch the video of Kristen Bell going head to head with paparazzi - it will make you angry

Every year, toy makers from around the world gather to show their latest creations at the Toy Fair in New York City. The high-tech models, gadgets and trinkets on display put those basic Legos we played with at kids to shame. Here are 10 new toys that we'd happily buy or children. Or, really, ourselves.

Find yourself wandering the aisles, suddenly needing an owl-shaped candle while drinking a $5 latte? You're not alone, moms...

Here's some parenting advice for whatever stage of separation or divorce you're in.

Whether you pop it in the mail or post it on social media, a creative photo is a surefire way to grab everyone's attention and proudly say, "I'm pregnant!" Prepare for a lot of likes.

Remember the magical children's rooms in Peter Pan and The Little Prince? These timeless novels described spaces that were enchanting and made us wish that we could inhabit the rooms ourselves. The sumptuous interiors that were filled with never-ending toys and fort-like draping may seem like a fairytale, but thanks to four of our favorite kids' furniture websites, the dream could actually become a reality. Click through the slideshow to check out the best kids furniture websites that have everything necessary to create a fantasy room for your little one. And check out Sophia Demenge's super-fun space in the video below. By Barry Samaha

They lay, they play, and they take selfies with supermodels. Meet 5 of the most social media-savvy pets—animals taking control of their own fashionable online image.

We could try to offer you carefully researched and crafted words of Dad-centric inspiration, intended to show you the path to being a better man and, in turn, a better father. But Tom Limbert took up the task for us in his new book 'Dad's Playbook: Wisdom for Fathers from the Greatest Coaches of All Time,' so we left it to him. Limbert -- a parent coach and the founder of the Studio Grow children's play space in Berkeley, California -- has collected pearls of wisdom from an elite crew of coaches who have not only experienced greatness themselves, but also found ways to consistently instill it in their teams. "It's monkey-see, monkey-do," Limbert told us, after we asked him to gather the best quotes on achieving one's goals. "If you want your child to follow, you have to lead." Click on to read the often simple-seeming words that have inspired countless others to follow through on the field, but that can also easily be translated to the school, work, fitness, and, of course, parenting arenas.

What parents need to know

It's raining, it's pouring ... but that doesn't mean the day has to be a snore. Rather than let the kids grow restless and rambunctious, why not divert their energy toward some fun family bonding activities? Although the weather may have scotched your original plans for the day, seize the opportunity to reconnect and let loose with your loved ones. Click through this slideshow for ten refreshing rainy day activities that'll make you glad the clouds (almost) rained on your parade.

Every family has its oddballs. And the holiday season is the one time of year when you're pretty much forced to interact and play nice with the grand majority of them. Click through the slideshow above for our guide to dealing with the five worst kinds of kin. *Disclaimer: All characters appearing in this work are fictitious. Any resemblance to real persons, living or dead, is purely coincidental.

Not great with a budget? Don't sweat it. Try these simple ways to save.