Are college students losing their religion?
Secular groups on college campuses are proliferating; in the past few years, the number of campus atheists and agnostics has increased more than threefold.
As the stigma of atheism weakens, secular groups on college campuses are on the rise reports Religious Dispatches.
In 2007, 80 campus groups were affiliated with the national Secular Student Alliance (SSA), an educational nonprofit that works to organize and empower nonreligious students around the country.
Today, there are 394 SSA student groups on campuses across the country.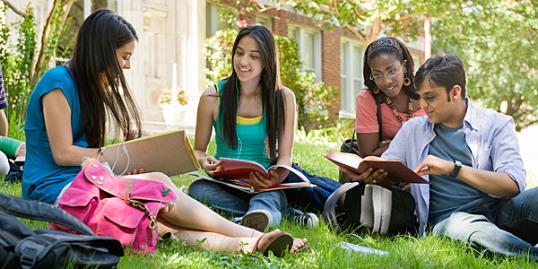 More from MSN Living: How dogs make our lives better
"We have been seeing rapid growth in the past couple of years, and it shows no sign of slowing down," Jesse Galef, communications director at SSA was quoted.
According to a study "Religion in the Millennial Generation," which drew primarily on data from the 2008 Pew Religious Landscape Survey, a greater percentage of 18- to 29-year-olds today than young adults in earlier generations say they have no religious affiliation (percent unaffiliated, by generation).
But maybe secular groups like SSA aren't so different than their faith-based counterparts. At least when it comes to categorizing on-campus student groups.
"There are a lot of parallels with religious groups on campus," Ron Sanders, missional team leader for Campus Crusade For Christ (recently renamed Cru) at Stanford University, told Religious Dispatches.
More from MSN Living: 15 amazing, inspiring baby nurseries
"They have weekly meetings similar to ours, and give one another support, and they do social justice projects on campus and in the communities... I don't know that they aren't a faith group," Sanders was quoted.
Bing: Young adults leaving the church statistics
Despite the growth of secular groups on campus, not all young adults are leaving God behind.
More than three-quarters of young adults taking part in the National Study of Youth and Religion recognize a belief in God. But almost 7 percent fewer believe in God as young adults (ages 18 to 23) than did as teenagers, according to the study, which is tracking the same group of young people as they mature.
What young adults are less likely to believe in is religion. The number of those who describe themselves as "not religious" nearly doubled, to 27 percent, in young adulthood.
Read the rest of the story here.
Why do you think college students are less religious than prior generations?
More from Family Room:
Teen mom denied right to breast feed
Toddler death raises concern over car seat rules
Violent video games and child aggression
Love content like this? Friend us on Facebook, follow us on Twitter and find us on Pinterest.
Readers: Calling all mom bloggers – we're looking for fresh voices on MSN Living. Email us your samples and contact info!
Photo: More secular groups forming in colleges / Yellow Dog Productions/Getty Images
News, stories, tips and laughs for moms & dads
Make sure your go-to gadgets are as cute as your style, with these trendy tech finds!

Oh, how the times have changed...

Get ready to hit the mall! Check out the hottest back-to-school trends—and get ready to make a major style statement this year.

Unique, or downright strange?

This is Kevin Droniak and his grandma. They're besties, they're awesome and they're YouTube stars.

It can be difficult to entice little ones to eat anything at all, let alone to devour a healthy plate. But feeding your kids nutritious snacks after school just got way easier, thanks to these adorably clever and cute snack ideas! For more smart and fun ways to get your kids to enjoy healthful and delicious foods, try one of these amazingly artsy lunch ideas.

Through a tonsillectomy all the way to brain surgery, my mother deserves some recognition. She's my spine, my birthday shadow, my BFF, my thunder buddy, so Mommy, thank you.

My son needs me, as much as yours needs you. Sadly, my son needs me more. He needs someone to have his back, when it seems that the police, the men he'd wave to with excitement as a little boy, see him as a being worthy only of prison or death.

If you know someone who has adopted and have made some of these comments, don't fret... now you know!

"Because you shine from within," I said, touching my finger to her heart. "Not everybody sees it, but I do. I see it. And my job is to protect that light. So when people say mean comments that squelch that light, I want you to tell me. I will protect your light by listening and loving you, my brave, courageous, and unique little firefly."

Studies have shown that it helps, top education officials have recommended it, and now doctors are officially saying the same.

I may have accidentally dropped you a few times, forgotten to document your first fart, let a little pee fly and dressed you like an idiot, but I have also loved you with every piece of me, and you will never hear an apology for that.