Are college students losing their religion?
Secular groups on college campuses are proliferating; in the past few years, the number of campus atheists and agnostics has increased more than threefold.
As the stigma of atheism weakens, secular groups on college campuses are on the rise reports Religious Dispatches.
In 2007, 80 campus groups were affiliated with the national Secular Student Alliance (SSA), an educational nonprofit that works to organize and empower nonreligious students around the country.
Today, there are 394 SSA student groups on campuses across the country.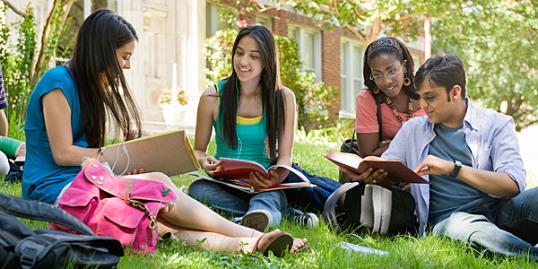 More from MSN Living: How dogs make our lives better
"We have been seeing rapid growth in the past couple of years, and it shows no sign of slowing down," Jesse Galef, communications director at SSA was quoted.
According to a study "Religion in the Millennial Generation," which drew primarily on data from the 2008 Pew Religious Landscape Survey, a greater percentage of 18- to 29-year-olds today than young adults in earlier generations say they have no religious affiliation (percent unaffiliated, by generation).
But maybe secular groups like SSA aren't so different than their faith-based counterparts. At least when it comes to categorizing on-campus student groups.
"There are a lot of parallels with religious groups on campus," Ron Sanders, missional team leader for Campus Crusade For Christ (recently renamed Cru) at Stanford University, told Religious Dispatches.
More from MSN Living: 15 amazing, inspiring baby nurseries
"They have weekly meetings similar to ours, and give one another support, and they do social justice projects on campus and in the communities... I don't know that they aren't a faith group," Sanders was quoted.
Bing: Young adults leaving the church statistics
Despite the growth of secular groups on campus, not all young adults are leaving God behind.
More than three-quarters of young adults taking part in the National Study of Youth and Religion recognize a belief in God. But almost 7 percent fewer believe in God as young adults (ages 18 to 23) than did as teenagers, according to the study, which is tracking the same group of young people as they mature.
What young adults are less likely to believe in is religion. The number of those who describe themselves as "not religious" nearly doubled, to 27 percent, in young adulthood.
Read the rest of the story here.
Why do you think college students are less religious than prior generations?
More from Family Room:
Teen mom denied right to breast feed
Toddler death raises concern over car seat rules
Violent video games and child aggression
Love content like this? Friend us on Facebook, follow us on Twitter and find us on Pinterest.
Readers: Calling all mom bloggers – we're looking for fresh voices on MSN Living. Email us your samples and contact info!
Photo: More secular groups forming in colleges / Yellow Dog Productions/Getty Images
News, stories, tips and laughs for moms & dads
Any of these sound familiar?

4 steps for raising a child who doesn't feel emotionally stranded.

You just had a baby? You're a superstar! All those diapers, all that spit up, and you're makin' magic happen. But you're also likely tired - really tired - and busy (so, so busy). Taking time for yourself might seem like an indulgence but a happy mom makes for a happy baby. Here are 7 things you should definitely do to keep your sanity intact and your spirit high. <more, below>

Summertime is on, and the kids are out of school. Every mom knows that for these three months it's more important than ever to keep the kids busy. But you don't have to schedule your life away with camps, or drop a bundle on activities and games that come in a box. You can make your own fun, and even include the kids in the prep, with some simple, inexpensive DIY crafts that will keep them playing 'til the lightening bugs come out. Make your own fingerpaint, bubbles, and crayons. Create a fort-building kit and superhero capes that will kick their imaginations into overdrive. Here are 10 of our favorite kid-friendly DIY crafts to fuel your summertime fun.

Let these DIY dog bed projects be your inspiration and within a single weekend, you can construct something that really makes Rex feel like a king.

The task of finding an eco-friendly, safe-for-baby gift parents-to-be will actually use is kind of challenging. Add to that a price limit of $50, and the feat suddenly feels impossible! Fortunately, we combed the marketplace for some of the prettiest, most useful, sweetest gifts for baby and family. Many are fine on their own, while others would work well as part of a bigger basket — you know, if you wish to achieve that shower-goer hero status.

Jennifer Goodall gave birth Friday after much drama

My kids snapped a pic of me on my phone and it changed how I see myself

6-year-old has rare brain condition

He wanted to know if woman was pregnant

Did your state make the grade?

Remember the concept of weekends being a time for rest, relaxation, and togetherness? No? Us either. Between soccer games, playdates, dragging your kids to see the new exhibition at the local children's museum, and we need to pick up a gift for that birthday party that starts in . . . 20 minutes, juggling a busy family's weekend schedule can be more stressful than a weekday. While we know it's simply not realistic to cancel all your plans and obligations moving forward, clearing the calendar for just one weekend can be just the refresher that your family's craving. Here's why.