Teen trend: What parents need to know about 'Snapchat'
Latest photo-sharing app makes it easy to 'sext' friends and send 'self-destructing' messages and video.
It's tough for parents to keep tabs on your children's' activity in the digital world. With passwords, it's possible to access and monitor kids' Facebook profile pages and photos – a study conducted among 500 social media users revealed that 72 percent of parents have their kids' Facebook passwords and 43 percent check their pages daily.
But what happens when a hot new photo-sharing app – Snapchat – allows kids to snap and send an image or video that will then 'self-destruct' within a window of one to 10 seconds? This kind of one-on-one interaction makes it much easier for kids to hide their online activity from grown-ups.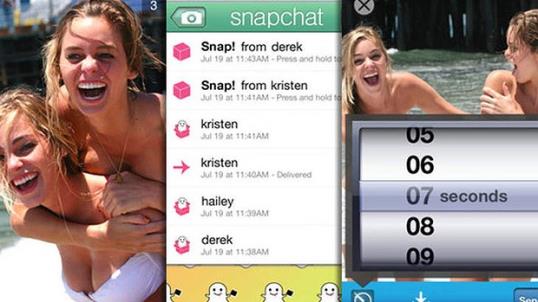 More on MSN Living: How dogs make our lives better
Right now, the app is mostly used by teenagers ad college students
reports
9News.com
. "It is a novelty, you use it because people use it with you," Devin Pendergast, a tech-savvy teen from Blaine, Minn. told
KARE 11
.
More on MSN Living: 10 adorable Valentine's Day ideas for kids
Many teens don't stop to think about their digital footprint, much less how posts and pictures onit could haunt and humiliate in the future.
"Everything is permanent on the internet. Everything you do leaves an indelible mark," Jake DeWoskin, an IT Security Expert with KDV Technology and Consulting, told KARE 11. He says even if you don't screen grab or "shoot the message" with a different device, there are ways to recover it.
And then there's the hot topic of sexting, or the sending of sexually explicit messages via cell phone or instant messenger.
"A majority of them readily admit that they're using it primarily for sexting," Tech Savvy Parenting author Brian Houseman told ConnectTriStates.com​. "In a recent study, 39 percent of all texting teenagers admitted to sending a sexual oriented text message to someone else. Twenty percent of all texting teenagers have sent a nude or semi-nude photograph of themselves."
Houseman says, as parents, it's your responsibility to know what your teen is doing even if it's just sending pictures to his or her friends.
"As parents we have to be very vigilant, very engaged to know, what is it our teenagers are using on their phones, and on their iDevices, and androids, tablets, and those kinds of things and how are they using these devices," Brian Housman told ConnectTriStates.com​.
Apps will come and go, but the hard truth is that what gets sent over the internet can last forever.
How do you talk with your kids about social media? What kinds of rules (if any) do you have in place regarding content and usage?
Bing: How to monitor your children's social media activity
More from Family Room:
Teen mom denied right to breast feed
Toddler death raises concern over car seat rules
Violent video games and child aggression
Love content like this? Friend us on Facebook, follow us on Twitter and find us on Pinterest.
Readers: Calling all mom bloggers – we're looking for fresh voices on MSN Living. Email us your samples and contact info!
Photo: Snapchat
News, stories, tips and laughs for moms & dads
Get ready to hit the mall! Check out the hottest back-to-school trends—and get ready to make a major style statement this year.

Unique, or downright strange?

It can be difficult to entice little ones to eat anything at all, let alone to devour a healthy plate. But feeding your kids nutritious snacks after school just got way easier, thanks to these adorably clever and cute snack ideas! For more smart and fun ways to get your kids to enjoy healthful and delicious foods, try one of these amazingly artsy lunch ideas.

Through a tonsillectomy all the way to brain surgery, my mother deserves some recognition. She's my spine, my birthday shadow, my BFF, my thunder buddy, so Mommy, thank you.

My son needs me, as much as yours needs you. Sadly, my son needs me more. He needs someone to have his back, when it seems that the police, the men he'd wave to with excitement as a little boy, see him as a being worthy only of prison or death.

If you know someone who has adopted and have made some of these comments, don't fret... now you know!

"Because you shine from within," I said, touching my finger to her heart. "Not everybody sees it, but I do. I see it. And my job is to protect that light. So when people say mean comments that squelch that light, I want you to tell me. I will protect your light by listening and loving you, my brave, courageous, and unique little firefly."

Studies have shown that it helps, top education officials have recommended it, and now doctors are officially saying the same.

I may have accidentally dropped you a few times, forgotten to document your first fart, let a little pee fly and dressed you like an idiot, but I have also loved you with every piece of me, and you will never hear an apology for that.

Back-to-school shopping is still in full swing, and your little gents probably need some new kicks to round out their fall wardrobes (you already picked up some bold shoes for the little ladies in your life, right?).

Not every kid is a fan of returning to the classroom, so parents try to ease the blow with a little back-to-school shopping.

Would you rather be a parent now or then?