Adoptive mom's 'newborn' photo shoot goes viral
13-year-old's bittersweet wish for baby photos of himself comes true
"Here's my sweet not so little newborn!" Kelli Higgins wrote on her Facebook page. "His name is Latrell and weighs 112 lbs," as reported this morning by the Today show.
The soft-lit images that accompanied this status update look like they're straight from an Anne Geddes photo shoot – except the subject is a 13-year-old.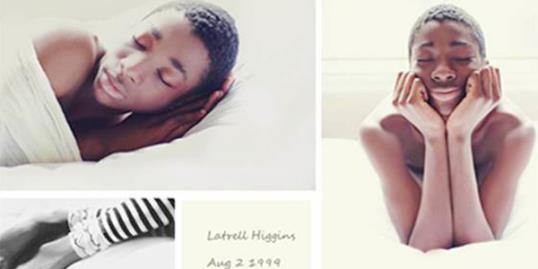 Two years ago, Higgins and her husband adopted Latrell and his sister Chanya, reports TODAY.com.
"These children, once they get past a certain age, they don't find homes and they age out of foster care," Higgins, an advocate for adopting older kids, told TODAY.com.
More on MSN Living: How dogs make our lives better
Sitting around the dinner table last month, the family hatched a creative idea. Higgins, a professional photographer, mentioned an upcoming baby photo shoot. Latrell revealed that he wished he had baby photos of himself.
"I think it's really hard to have children and not know what they looked like when they were younger," Higgins told TODAY.com.
The family got a kick out of the idea of recreating a newborn photo shoot for the teen, and the next day Higgins and Latrell headed to her studio to stage and capture a series of angelic images.
More on MSN Living: 10 adorable Valentine's Day ideas for kids
Since the images appeared online, the 13-year-old has become a bit of a cyber-wonder with more than 5,000 'likes' on Facebook and 3,400 comments.
One person wrote: "This is such a beautiful thing to do! I know so many people who adopted older children and don't have ANY pictures of their infancy. What a spectacular way to remedy that... after all, he'll always be your baby."
"The one reaction that is really humbling and I'm really excited about is there have been a lot of parents that come to me telling me that they were thinking about adopting a baby, but after seeing those photos it's changed their minds and they want to adopt an older child," Higgins told TODAY.com.
What do you think of Latrell's 'baby' photos? Leave a comment below or share this post.
Bing: Cutest baby photos ever
More from Family Room:
Teen mom denied right to breast feed
Toddler death raises concern over car seat rules
Violent video games and child aggression
Love content like this? Friend us on Facebook, follow us on Twitter and find us on Pinterest.
Readers: Calling all mom bloggers – we're looking for fresh voices on MSN Living. Email us your samples and contact info!
News, stories, tips and laughs for moms & dads
Find out which classroom supplies and dorm-room buys you don't need to spend a fortune on

4 steps for raising a child who doesn't feel emotionally stranded.

Any of these sound familiar?

Fire challenge involves pouring alcohol on one's chest and lighting it

A coincidence after the furlough?

Helpful tips for easing first day jitters.

Getting ready for fall has never been more fun.

Great reads for the back-to-school mindset.

Remember the concept of weekends being a time for rest, relaxation, and togetherness? No? Us either. Between soccer games, playdates, dragging your kids to see the new exhibition at the local children's museum, and we need to pick up a gift for that birthday party that starts in . . . 20 minutes, juggling a busy family's weekend schedule can be more stressful than a weekday. While we know it's simply not realistic to cancel all your plans and obligations moving forward, clearing the calendar for just one weekend can be just the refresher that your family's craving. Here's why.

You just had a baby? You're a superstar! All those diapers, all that spit up, and you're makin' magic happen. But you're also likely tired - really tired - and busy (so, so busy). Taking time for yourself might seem like an indulgence but a happy mom makes for a happy baby. Here are 7 things you should definitely do to keep your sanity intact and your spirit high. <more, below>

Summertime is on, and the kids are out of school. Every mom knows that for these three months it's more important than ever to keep the kids busy. But you don't have to schedule your life away with camps, or drop a bundle on activities and games that come in a box. You can make your own fun, and even include the kids in the prep, with some simple, inexpensive DIY crafts that will keep them playing 'til the lightening bugs come out. Make your own fingerpaint, bubbles, and crayons. Create a fort-building kit and superhero capes that will kick their imaginations into overdrive. Here are 10 of our favorite kid-friendly DIY crafts to fuel your summertime fun.