Adoptive mom's 'newborn' photo shoot goes viral
13-year-old's bittersweet wish for baby photos of himself comes true
"Here's my sweet not so little newborn!" Kelli Higgins wrote on her Facebook page. "His name is Latrell and weighs 112 lbs," as reported this morning by the Today show.
The soft-lit images that accompanied this status update look like they're straight from an Anne Geddes photo shoot – except the subject is a 13-year-old.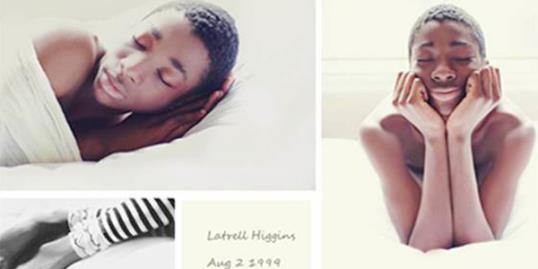 Two years ago, Higgins and her husband adopted Latrell and his sister Chanya, reports TODAY.com.
"These children, once they get past a certain age, they don't find homes and they age out of foster care," Higgins, an advocate for adopting older kids, told TODAY.com.
More on MSN Living: How dogs make our lives better
Sitting around the dinner table last month, the family hatched a creative idea. Higgins, a professional photographer, mentioned an upcoming baby photo shoot. Latrell revealed that he wished he had baby photos of himself.
"I think it's really hard to have children and not know what they looked like when they were younger," Higgins told TODAY.com.
The family got a kick out of the idea of recreating a newborn photo shoot for the teen, and the next day Higgins and Latrell headed to her studio to stage and capture a series of angelic images.
More on MSN Living: 10 adorable Valentine's Day ideas for kids
Since the images appeared online, the 13-year-old has become a bit of a cyber-wonder with more than 5,000 'likes' on Facebook and 3,400 comments.
One person wrote: "This is such a beautiful thing to do! I know so many people who adopted older children and don't have ANY pictures of their infancy. What a spectacular way to remedy that... after all, he'll always be your baby."
"The one reaction that is really humbling and I'm really excited about is there have been a lot of parents that come to me telling me that they were thinking about adopting a baby, but after seeing those photos it's changed their minds and they want to adopt an older child," Higgins told TODAY.com.
What do you think of Latrell's 'baby' photos? Leave a comment below or share this post.
Bing: Cutest baby photos ever
More from Family Room:
Teen mom denied right to breast feed
Toddler death raises concern over car seat rules
Violent video games and child aggression
Love content like this? Friend us on Facebook, follow us on Twitter and find us on Pinterest.
Readers: Calling all mom bloggers – we're looking for fresh voices on MSN Living. Email us your samples and contact info!
News, stories, tips and laughs for moms & dads
The top 25 best holiday movies for kids and their families, from old school classics like Miracle on 34th Street and It's a Wonderful Life, to newer classics like Elf and The Nightmare Before Christmas.

Since the dawn of time, we men have been preprogrammed with two biological imperatives: Number one: to bravely kill bathtub spiders; and number two: to reproduce. (Actually, I really should have ordered those in reverse.) So what happens when we find out we're infertile?

New mamas weigh in on all the things they wish someone had warned them about before baby arrived.

We scoured Pinterest for 30 way-too-cute Elf on the Shelf poses we'd never seen before...let these inspire you during your family's funniest tradition.

Stroll down any aisle of a Toys"R"Us these days and you'll be confronted with a billion options that are light-years beyond anything you had to entertain yourself with as a kid. Lego cruise ships (complete with flatscreen TVs in the lounge and sideboard jet-skis), battery-operated Mercedes-Benz sedans, and hi-tech tablets with Android operating systems abound. We wondered, as we let ourselves get nostalgic for a moment, if any of the beloved toys we played with as children were still even on the market. Thanks to a quick hunt on the Internet we were able to find that Fisher Price still makes their classic Two Tune TV, and you can still get your hands on a good ol' Slinky. Here's a roundup of the best old-school toys for kids-- we encourage you to click through the slideshow and consider wrapping up a well-loved classic for your little one this year.

Cabbage Path Kids turn 30 this year.

Baby booms are certainly fun, but the pileup of shower invites can be rough on a bank account. The challenge: Find a great gift for cheap that's cute, useful, "big" enough to count as a whole gift...and doesn't seem like you skimped. Here are eight fun, functional options I love that definitely fit the bill. And they're all under $30! By The Bump Editors

You'd be shocked at how much a choice selection of apps can change your life for the better. From a honing device for kid-friendly locations to a virtual accountant, these eleven apps belong on every parent's home screen. It may seem counterintuitive, but amping up your smartphone with these handy features will actually make unplugging that much easier, since you know you've got your bases covered. Check them out in the slideshow above, download what you will, and we bet you won't be able to remember what life was like without them.

12 playful and engaging gift ideas for babies and toddlers this season.

When it comes to being single and pregnant, it feels like everybody has their own opinion -- or way-too-nosy questions. Whether they're trying to get the "dirt" on baby's father, or asking about your quest for child support (so not their business!), people really say ridiculous things to single moms-to-be.

Thanksgivukkah, a mash-up super-holiday that magically occurs this year as Hanukkah and Thanksgiving fall on the same day, is quickly becoming every foodie's dream. It's literally a once-in-a-lifetime chance (the next one doesn't occur for another 77,798 years!) to make insanely delicious foods combining both traditions, like sweet potato latkes and pumpkin challah. Below is a round-up of some must follow Thanksgivukkah Pinterest boards!