Adoptive mom's 'newborn' photo shoot goes viral
13-year-old's bittersweet wish for baby photos of himself comes true
"Here's my sweet not so little newborn!" Kelli Higgins wrote on her Facebook page. "His name is Latrell and weighs 112 lbs," as reported this morning by the Today show.
The soft-lit images that accompanied this status update look like they're straight from an Anne Geddes photo shoot – except the subject is a 13-year-old.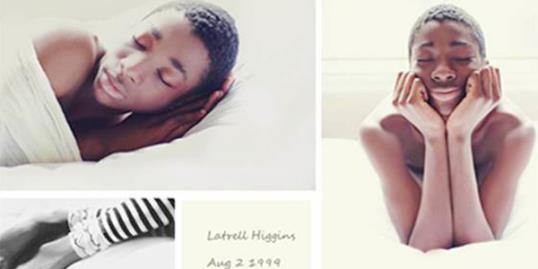 Two years ago, Higgins and her husband adopted Latrell and his sister Chanya, reports TODAY.com.
"These children, once they get past a certain age, they don't find homes and they age out of foster care," Higgins, an advocate for adopting older kids, told TODAY.com.
More on MSN Living: How dogs make our lives better
Sitting around the dinner table last month, the family hatched a creative idea. Higgins, a professional photographer, mentioned an upcoming baby photo shoot. Latrell revealed that he wished he had baby photos of himself.
"I think it's really hard to have children and not know what they looked like when they were younger," Higgins told TODAY.com.
The family got a kick out of the idea of recreating a newborn photo shoot for the teen, and the next day Higgins and Latrell headed to her studio to stage and capture a series of angelic images.
More on MSN Living: 10 adorable Valentine's Day ideas for kids
Since the images appeared online, the 13-year-old has become a bit of a cyber-wonder with more than 5,000 'likes' on Facebook and 3,400 comments.
One person wrote: "This is such a beautiful thing to do! I know so many people who adopted older children and don't have ANY pictures of their infancy. What a spectacular way to remedy that... after all, he'll always be your baby."
"The one reaction that is really humbling and I'm really excited about is there have been a lot of parents that come to me telling me that they were thinking about adopting a baby, but after seeing those photos it's changed their minds and they want to adopt an older child," Higgins told TODAY.com.
What do you think of Latrell's 'baby' photos? Leave a comment below or share this post.
Bing: Cutest baby photos ever
More from Family Room:
Teen mom denied right to breast feed
Toddler death raises concern over car seat rules
Violent video games and child aggression
Love content like this? Friend us on Facebook, follow us on Twitter and find us on Pinterest.
Readers: Calling all mom bloggers – we're looking for fresh voices on MSN Living. Email us your samples and contact info!
News, stories, tips and laughs for moms & dads
The center of the family is your relationship; not the children.

Transform your mornings from grumpy to great by following these 12 simple steps. (Singing in the shower is highly encouraged.)

We're all aware of the reasons one might prefer to raise biological children. There's the miraculous experience that is pregnancy and childbirth. Also, let's not forget how expensive adoption is (though with the cost of childbirth in the United States growing ever-more crippling, it's hard to say which method is most economical). Couple that with the difficulty of the adoption process -- unless, of course, you're Madonna -- and you've got plenty of strong incentives to go the traditional route. Despite the arduous adoption process and the significant financial commitment, all kinds of people -- both famous and not -- choose to adopt for a variety of reasons. Check out this slideshow to see which celebrities (besides the famous Jolie-Pitts) opted to adopt.

One of our favorite ways to start the day is with a piping hot cup of coffee and a thought-provoking TED talk. In case you'€™re not familiar with the group, TED (which stands for Technology, Entertainment and Design) is a nonprofit organization dedicated to spreading ideas through projects and talks by a diverse group of inspired thinkers - people of all cultures, ages and disciplines. As you can probably guess, listening to these innovators share their ideas is a surefire way to jumpstart your day and get your creative juices flowing. Click through the slideshow above for the eight TED talks every parent needs to see. By Cordelia Tai

Got kids that are questioning whether or not the Easter Bunny is real? If you want to keep the tradition going at least one more year, try one of these ideas...

You're cold-hearted? We'll take care of that for you...read on.

This kid despises poetry and he's not afraid to let you know.

I used to be one of those moms who thought, 'who on earth would bring their child to an event like that?' and then I had a son. Here's why you might become a convert, too.

Take a look at your house for these telltale signs that a cat is running the show.

Check out this list of requirements you should meet before getting a new puppy or adult dog.

Virtually everything you need to know about relationships, you learned in nursery school: Treat people as you want to be treated, clean up after yourself, and don't be a know-it-all.