Baby names that might be on Duchess Kate and Prince William's list
And, yeah, we called an expert.
by
Megan Angelo
I am not going to deny it:
The royal baby
has made my day, plain and simple. There's so much ahead of us. Bump pictures, elaborate paparazzi hospital diversions...
Pink or blue?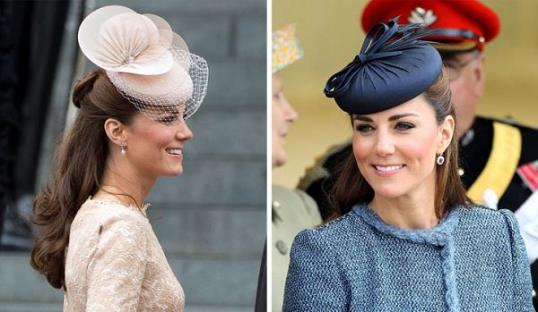 PINK OR BLUE?
I will try not to overdo it when it comes to blog excitement. That is my solemn vow. But please give me this: We've got to talk names. Names are the best part!*

*I know babies have a lot of great qualities. I know they change lives. I'm just excited about the names right now, OK?

More from Glamour: 11 Movies Every Woman Should Watch

So I decided we should handicap this the same way we would if we were trying to guess our own sister's picks. Which is to say: obsessively. And thoroughly. And, because I was really serious about the "thorough" part, I called up Laura Wattenberg, creator of babynamewizard.com.

What I learned: "A royal baby in the direct line to the throne is a whole different category from every other kind of royal baby," Wattenberg said. Not to mention that in Kate's case, the pesky family "feedback" on the name choice is coming from, uh, the Queen.

More from Glamour: How to Ace the Most Stressful Job Ever

So let's explore some options.

Theory #1: They could go trendy. The top girl names in the UK last year aren't dissimilar from those in the U.S.: There's Olivia, Sophie and Emily at the top of the girls' list. The boys are a little different, though: Oliver, Jack and Harry are the top three. Harry has "exploded" in the UK as of late, Wattenberg said, because of the holy triumvirate: Prince, Potter and Styles. Of course, William and Kate are unlikely to name their baby after William's younger brother -- but there's a girl name out there that nicely blends UK trends and family tradition. "Louise is a name that would baffle American parents, but it's in the royal line and very fashionable in the UK right now," Wattenberg said.

Theory #2: They could look way back in the family tree. Wattenberg believes the Duke and Duchess are most likely to draw inspiration from the royal genealogy: "Parents are less likely to name their kids after parents or grandparents [these days], but no one cares about tradition in names more than the monarchy," Wattenberg said, who added that, lest we forget, royals have names so long you'd think Uma Thurman had a hand in the process. If it's a boy, "a kingly name like George is likely to be in there somewhere," she said. A girl's name that feels modern but is scattered throughout the royal lineage: Alexandra. (Also on the tree, to name a few: Isabel, Henrietta and Margaret; Arthur, Charles and Leopold.)

Theory #3: They could make a specific homage. I'm sure it's crossed all of our minds already: "If there's one name right now that's classic and fraught with meaning in the royal family, it's Diana," Wattenberg said. William and Kate also have plenty of names to toy with changing the gender on: Victor, for example, would pay tribute to the late Queen Victoria--while Philip could honor both William's grandfather, Prince Philip, and Kate's sister, Pippa (Philippa).

Theory #4: They could pull a Blue Ivy. But they probably won't, said Wattenberg (who wrote a piece on Jay and Bey's choice in the WSJ this year): "It's hard to imagine this Royal Air Force pilot going off the deep end -- William has followed the classic line of what is expected from a rising monarch." So don't hold your breath for Freesia Marie or Banana Joe. Especially not Banana Joe.
All right, let's hear your royal picks.

Bing: William and Kate expecting

Photo: FilmMagic, WireImage

More from The Family Room:
5-year-old boy saves family & home from fire
When Aidan met Sophia
A baby is trending and her name is Hashtag
Are you sure you want to delete this comment?
News, stories, tips and laughs for moms & dads
Watch the video of Kristen Bell going head to head with paparazzi - it will make you angry

Every year, toy makers from around the world gather to show their latest creations at the Toy Fair in New York City. The high-tech models, gadgets and trinkets on display put those basic Legos we played with at kids to shame. Here are 10 new toys that we'd happily buy or children. Or, really, ourselves.

Find yourself wandering the aisles, suddenly needing an owl-shaped candle while drinking a $5 latte? You're not alone, moms...

Here's some parenting advice for whatever stage of separation or divorce you're in.

Whether you pop it in the mail or post it on social media, a creative photo is a surefire way to grab everyone's attention and proudly say, "I'm pregnant!" Prepare for a lot of likes.

Remember the magical children's rooms in Peter Pan and The Little Prince? These timeless novels described spaces that were enchanting and made us wish that we could inhabit the rooms ourselves. The sumptuous interiors that were filled with never-ending toys and fort-like draping may seem like a fairytale, but thanks to four of our favorite kids' furniture websites, the dream could actually become a reality. Click through the slideshow to check out the best kids furniture websites that have everything necessary to create a fantasy room for your little one. And check out Sophia Demenge's super-fun space in the video below. By Barry Samaha

They lay, they play, and they take selfies with supermodels. Meet 5 of the most social media-savvy pets—animals taking control of their own fashionable online image.

We could try to offer you carefully researched and crafted words of Dad-centric inspiration, intended to show you the path to being a better man and, in turn, a better father. But Tom Limbert took up the task for us in his new book 'Dad's Playbook: Wisdom for Fathers from the Greatest Coaches of All Time,' so we left it to him. Limbert -- a parent coach and the founder of the Studio Grow children's play space in Berkeley, California -- has collected pearls of wisdom from an elite crew of coaches who have not only experienced greatness themselves, but also found ways to consistently instill it in their teams. "It's monkey-see, monkey-do," Limbert told us, after we asked him to gather the best quotes on achieving one's goals. "If you want your child to follow, you have to lead." Click on to read the often simple-seeming words that have inspired countless others to follow through on the field, but that can also easily be translated to the school, work, fitness, and, of course, parenting arenas.

What parents need to know

It's raining, it's pouring ... but that doesn't mean the day has to be a snore. Rather than let the kids grow restless and rambunctious, why not divert their energy toward some fun family bonding activities? Although the weather may have scotched your original plans for the day, seize the opportunity to reconnect and let loose with your loved ones. Click through this slideshow for ten refreshing rainy day activities that'll make you glad the clouds (almost) rained on your parade.

Every family has its oddballs. And the holiday season is the one time of year when you're pretty much forced to interact and play nice with the grand majority of them. Click through the slideshow above for our guide to dealing with the five worst kinds of kin. *Disclaimer: All characters appearing in this work are fictitious. Any resemblance to real persons, living or dead, is purely coincidental.

Not great with a budget? Don't sweat it. Try these simple ways to save.