5-year-old boy saves family & home from fire
Paying attention to his class's fire prevention program paid off – the kindergartner knew exactly what to do in case of emergency.
When brave little boy, Matthew Hansen of Beacon, NY sensed something was wrong the morning before Thanksgiving, he woke up his parents reports The Poughkeepsie Journal.
"I need my eyes checked, Mommy, I can't see," Hansen was quoted in the Dutchess County paper.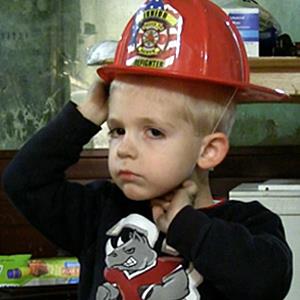 More on MSN Living: 50 things everyone should know about marriage
"I felt something and at school they told us what to do if your butt is ever on fire," the Sargent Elementary School student was quoted. "You stop, drop and roll. You're never supposed to hide, and you're always supposed to call for help. So I called my mom and dad." Hansen's parents sprang into action upon seeing smoke, getting the boy out of the house and harm's way before calling 9-1-1.
The culprit? The electric stove had short-circuited and turned itself on, setting fire to cupcakes placed on the stove.
More on MSN Living: The top 10 traits women want in a man
In The Poughkeepsie Journal article, City of Beacon Fire Administrator Michael Davis was quoted saying that Hansen had saved his family, his home and himself.
"Many people have died from lack of early detection," Davis was quoted. "This family was two minutes away from that, if not for Matthew waking up. The smoke would have blocked the stairwell."
Talk to your kids about fire safety and plan how to get out of your home if there is a fire. Stove fires, especially, can happen quickly and spread to other flammable things in your kitchen, like curtains and cabinets. Be smart, prepared and above all, be safe.
Bing: Practice fire safety in your home
Video still of 5-year-old Matthew Hansen (Darryl Bautista/Poughkeepsi​e Journal)
Read the full story at The Poughkeepsie Journal
More from MSN Living:
25 things she finds sexiest about you
8 words that give away a liar
The trends men love ... and the ones they hate
News, stories, tips and laughs for moms & dads
Famed event-planner David Stark shared tips for making chic holiday decorations using items you already have around the house. Take a look!

Sociologist Karen Z. Kramer found that over the past decade more than 550,000 men were stay-at-home fathers, which is about 3.5 percent of the married with kids population.

Ben Miller celebrates his wife's birthday and the anniversary of the day their premature son Ward Miles came home for good with a video documenting his first year.

Adopting an animal is a major commitment. Yet all too often people put more effort into researching what kind of car to get than the type of pet that would best fit their lifestyle.

'Tis the season to send out holiday greeting cards to all your friends and family. But, as our friends at Awkward Family Pet Photos know, not all holiday snapshots are the same. Some are just plain kooky — especially when pets are included. So with good tidings and great cheer, here are 10 wacky holiday animal portraits that are sure to make you laugh out loud and get you in the holiday spirit. And possibly make you think twice about dressing up the family cat this year.

King of the jungle? Nah, it's just a labradoodle!

Side-by-side images of adorable babies and their celebrity doppelgängers

Do you have a finicky furry friend on your holiday gift list this year? You're in luck! We've rounded up the coolest cat-approved products to bring you purrfect gift ideas for every kind of cat -- from the curious kitten to the most refined feline. Any one of these special gifts could make your resident kitty purr with pleasure and maybe, just maybe, like the present this year even more than the box and wrapping paper it came in!

Plus, puppy names to watch

This holiday season's hottest toy has yet to be revealed, but more often than not, the best gifts are the ones kids don't even know to ask for. So this year, surprise your kids with unique presents under the tree, and watch as their eyes light up when they unwrap them. From space-age sand to a DIY race track, these out-of-the-box gift ideas will provide some serious shopping inspiration. Click through the slideshow above for all our favorite picks.

Yep, you're older than you think

Avoid these gaffes for a better relationship with your stepchildren—and your spouse.