5-year-old boy saves family & home from fire
Paying attention to his class's fire prevention program paid off – the kindergartner knew exactly what to do in case of emergency.
When brave little boy, Matthew Hansen of Beacon, NY sensed something was wrong the morning before Thanksgiving, he woke up his parents reports The Poughkeepsie Journal.
"I need my eyes checked, Mommy, I can't see," Hansen was quoted in the Dutchess County paper.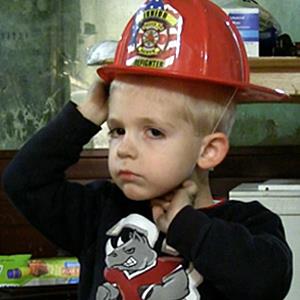 More on MSN Living: 50 things everyone should know about marriage
"I felt something and at school they told us what to do if your butt is ever on fire," the Sargent Elementary School student was quoted. "You stop, drop and roll. You're never supposed to hide, and you're always supposed to call for help. So I called my mom and dad." Hansen's parents sprang into action upon seeing smoke, getting the boy out of the house and harm's way before calling 9-1-1.
The culprit? The electric stove had short-circuited and turned itself on, setting fire to cupcakes placed on the stove.
More on MSN Living: The top 10 traits women want in a man
In The Poughkeepsie Journal article, City of Beacon Fire Administrator Michael Davis was quoted saying that Hansen had saved his family, his home and himself.
"Many people have died from lack of early detection," Davis was quoted. "This family was two minutes away from that, if not for Matthew waking up. The smoke would have blocked the stairwell."
Talk to your kids about fire safety and plan how to get out of your home if there is a fire. Stove fires, especially, can happen quickly and spread to other flammable things in your kitchen, like curtains and cabinets. Be smart, prepared and above all, be safe.
Bing: Practice fire safety in your home
Video still of 5-year-old Matthew Hansen (Darryl Bautista/Poughkeepsi​e Journal)
Read the full story at The Poughkeepsie Journal
More from MSN Living:
25 things she finds sexiest about you
8 words that give away a liar
The trends men love ... and the ones they hate
News, stories, tips and laughs for moms & dads
6-year-old has rare brain condition

He wanted to know if woman was pregnant

Did your state make the grade?

A new dad finds an Epcot Center's worth of innovation after expecting none at all.

Alcohol and tattoos are not meant for the pre-teen set

But Debra Harrell now has custody of daughter again

I am probably not the first to tell you this: Kids come with lots of stuff. Even if you try to be as minimal as possible, the little creatures require an awful lot to keep things running smoothly. Here's a master-plan slideshow of ways to cut corners on space in every room to accommodate all the things that come along with kids.

You never know for certain what type of parent you'll be until you've actually become one and your parenting style, as it becomes evident, may surprise you. Here are 4 parenting books to help you figure it all out.

Sunshine! Camping! Pool parties! BBQs! The sunny season is here and to help you make the most of it, we've hand-picked 7 great products to make this summer the best your family has ever had. Click through for our list to inspire your sunny day fun. From our sponsor: Walmart

We all love a picnic. But do one quick search for 'picnic ideas' on Pinterest and you're instantly teleported into a land of overachieving home chefs clearly looking for their big break on Food Network. Well, never mind that, we say. Scratch the 25-ingredient recipes and the incessant trips to the craft store for that perfect tablescape. Here are 5 truly simple picnic ideas that will look great, taste great, and make you feel like the winner you are! From our sponsor: Walmart

Admit it — you do these things, too! And that's OK. But maybe — just maybe — it's time to think about changing things up a little bit, for the sake of your sanity, your relationship with your kids, and because life's too short.

We asked veterinary experts and readers which breeds they think and if it is OK to shave longhaired pets in the summer.