5-year-old boy saves family & home from fire
Paying attention to his class's fire prevention program paid off – the kindergartner knew exactly what to do in case of emergency.
When brave little boy, Matthew Hansen of Beacon, NY sensed something was wrong the morning before Thanksgiving, he woke up his parents reports The Poughkeepsie Journal.
"I need my eyes checked, Mommy, I can't see," Hansen was quoted in the Dutchess County paper.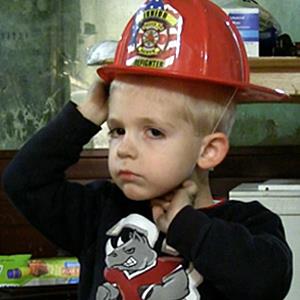 More on MSN Living: 50 things everyone should know about marriage
"I felt something and at school they told us what to do if your butt is ever on fire," the Sargent Elementary School student was quoted. "You stop, drop and roll. You're never supposed to hide, and you're always supposed to call for help. So I called my mom and dad." Hansen's parents sprang into action upon seeing smoke, getting the boy out of the house and harm's way before calling 9-1-1.
The culprit? The electric stove had short-circuited and turned itself on, setting fire to cupcakes placed on the stove.
More on MSN Living: The top 10 traits women want in a man
In The Poughkeepsie Journal article, City of Beacon Fire Administrator Michael Davis was quoted saying that Hansen had saved his family, his home and himself.
"Many people have died from lack of early detection," Davis was quoted. "This family was two minutes away from that, if not for Matthew waking up. The smoke would have blocked the stairwell."
Talk to your kids about fire safety and plan how to get out of your home if there is a fire. Stove fires, especially, can happen quickly and spread to other flammable things in your kitchen, like curtains and cabinets. Be smart, prepared and above all, be safe.
Bing: Practice fire safety in your home
Video still of 5-year-old Matthew Hansen (Darryl Bautista/Poughkeepsi​e Journal)
Read the full story at The Poughkeepsie Journal
More from MSN Living:
25 things she finds sexiest about you
8 words that give away a liar
The trends men love ... and the ones they hate
News, stories, tips and laughs for moms & dads
What are we teaching our children when we focus on their achievements rather than their kindness?

Discover the seemingly insignificant things that can affect your chances of getting pregnant.

A thrill-obsessed subculture claimed another life this week.

A few suggested answers for the diciest questions

Must-haves for every mommy on the road

Here's our list of fifteen moms in the food industry that deserve some recognition.

The site gets high marks for its user-friendly interface and excellent and responsive customer service. And the reviews are also pretty accurate. Compare amenities and prices next to a hotel's in the same area, and you're likely to see Airbnb come out on top.

We captured a frame-by-frame look just for you.

Other moms can be ruthless when it comes to picking apart your parenting choices. From dissing your decision to go back to work to criticizing when you started baby on solids, here are the most ridiculous comments moms have heard. Bonus, we've got just the right way to respond to the haters! You're welcome.

Nope, you don't have to spend the next nine months in black elastic-waist pants and oversize sweaters. And you don't have to shell out a fortune on your "temporary" wardrobe either. Check out these stylish and affordable maternity clothes.

Because society crumbles without us

Another kid figured out how to get into a claw machine.