5-year-old boy saves family & home from fire
Paying attention to his class's fire prevention program paid off – the kindergartner knew exactly what to do in case of emergency.
When brave little boy, Matthew Hansen of Beacon, NY sensed something was wrong the morning before Thanksgiving, he woke up his parents reports The Poughkeepsie Journal.
"I need my eyes checked, Mommy, I can't see," Hansen was quoted in the Dutchess County paper.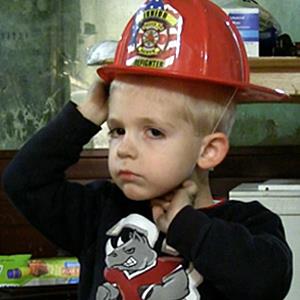 More on MSN Living: 50 things everyone should know about marriage
"I felt something and at school they told us what to do if your butt is ever on fire," the Sargent Elementary School student was quoted. "You stop, drop and roll. You're never supposed to hide, and you're always supposed to call for help. So I called my mom and dad." Hansen's parents sprang into action upon seeing smoke, getting the boy out of the house and harm's way before calling 9-1-1.
The culprit? The electric stove had short-circuited and turned itself on, setting fire to cupcakes placed on the stove.
More on MSN Living: The top 10 traits women want in a man
In The Poughkeepsie Journal article, City of Beacon Fire Administrator Michael Davis was quoted saying that Hansen had saved his family, his home and himself.
"Many people have died from lack of early detection," Davis was quoted. "This family was two minutes away from that, if not for Matthew waking up. The smoke would have blocked the stairwell."
Talk to your kids about fire safety and plan how to get out of your home if there is a fire. Stove fires, especially, can happen quickly and spread to other flammable things in your kitchen, like curtains and cabinets. Be smart, prepared and above all, be safe.
Bing: Practice fire safety in your home
Video still of 5-year-old Matthew Hansen (Darryl Bautista/Poughkeepsi​e Journal)
Read the full story at The Poughkeepsie Journal
More from MSN Living:
25 things she finds sexiest about you
8 words that give away a liar
The trends men love ... and the ones they hate
family: tips, trends & advice for all things family
One of the most unsettling consequences of bringing a child into your previously simple, happily oblivious manly life is that you're now unquestionably, inescapably…The Man.

Whether it was baby's first kick or the first time your boobs leaked in public, there's a point in every mom's life when the world as you know it ends and you realize -- Whoa, I'm someone's mom now. Some of our favorite mommy bloggers revealed what their aha moments were. They range from heartwarming to completely hilarious.

From DIY jewelry to homemade "flowers" to sweet vases, you can help your kid make mom's day with these crafty gifts.

The first parenting shock: They let you take the baby home. Like, without supervision. Only then do the real surprises unfold. Here's what readers told us was most unexpected for them as they embraced this whole mama thing.

Be prepared to say, 'awww,' multiple times while flipping through this collection super-sweet stuff for babies and kids on Etsy.com. Take a peek at some of our favorite finds for moms (and click 'More' to find out how to get this amazing gnome hat!)...By MSN Living editors

Your Mother's Day plans are all set, right? Brunch is booked and a fabulous gift is wrapped and ready to go. So take a breather and celebrate these stylish celebrity moms who work hard, care for their kids, and manage to look amazing in the process.

Find out this year's top baby names on Parenting.com, and see what we predict will be big in 2013

Sophia and Jacob reign supreme.

In an online contest, Parenting.com asked readers to tell us what it means to "have it all." Read the winner's moving essay on how that phrase has defined her motherhood, plus essays from the three runners up.

Tow lot employee finds abandoned pup.

Animals, says Dr. Patty Khuly, are the best listeners in the world and don't care that you've just been dumped or laid off.

Ask a mom if she's happier now that she has a child and she'll usually say yes.