5-year-old boy saves family & home from fire
Paying attention to his class's fire prevention program paid off – the kindergartner knew exactly what to do in case of emergency.
When brave little boy, Matthew Hansen of Beacon, NY sensed something was wrong the morning before Thanksgiving, he woke up his parents reports The Poughkeepsie Journal.
"I need my eyes checked, Mommy, I can't see," Hansen was quoted in the Dutchess County paper.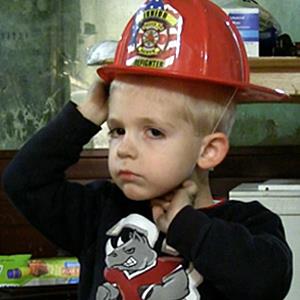 More on MSN Living: 50 things everyone should know about marriage
"I felt something and at school they told us what to do if your butt is ever on fire," the Sargent Elementary School student was quoted. "You stop, drop and roll. You're never supposed to hide, and you're always supposed to call for help. So I called my mom and dad." Hansen's parents sprang into action upon seeing smoke, getting the boy out of the house and harm's way before calling 9-1-1.
The culprit? The electric stove had short-circuited and turned itself on, setting fire to cupcakes placed on the stove.
More on MSN Living: The top 10 traits women want in a man
In The Poughkeepsie Journal article, City of Beacon Fire Administrator Michael Davis was quoted saying that Hansen had saved his family, his home and himself.
"Many people have died from lack of early detection," Davis was quoted. "This family was two minutes away from that, if not for Matthew waking up. The smoke would have blocked the stairwell."
Talk to your kids about fire safety and plan how to get out of your home if there is a fire. Stove fires, especially, can happen quickly and spread to other flammable things in your kitchen, like curtains and cabinets. Be smart, prepared and above all, be safe.
Bing: Practice fire safety in your home
Video still of 5-year-old Matthew Hansen (Darryl Bautista/Poughkeepsi​e Journal)
Read the full story at The Poughkeepsie Journal
More from MSN Living:
25 things she finds sexiest about you
8 words that give away a liar
The trends men love ... and the ones they hate
News, stories, tips and laughs for moms & dads
As all the kids line up to go to school, your son, Timmy, turns to you and says, "I don't want to take the bus. My stomach hurts. Please don't make me go." You cringe and think, Here we go again. What should be a simple morning routine explodes into a daunting challenge.

Learning these 10 things is a good base with which to begin the tough preteen and teen years. Helping our children maneuver life is our jobs as parents, even if we haven't quite figured it all out ourselves yet.

We've all seen her... But should we judge her?

Unique, or downright strange?

In a few short weeks you'll be dropping your child off at college, where they'll spend the next four years learning, laughing, and probably partying. Of course, in true teen fashion, your child has already started shopping for their dorm room essentials. Don't panic just yet!

When tots burst through the door after a busy day at school, the first order of business is securing a snack.

The only thing more important than what you pack your child for lunch is what you pack it in.

Frustrated mom invents Ignore No More app

Do you have the right mix of moms surrounding you?

It's hard to keep young kids entertained while being confined indoors, but fear not, for we have some fun ideas to keep the entire family from climbing the walls during rainy days.

Back in our day, ending up with the same exact backpack as your BFF was a legitimate back-to-school concern. Nowadays? There are so many options, it's dizzying!

It is a parent's eternal dilemma: What do I make the kids for lunch today? And tomorrow? And next week? We fall into ruts, succumb to the tried-and-true, give in to our children's demands for junk food. No more! These school lunch ideas—for everything from sandwiches to snacks to hot meals—will freshen up your daily routine, so much so you may be tempted to make them for yourself.