Mom Charges $350 To Let Kids Play Unsupervised in Central Park
'Free range' activist lets kids enjoy freedom from adults.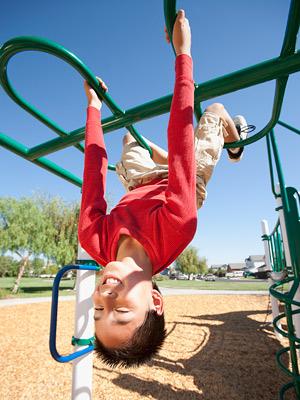 The latest in modern parenting comes from New York City, where former journalist and mother of two, Lenore Skenazy, offers a new activity that has many parents questioning her sanity.
Skenazy, who promotes a "free play" way of parenting and wrote the book Free Range Kids: How to Raise Safe, Self-Reliant Children (Without Going Nuts with Worry, (find it on Bing Shopping), is charging parents $350 to drop their kids off at Central Park – and then not supervise them.  
Her website reads:
"My 'I Won't Supervise Your Kids' class begins today (Weds., Sept. 12) at 3:45 in Central Park. We'll meet at 85th and Fifth Avenue. Any parents present will sign a waiver, 'I don't expect anyone — much less Lenore — to supervise my kids.' And then they leave, and so do I, and the fun begins."
"I'm always trying to figure out ways to get kids back outside playing with each other," she told ABC News. "It's a great thing that has sort of evaporated from the American landscape."
She encourages participating children to "make up a game, make new friends and learn something new" while they enjoy freedom from adult supervision.
Especially in larger cities like New York, Skenazy said fears of abductions and violence have encouraged parents to find indoor activities to occupy their kids. She calls these worries "misplaced" since crime has decreased overall since the 1970s and 1980s.
According to news reports, Skenazy took heat in 2008 for enabling her son, then age 9, to ride the New York City subway alone.
Tell us in the comments below: Would you let your child play at a public park unsupervised?
Photo: Noah Clayton/Getty Images
News, stories, tips and laughs for moms & dads
Adopting an animal is a major commitment. Yet all too often people put more effort into researching what kind of car to get than the type of pet that would best fit their lifestyle.

'Tis the season to send out holiday greeting cards to all your friends and family. But, as our friends at Awkward Family Pet Photos know, not all holiday snapshots are the same. Some are just plain kooky — especially when pets are included. So with good tidings and great cheer, here are 10 wacky holiday animal portraits that are sure to make you laugh out loud and get you in the holiday spirit. And possibly make you think twice about dressing up the family cat this year.

King of the jungle? Nah, it's just a labradoodle!

Side-by-side images of adorable babies and their celebrity doppelgängers

Do you have a finicky furry friend on your holiday gift list this year? You're in luck! We've rounded up the coolest cat-approved products to bring you purrfect gift ideas for every kind of cat -- from the curious kitten to the most refined feline. Any one of these special gifts could make your resident kitty purr with pleasure and maybe, just maybe, like the present this year even more than the box and wrapping paper it came in!

Plus, puppy names to watch

This holiday season's hottest toy has yet to be revealed, but more often than not, the best gifts are the ones kids don't even know to ask for. So this year, surprise your kids with unique presents under the tree, and watch as their eyes light up when they unwrap them. From space-age sand to a DIY race track, these out-of-the-box gift ideas will provide some serious shopping inspiration. Click through the slideshow above for all our favorite picks.

Yep, you're older than you think

Avoid these gaffes for a better relationship with your stepchildren—and your spouse.

The top 25 best holiday movies for kids and their families, from old school classics like Miracle on 34th Street and It's a Wonderful Life, to newer classics like Elf and The Nightmare Before Christmas.

Since the dawn of time, we men have been preprogrammed with two biological imperatives: Number one: to bravely kill bathtub spiders; and number two: to reproduce. (Actually, I really should have ordered those in reverse.) So what happens when we find out we're infertile?

New mamas weigh in on all the things they wish someone had warned them about before baby arrived.