Mom Charges $350 To Let Kids Play Unsupervised in Central Park
'Free range' activist lets kids enjoy freedom from adults.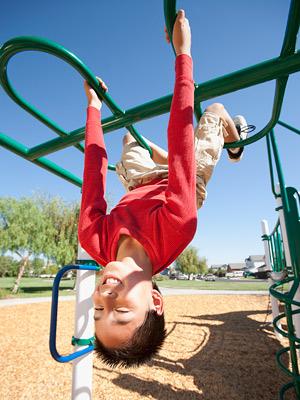 The latest in modern parenting comes from New York City, where former journalist and mother of two, Lenore Skenazy, offers a new activity that has many parents questioning her sanity.
Skenazy, who promotes a "free play" way of parenting and wrote the book Free Range Kids: How to Raise Safe, Self-Reliant Children (Without Going Nuts with Worry, (find it on Bing Shopping), is charging parents $350 to drop their kids off at Central Park – and then not supervise them.  
Her website reads:
"My 'I Won't Supervise Your Kids' class begins today (Weds., Sept. 12) at 3:45 in Central Park. We'll meet at 85th and Fifth Avenue. Any parents present will sign a waiver, 'I don't expect anyone — much less Lenore — to supervise my kids.' And then they leave, and so do I, and the fun begins."
"I'm always trying to figure out ways to get kids back outside playing with each other," she told ABC News. "It's a great thing that has sort of evaporated from the American landscape."
She encourages participating children to "make up a game, make new friends and learn something new" while they enjoy freedom from adult supervision.
Especially in larger cities like New York, Skenazy said fears of abductions and violence have encouraged parents to find indoor activities to occupy their kids. She calls these worries "misplaced" since crime has decreased overall since the 1970s and 1980s.
According to news reports, Skenazy took heat in 2008 for enabling her son, then age 9, to ride the New York City subway alone.
Tell us in the comments below: Would you let your child play at a public park unsupervised?
Photo: Noah Clayton/Getty Images
News, stories, tips and laughs for moms & dads
You're cold-hearted? We'll take care of that for you...read on.

This kid despises poetry and he's not afraid to let you know.

I used to be one of those moms who thought, 'who on earth would bring their child to an event like that?' and then I had a son. Here's why you might become a convert, too.

Take a look at your house for these telltale signs that a cat is running the show.

Check out this list of requirements you should meet before getting a new puppy or adult dog.

Virtually everything you need to know about relationships, you learned in nursery school: Treat people as you want to be treated, clean up after yourself, and don't be a know-it-all.

Here are our experts' best tips for how to be a positive role model for your kids so that they grow up healthy, strong and confident about the way they look.

Much like their famous owners, these pooches live a fabulous life. Some are rescues, others purebred, but one thing is certain – these dogs play an important part in their famous parents' lives. Can you guess who owns each of these dogs?

We captured a frame-by-frame look just for you.

Two controversial science projects resembled weapons, school officials said.

Make the most of the summer with these family-oriented activities!