Mom Charges $350 To Let Kids Play Unsupervised in Central Park
'Free range' activist lets kids enjoy freedom from adults.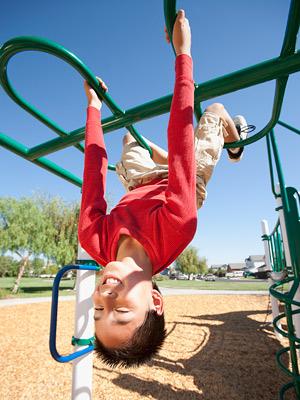 The latest in modern parenting comes from New York City, where former journalist and mother of two, Lenore Skenazy, offers a new activity that has many parents questioning her sanity.
Skenazy, who promotes a "free play" way of parenting and wrote the book Free Range Kids: How to Raise Safe, Self-Reliant Children (Without Going Nuts with Worry, (find it on Bing Shopping), is charging parents $350 to drop their kids off at Central Park – and then not supervise them.  
Her website reads:
"My 'I Won't Supervise Your Kids' class begins today (Weds., Sept. 12) at 3:45 in Central Park. We'll meet at 85th and Fifth Avenue. Any parents present will sign a waiver, 'I don't expect anyone — much less Lenore — to supervise my kids.' And then they leave, and so do I, and the fun begins."
"I'm always trying to figure out ways to get kids back outside playing with each other," she told ABC News. "It's a great thing that has sort of evaporated from the American landscape."
She encourages participating children to "make up a game, make new friends and learn something new" while they enjoy freedom from adult supervision.
Especially in larger cities like New York, Skenazy said fears of abductions and violence have encouraged parents to find indoor activities to occupy their kids. She calls these worries "misplaced" since crime has decreased overall since the 1970s and 1980s.
According to news reports, Skenazy took heat in 2008 for enabling her son, then age 9, to ride the New York City subway alone.
Tell us in the comments below: Would you let your child play at a public park unsupervised?
Photo: Noah Clayton/Getty Images
News, stories, tips and laughs for moms & dads
My kids snapped a pic of me on my phone and it changed how I see myself

6-year-old has rare brain condition

He wanted to know if woman was pregnant

Did your state make the grade?

A new dad finds an Epcot Center's worth of innovation after expecting none at all.

Alcohol and tattoos are not meant for the pre-teen set

But Debra Harrell now has custody of daughter again

I am probably not the first to tell you this: Kids come with lots of stuff. Even if you try to be as minimal as possible, the little creatures require an awful lot to keep things running smoothly. Here's a master-plan slideshow of ways to cut corners on space in every room to accommodate all the things that come along with kids.

You never know for certain what type of parent you'll be until you've actually become one and your parenting style, as it becomes evident, may surprise you. Here are 4 parenting books to help you figure it all out.

Sunshine! Camping! Pool parties! BBQs! The sunny season is here and to help you make the most of it, we've hand-picked 7 great products to make this summer the best your family has ever had. Click through for our list to inspire your sunny day fun. From our sponsor: Walmart

We all love a picnic. But do one quick search for 'picnic ideas' on Pinterest and you're instantly teleported into a land of overachieving home chefs clearly looking for their big break on Food Network. Well, never mind that, we say. Scratch the 25-ingredient recipes and the incessant trips to the craft store for that perfect tablescape. Here are 5 truly simple picnic ideas that will look great, taste great, and make you feel like the winner you are! From our sponsor: Walmart

Admit it — you do these things, too! And that's OK. But maybe — just maybe — it's time to think about changing things up a little bit, for the sake of your sanity, your relationship with your kids, and because life's too short.