What not to say to families who are grieving
The wrong words and the right words for parents who have just lost their children.
All the sympathy card sentiments in the world can seem insufficient when trying to console someone who has lost a loved one. The death of a child is particularly challenging. Such anguish can appear implacable even when met with the best intentions and carefully selected words.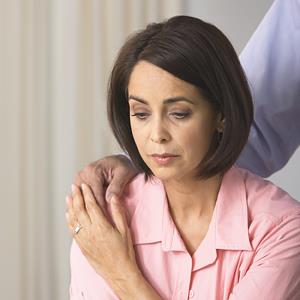 Even when our aims are true, some of our most common expressions of sympathy can offend grieving parents. Here are phrases to avoid when trying to offer support to the bereft.
"Time heals all wounds."
Avoid banal philosophical or religious statements. Frequently such declarations seek to minimize the pain survivors feel.  For instance, "Time heals all wounds," implies that the hurt the parent feels will at some point go away. It won't diminish. The loss of that child will abide with the parents throughout their life.
"Everything happens for a reason."
People often contend that there must be a reason for the terrible event. We would like to believe that a rationale exists for every catastrophe, that there is a silver lining to each dark cloud. Even if a benefit does later reveal itself, often that reason will remain obscured to the parents until they have worked through their loss. And even then there simply is no upside to death.
"I know how you feel."
It can be insulting to the bereaved to suggest that you know exactly how they are feeling. Instead, try asking them how they feel and let them know it's ok if they are not ready to share their feelings.
"It's God's Will."
Common religious consolations often suggest that the death is God's doing, not because God is diabolical but because God is teaching us something. As Rev. Emily C. Heath writes in The Huffington Post, attributing terrible events to God makes it seem "that God will break parents' hearts at will just because God can. It also communicates to parents and loved ones that they are not really entitled to their grief."
So, what is appropriate to say to grieving parents?
"I'm sorry to hear that this happened to you."
This phrase let's the grieving person know that you care about them and their situation, The American Cancer Society says. It also may give the bereaved an opportunity to talk about their feelings.
"Please let me know how I can support you."
Make yourself available to the family. Offer to help with chores or errands. Be available to talk. Your help and consideration will mean more than any words can, but allow the family to choose how to involve you during this difficult time. Just be ready to assist when they call.
Often simply listening can be what the grieving person needs to help them get through such a difficult time. You can also offer support in other ways, such as grocery shopping, bringing food, handling arrangements, paying bills or just spending time together.
Photo: Terry Vine/Blend Images LLC/Getty Images
Bing: Details emerge about the Connecticut shooters' mother.
More from MSN Living:
Mom of mentally ill son asks for help
Whether - and what - to tell your kids about this tragedy
How to help your kids feel safe
News, stories, tips and laughs for moms & dads
6-year-old has rare brain condition

He wanted to know if woman was pregnant

Did your state make the grade?

A new dad finds an Epcot Center's worth of innovation after expecting none at all.

Alcohol and tattoos are not meant for the pre-teen set

But Debra Harrell now has custody of daughter again

I am probably not the first to tell you this: Kids come with lots of stuff. Even if you try to be as minimal as possible, the little creatures require an awful lot to keep things running smoothly. Here's a master-plan slideshow of ways to cut corners on space in every room to accommodate all the things that come along with kids.

You never know for certain what type of parent you'll be until you've actually become one and your parenting style, as it becomes evident, may surprise you. Here are 4 parenting books to help you figure it all out.

Sunshine! Camping! Pool parties! BBQs! The sunny season is here and to help you make the most of it, we've hand-picked 7 great products to make this summer the best your family has ever had. Click through for our list to inspire your sunny day fun. From our sponsor: Walmart

We all love a picnic. But do one quick search for 'picnic ideas' on Pinterest and you're instantly teleported into a land of overachieving home chefs clearly looking for their big break on Food Network. Well, never mind that, we say. Scratch the 25-ingredient recipes and the incessant trips to the craft store for that perfect tablescape. Here are 5 truly simple picnic ideas that will look great, taste great, and make you feel like the winner you are! From our sponsor: Walmart

Admit it — you do these things, too! And that's OK. But maybe — just maybe — it's time to think about changing things up a little bit, for the sake of your sanity, your relationship with your kids, and because life's too short.

We asked veterinary experts and readers which breeds they think and if it is OK to shave longhaired pets in the summer.