What not to say to families who are grieving
The wrong words and the right words for parents who have just lost their children.
All the sympathy card sentiments in the world can seem insufficient when trying to console someone who has lost a loved one. The death of a child is particularly challenging. Such anguish can appear implacable even when met with the best intentions and carefully selected words.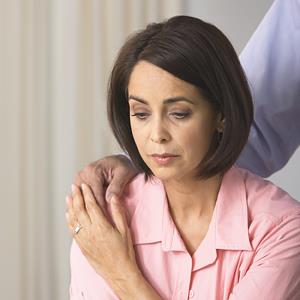 Even when our aims are true, some of our most common expressions of sympathy can offend grieving parents. Here are phrases to avoid when trying to offer support to the bereft.
"Time heals all wounds."
Avoid banal philosophical or religious statements. Frequently such declarations seek to minimize the pain survivors feel.  For instance, "Time heals all wounds," implies that the hurt the parent feels will at some point go away. It won't diminish. The loss of that child will abide with the parents throughout their life.
"Everything happens for a reason."
People often contend that there must be a reason for the terrible event. We would like to believe that a rationale exists for every catastrophe, that there is a silver lining to each dark cloud. Even if a benefit does later reveal itself, often that reason will remain obscured to the parents until they have worked through their loss. And even then there simply is no upside to death.
"I know how you feel."
It can be insulting to the bereaved to suggest that you know exactly how they are feeling. Instead, try asking them how they feel and let them know it's ok if they are not ready to share their feelings.
"It's God's Will."
Common religious consolations often suggest that the death is God's doing, not because God is diabolical but because God is teaching us something. As Rev. Emily C. Heath writes in The Huffington Post, attributing terrible events to God makes it seem "that God will break parents' hearts at will just because God can. It also communicates to parents and loved ones that they are not really entitled to their grief."
So, what is appropriate to say to grieving parents?
"I'm sorry to hear that this happened to you."
This phrase let's the grieving person know that you care about them and their situation, The American Cancer Society says. It also may give the bereaved an opportunity to talk about their feelings.
"Please let me know how I can support you."
Make yourself available to the family. Offer to help with chores or errands. Be available to talk. Your help and consideration will mean more than any words can, but allow the family to choose how to involve you during this difficult time. Just be ready to assist when they call.
Often simply listening can be what the grieving person needs to help them get through such a difficult time. You can also offer support in other ways, such as grocery shopping, bringing food, handling arrangements, paying bills or just spending time together.
Photo: Terry Vine/Blend Images LLC/Getty Images
Bing: Details emerge about the Connecticut shooters' mother.
More from MSN Living:
Mom of mentally ill son asks for help
Whether - and what - to tell your kids about this tragedy
How to help your kids feel safe
News, stories, tips and laughs for moms & dads
Make sure your go-to gadgets are as cute as your style, with these trendy tech finds!

Oh, how the times have changed...

Get ready to hit the mall! Check out the hottest back-to-school trends—and get ready to make a major style statement this year.

Unique, or downright strange?

This is Kevin Droniak and his grandma. They're besties, they're awesome and they're YouTube stars.

It can be difficult to entice little ones to eat anything at all, let alone to devour a healthy plate. But feeding your kids nutritious snacks after school just got way easier, thanks to these adorably clever and cute snack ideas! For more smart and fun ways to get your kids to enjoy healthful and delicious foods, try one of these amazingly artsy lunch ideas.

Through a tonsillectomy all the way to brain surgery, my mother deserves some recognition. She's my spine, my birthday shadow, my BFF, my thunder buddy, so Mommy, thank you.

My son needs me, as much as yours needs you. Sadly, my son needs me more. He needs someone to have his back, when it seems that the police, the men he'd wave to with excitement as a little boy, see him as a being worthy only of prison or death.

If you know someone who has adopted and have made some of these comments, don't fret... now you know!

"Because you shine from within," I said, touching my finger to her heart. "Not everybody sees it, but I do. I see it. And my job is to protect that light. So when people say mean comments that squelch that light, I want you to tell me. I will protect your light by listening and loving you, my brave, courageous, and unique little firefly."

Studies have shown that it helps, top education officials have recommended it, and now doctors are officially saying the same.

I may have accidentally dropped you a few times, forgotten to document your first fart, let a little pee fly and dressed you like an idiot, but I have also loved you with every piece of me, and you will never hear an apology for that.