Teachers, School Principals, and Sexy Photos
It is wrong to let students know you have a life outside of work
If you're a teacher, school principal, or other such employee, let me first acknowledge that you truly have one of the most important jobs in the world. You are special people who are exceptionally nurturing, and seem to exist only to respond to whatever's asked of you. But I have a question to which none of you should EVER respond, no matter how sincerely asked:  "Hey Hot Stuff, show me your t**s!" I know it's very tempting to participate in the anatomy lesson, and heaven knows you can never have enough bead necklaces. But chances are there will be a camera in the vicinity, and sexy Facebook posts quick to follow. Before you know it, your students will have firsthand knowledge that their mild mannered teacher has a tattoo of a drooping rose.
I mention this because of a recent incident in which a school principal had pictures posted in which she was dancing with a shirtless dude after they both had apparently been drizzled in chocolate syrup.
Now, there's nothing wrong with being drizzled on, if that's your thing. I actually find it kind of gross, but since I'm not the boss of you, who cares what I think. I also don't condone exposing your breasts to any man other than your husband, and not until the night of your wedding after your father has given him the key to your chastity belt—and the thirty oxen per condition of your dowry (though once he sees your breasts, he'll know you were worth forty five). But it's a free country, and if exposing yourself makes you feel like a liberated woman, by all means set the girls free. That is, unless you're a teacher.
You see, teachers are supposed to be wholesome, non-sexual beings. If you want to spend your time letting men turn you into dessert, maybe you should've become a software engineer. Then you'll only be able to corrupt files, not impressionable children. As an educator, you are responsible for the development of your students. Any teacher or principal who is even rumored to have a life outside of her classroom is a total slut!
And most importantly, here's the link to her photo. It's a shame the sauce wasn't green, or she could've just told the students that she won an award from Nickelodeon.
Love our blog? Become a fan of MSN Lifestyle on Facebook.  We're like the Lady Gaga of news and entertainment portals.
Check out my hilarious book Sorry I Peed on You (and other heartwarming letters to Mommy)(Andrews McMeel). Makes a great baby shower gift!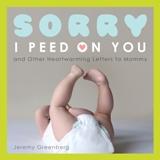 And hey, do ya love doggies and puppies? My hilarious and adorable new book, Sorry I Pooped in Your Shoe (and Other Heartwarming Letters from Doggie) (Andrews McMeel) is now available!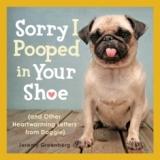 News, stories, tips and laughs for moms & dads
As you trim your tree, hang the lights, bake cookies and prepare for guests, remember that there's a certain member of your family who also deserves something extra special this holiday season: your dog. Save a little space under the tree for these beds, toys, collars and outfits for your favorite canine. Plus, we've even included a couple of gifts for the dog lovers in your life!

Dr. Marty Becker shares questions you should ask yourself before making the commitment to foster a shelter pet.

What one mom learned about herself might just change your world

From Ryan Gosling earrings to portable speakers, there's something here for kids of all ages.

When it comes to holiday giving, it's the thought that counts, which is why homemade gifts from kids are so treasured by their mothers. Children might not have money to spend on an expensive piece of jewelry or designer handbag, but they do have the time to DIY something special for their number one fan. If you're in charge of helping the little ones think of presents, check out the above list of homemade gifts for mom. From a custom vase to Instagram coasters to Warhol-inspired wall art, we have something for every taste and skill level.

At our household, we have a large, diverse collection of toys. While I'm not as uptight as my husband on what enters our kids' toy chest, my husband must approve all toy acquisitions mostly because of aesthetics (appearance is important). In our search for functional and stylish toys, the sustainable ones often have the best design, and appeal to the visual and tactile senses or improve fine motor skills such as dexterity and hand coordination. Here are a few of our family favorites that intrigue and hold our little ones' attention—and look good, too.

Worried that a violent video game might sneak its way into your shopping cart during the holidays? Before you make it to the register, make sure you're armed with all the information you need regarding your child's games. Just because your well-meaning thirteen-year-old promises you that the game he's about to buy with the gift card from Uncle Mike is totally chill, doesn't mean it's good for kids. Do your research ahead of time to avoid any game store drama. And have a chat with your offspring before the big day; let them know that you're going to have to green light their choices before they get their hearts set on any particular item. At the end of the day, you're just being a good parent. Some of the games on the market now may look OK at first glance, but are actually quite objectionable. Trust us: We've done our homework and we're here to give you the ultimate low-down. Check out this slideshow for all the games to steer clear of this season. Don't say we didn't warn you.

Two sociologists have found that parents who have daughters are more inclined to support the GOP and turn a cold shoulder to Democrats.

The experts at Nameberry.com predict what will be big in baby-naming next year

Famed event-planner David Stark shared tips for making chic holiday decorations using items you already have around the house. Take a look!

Sociologist Karen Z. Kramer found that over the past decade more than 550,000 men were stay-at-home fathers, which is about 3.5 percent of the married with kids population.

Ben Miller celebrates his wife's birthday and the anniversary of the day their premature son Ward Miles came home for good with a video documenting his first year.