Teachers, School Principals, and Sexy Photos
It is wrong to let students know you have a life outside of work
If you're a teacher, school principal, or other such employee, let me first acknowledge that you truly have one of the most important jobs in the world. You are special people who are exceptionally nurturing, and seem to exist only to respond to whatever's asked of you. But I have a question to which none of you should EVER respond, no matter how sincerely asked:  "Hey Hot Stuff, show me your t**s!" I know it's very tempting to participate in the anatomy lesson, and heaven knows you can never have enough bead necklaces. But chances are there will be a camera in the vicinity, and sexy Facebook posts quick to follow. Before you know it, your students will have firsthand knowledge that their mild mannered teacher has a tattoo of a drooping rose.
I mention this because of a recent incident in which a school principal had pictures posted in which she was dancing with a shirtless dude after they both had apparently been drizzled in chocolate syrup.
Now, there's nothing wrong with being drizzled on, if that's your thing. I actually find it kind of gross, but since I'm not the boss of you, who cares what I think. I also don't condone exposing your breasts to any man other than your husband, and not until the night of your wedding after your father has given him the key to your chastity belt—and the thirty oxen per condition of your dowry (though once he sees your breasts, he'll know you were worth forty five). But it's a free country, and if exposing yourself makes you feel like a liberated woman, by all means set the girls free. That is, unless you're a teacher.
You see, teachers are supposed to be wholesome, non-sexual beings. If you want to spend your time letting men turn you into dessert, maybe you should've become a software engineer. Then you'll only be able to corrupt files, not impressionable children. As an educator, you are responsible for the development of your students. Any teacher or principal who is even rumored to have a life outside of her classroom is a total slut!
And most importantly, here's the link to her photo. It's a shame the sauce wasn't green, or she could've just told the students that she won an award from Nickelodeon.
Love our blog? Become a fan of MSN Lifestyle on Facebook.  We're like the Lady Gaga of news and entertainment portals.
Check out my hilarious book Sorry I Peed on You (and other heartwarming letters to Mommy)(Andrews McMeel). Makes a great baby shower gift!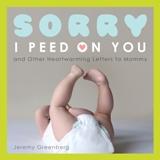 And hey, do ya love doggies and puppies? My hilarious and adorable new book, Sorry I Pooped in Your Shoe (and Other Heartwarming Letters from Doggie) (Andrews McMeel) is now available!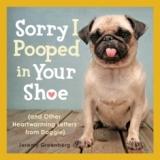 News, stories, tips and laughs for moms & dads
"Because you shine from within," I said, touching my finger to her heart. "Not everybody sees it, but I do. I see it. And my job is to protect that light. So when people say mean comments that squelch that light, I want you to tell me. I will protect your light by listening and loving you, my brave, courageous, and unique little firefly."

Studies have shown that it helps, top education officials have recommended it, and now doctors are officially saying the same.

I may have accidentally dropped you a few times, forgotten to document your first fart, let a little pee fly and dressed you like an idiot, but I have also loved you with every piece of me, and you will never hear an apology for that.

Back-to-school shopping is still in full swing, and your little gents probably need some new kicks to round out their fall wardrobes (you already picked up some bold shoes for the little ladies in your life, right?).

Not every kid is a fan of returning to the classroom, so parents try to ease the blow with a little back-to-school shopping.

Would you rather be a parent now or then?

As all the kids line up to go to school, your son, Timmy, turns to you and says, "I don't want to take the bus. My stomach hurts. Please don't make me go." You cringe and think, Here we go again. What should be a simple morning routine explodes into a daunting challenge.

The strong bonds that dogs can form are undeniable.

Think you know your pet's every unspoken wish? Think again. Your pet is unlikely to be capable of communicating her wants and needs in ways you might assume she would. Even those of you most in touch with your pets' feelings are likely missing a few cues here and there.

The Chesapeake Bay Retriever made both our readers' and veterinary professionals' lists of breeds that love the water.

You might proudly call yourself a dog owner, pet parent or canine guardian, but let's be real: Your dog owns you. You might be laughing now, but think about it — you've surrendered the best seat on the sofa to him, you plan your entire weekend around his trips to the dog park, and you take him to the groomer more often than you get your own hair cut. And let's not forget who's in every photo on your Facebook and Instagram feeds. Sound familiar? We thought so. But in case you still think you're in charge, here are seven classic signs that your dog is the one calling the shots.

One of the best things about being a veterinarian is all the different dogs I get to meet. Of course, I love the Labs and Beagles and Boxers and Poodles, not to mention those crazy Canine Cocktails, or what my parents used to call Heinz 57s. They are among the more popular dogs out there, and I see a lot of them. In fact, it used to be that it was rare to see anything else. Here are nine dog breeds I sometimes see now that I didn't see in the past.