Teachers, School Principals, and Sexy Photos
It is wrong to let students know you have a life outside of work
If you're a teacher, school principal, or other such employee, let me first acknowledge that you truly have one of the most important jobs in the world. You are special people who are exceptionally nurturing, and seem to exist only to respond to whatever's asked of you. But I have a question to which none of you should EVER respond, no matter how sincerely asked:  "Hey Hot Stuff, show me your t**s!" I know it's very tempting to participate in the anatomy lesson, and heaven knows you can never have enough bead necklaces. But chances are there will be a camera in the vicinity, and sexy Facebook posts quick to follow. Before you know it, your students will have firsthand knowledge that their mild mannered teacher has a tattoo of a drooping rose.
I mention this because of a recent incident in which a school principal had pictures posted in which she was dancing with a shirtless dude after they both had apparently been drizzled in chocolate syrup.
Now, there's nothing wrong with being drizzled on, if that's your thing. I actually find it kind of gross, but since I'm not the boss of you, who cares what I think. I also don't condone exposing your breasts to any man other than your husband, and not until the night of your wedding after your father has given him the key to your chastity belt—and the thirty oxen per condition of your dowry (though once he sees your breasts, he'll know you were worth forty five). But it's a free country, and if exposing yourself makes you feel like a liberated woman, by all means set the girls free. That is, unless you're a teacher.
You see, teachers are supposed to be wholesome, non-sexual beings. If you want to spend your time letting men turn you into dessert, maybe you should've become a software engineer. Then you'll only be able to corrupt files, not impressionable children. As an educator, you are responsible for the development of your students. Any teacher or principal who is even rumored to have a life outside of her classroom is a total slut!
And most importantly, here's the link to her photo. It's a shame the sauce wasn't green, or she could've just told the students that she won an award from Nickelodeon.
Love our blog? Become a fan of MSN Lifestyle on Facebook.  We're like the Lady Gaga of news and entertainment portals.
Check out my hilarious book Sorry I Peed on You (and other heartwarming letters to Mommy)(Andrews McMeel). Makes a great baby shower gift!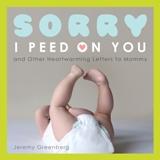 And hey, do ya love doggies and puppies? My hilarious and adorable new book, Sorry I Pooped in Your Shoe (and Other Heartwarming Letters from Doggie) (Andrews McMeel) is now available!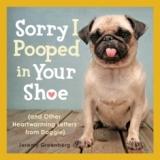 News, stories, tips and laughs for moms & dads
Watch the video of Kristen Bell going head to head with paparazzi - it will make you angry

Every year, toy makers from around the world gather to show their latest creations at the Toy Fair in New York City. The high-tech models, gadgets and trinkets on display put those basic Legos we played with at kids to shame. Here are 10 new toys that we'd happily buy or children. Or, really, ourselves.

Find yourself wandering the aisles, suddenly needing an owl-shaped candle while drinking a $5 latte? You're not alone, moms...

Here's some parenting advice for whatever stage of separation or divorce you're in.

Whether you pop it in the mail or post it on social media, a creative photo is a surefire way to grab everyone's attention and proudly say, "I'm pregnant!" Prepare for a lot of likes.

Remember the magical children's rooms in Peter Pan and The Little Prince? These timeless novels described spaces that were enchanting and made us wish that we could inhabit the rooms ourselves. The sumptuous interiors that were filled with never-ending toys and fort-like draping may seem like a fairytale, but thanks to four of our favorite kids' furniture websites, the dream could actually become a reality. Click through the slideshow to check out the best kids furniture websites that have everything necessary to create a fantasy room for your little one. And check out Sophia Demenge's super-fun space in the video below. By Barry Samaha

They lay, they play, and they take selfies with supermodels. Meet 5 of the most social media-savvy pets—animals taking control of their own fashionable online image.

We could try to offer you carefully researched and crafted words of Dad-centric inspiration, intended to show you the path to being a better man and, in turn, a better father. But Tom Limbert took up the task for us in his new book 'Dad's Playbook: Wisdom for Fathers from the Greatest Coaches of All Time,' so we left it to him. Limbert -- a parent coach and the founder of the Studio Grow children's play space in Berkeley, California -- has collected pearls of wisdom from an elite crew of coaches who have not only experienced greatness themselves, but also found ways to consistently instill it in their teams. "It's monkey-see, monkey-do," Limbert told us, after we asked him to gather the best quotes on achieving one's goals. "If you want your child to follow, you have to lead." Click on to read the often simple-seeming words that have inspired countless others to follow through on the field, but that can also easily be translated to the school, work, fitness, and, of course, parenting arenas.

What parents need to know

It's raining, it's pouring ... but that doesn't mean the day has to be a snore. Rather than let the kids grow restless and rambunctious, why not divert their energy toward some fun family bonding activities? Although the weather may have scotched your original plans for the day, seize the opportunity to reconnect and let loose with your loved ones. Click through this slideshow for ten refreshing rainy day activities that'll make you glad the clouds (almost) rained on your parade.

Every family has its oddballs. And the holiday season is the one time of year when you're pretty much forced to interact and play nice with the grand majority of them. Click through the slideshow above for our guide to dealing with the five worst kinds of kin. *Disclaimer: All characters appearing in this work are fictitious. Any resemblance to real persons, living or dead, is purely coincidental.

Not great with a budget? Don't sweat it. Try these simple ways to save.