Their Kid, Their Rules
Hey grandparents, want to help your kids be good parents? Try butting out.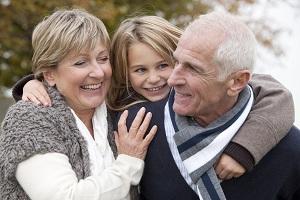 by Larry West
A grandparent, by definition, is a highly experienced parent. After all, by the time you achieve grandparent status you've already weathered your share of 3 a.m. feedings, potty training, and scraped knees or worse. And you've successfully guided your kids from their first breath, through their first step and first heartbreak, to their first real job and beyond. On the other hand your adult children, who made you a grandparent by having children of their own, are new and inexperienced parents at best. Naturally, you feel compelled to help them out by sharing your hard-won wisdom.
Please don't.
You had your shot at parenting; now it's your kids' turn. And they'll have an easier time of it if you don't offer too much unsolicited advice, or ignore their wishes so you can handle things your own way when their children are in your care. Unwanted, unnecessary and, at times, unbelievable advice from the older generation about how the younger generation should bring up the next generation is one of the surest ways to create a chasm between family members that may never fully close.
And, frankly, the issues that cause the deepest emotional rifts are often just plain silly.
Case in point:  I have a friend who lives near Seattle, and she and her husband have a 3-year-old son. They fought a prolonged battle with his parents that led to heated arguments, hurt feelings and extended silences—all because of the length of their son's hair.
The boy's parents had decided to hold off cutting his hair until he asked for a haircut. The kid's hair spilled over his collar, then grew to shoulder length, and eventually reached nearly to his waist. It didn't bother his parents, it obviously didn't bother him, it appeared to be OK with his mother's family, but it drove his paternal grandparents crazy.
"We explained to them that hair length is one of the few things a 3-year-old can have control over," said my friend, who agreed to let me use her story if she and her family could remain anonymous. "We wanted to give him that."
That wasn't good enough for her husband's parents. They started by just mentioning the length of their grandson's hair and suggesting that maybe it was time for a haircut. When that didn't work, they started pulling his hair back whenever they saw him and exclaiming, "Look how cute he is. You can see his face." Finally, the grandmother sent her husband to speak to their son, who asked his dad to please just drop it. The father agreed, but then brought it up again at the end of the conversation. They didn't speak for a month after that.
The ironic thing here is that the grandparents were not really all that upset about the length of their grandson's hair. What bothered them most was that their friends were making fun of them because of the boy's long locks.
About a month ago, the boy asked for a haircut, so his mother cut his hair. She reports that the tension with her husband's parents is much lower now. Well, sure, they finally got what they wanted, so maybe now their friends will stop giving them a hard time. But like most battles, this one caused some collateral damage.
"It was a challenging year," my friend said. "That one issue made both my husband and me want to avoid his parents, but we felt we couldn't for our son's sake. It also made us not trust them, that they wouldn't do something rash. We went to Disney World with them in December and there were some very tense moments, and it all stemmed back to something so stupid – his hair.
"It was really about respect," she said. "They don't like how we are raising their grandson, and so they felt it was OK to pick and pick and pick."
So let's review. Many people, parents and grandparents alike, probably would view as unorthodox my friend's decision to let her son grow his hair as long as he wanted. But so what? She and her husband weren't letting him play in the street or giving him bad food or doing any number of other things that might actually harm him. They just let him grow his hair until he was ready to stop. 
The grandparents, on the other hand, cared more about the opinion of their friends than the feelings of their family. In the process, they alienated their son and daughter-in-law, at least temporarily, and created an underlying mistrust that won't be easy to overcome. And you have to wonder if they learned anything from the experience. This all happened over the length of a 3-year-old's hair, after all, so what happens when other differences of opinion come up during the next 20 years or so?
It's a cautionary tale for grandparents everywhere.
It seems to me there are two principles for grandparents to keep in mind when they see their kids doing things as parents that don't quite jibe with their own views.
First, apply some of your parenting skills to yourself. Every parent knows that sometimes the best thing you can do for your kids is to let them make their own mistakes and learn from their own experience. That's as true when it comes to them learning to be good parents as it was when they were learning to navigate the social environment in junior high.
Second, the Golden Rule works here just as it does in so many life situations. Think for a minute, and you'll probably remember how you felt about your parents and in-laws telling you how to raise your kids. Why would you expect your own children to feel any better about you butting in?
This doesn't mean you can't be deeply involved in your grandchildren's lives. There are plenty of opportunities for you to give your grandkids love and attention, and to teach them things their parents can't. Just ease up on lecturing your kids about their parenting skills.
Your kids already know that you're a great resource for them. If you can resist the temptation to give them help they don't need, then chances are they'll want your advice when they hit something really challenging. In the meantime, relax and enjoy your grandkids.
News, stories, tips and laughs for moms & dads
6-year-old has rare brain condition

He wanted to know if woman was pregnant

Did your state make the grade?

A new dad finds an Epcot Center's worth of innovation after expecting none at all.

Alcohol and tattoos are not meant for the pre-teen set

But Debra Harrell now has custody of daughter again

I am probably not the first to tell you this: Kids come with lots of stuff. Even if you try to be as minimal as possible, the little creatures require an awful lot to keep things running smoothly. Here's a master-plan slideshow of ways to cut corners on space in every room to accommodate all the things that come along with kids.

You never know for certain what type of parent you'll be until you've actually become one and your parenting style, as it becomes evident, may surprise you. Here are 4 parenting books to help you figure it all out.

Sunshine! Camping! Pool parties! BBQs! The sunny season is here and to help you make the most of it, we've hand-picked 7 great products to make this summer the best your family has ever had. Click through for our list to inspire your sunny day fun. From our sponsor: Walmart

We all love a picnic. But do one quick search for 'picnic ideas' on Pinterest and you're instantly teleported into a land of overachieving home chefs clearly looking for their big break on Food Network. Well, never mind that, we say. Scratch the 25-ingredient recipes and the incessant trips to the craft store for that perfect tablescape. Here are 5 truly simple picnic ideas that will look great, taste great, and make you feel like the winner you are! From our sponsor: Walmart

Admit it — you do these things, too! And that's OK. But maybe — just maybe — it's time to think about changing things up a little bit, for the sake of your sanity, your relationship with your kids, and because life's too short.

We asked veterinary experts and readers which breeds they think and if it is OK to shave longhaired pets in the summer.