Their Kid, Their Rules
Hey grandparents, want to help your kids be good parents? Try butting out.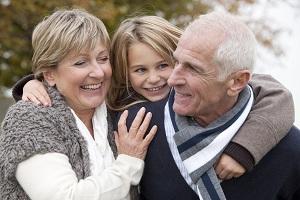 by Larry West
A grandparent, by definition, is a highly experienced parent. After all, by the time you achieve grandparent status you've already weathered your share of 3 a.m. feedings, potty training, and scraped knees or worse. And you've successfully guided your kids from their first breath, through their first step and first heartbreak, to their first real job and beyond. On the other hand your adult children, who made you a grandparent by having children of their own, are new and inexperienced parents at best. Naturally, you feel compelled to help them out by sharing your hard-won wisdom.
Please don't.
You had your shot at parenting; now it's your kids' turn. And they'll have an easier time of it if you don't offer too much unsolicited advice, or ignore their wishes so you can handle things your own way when their children are in your care. Unwanted, unnecessary and, at times, unbelievable advice from the older generation about how the younger generation should bring up the next generation is one of the surest ways to create a chasm between family members that may never fully close.
And, frankly, the issues that cause the deepest emotional rifts are often just plain silly.
Case in point:  I have a friend who lives near Seattle, and she and her husband have a 3-year-old son. They fought a prolonged battle with his parents that led to heated arguments, hurt feelings and extended silences—all because of the length of their son's hair.
The boy's parents had decided to hold off cutting his hair until he asked for a haircut. The kid's hair spilled over his collar, then grew to shoulder length, and eventually reached nearly to his waist. It didn't bother his parents, it obviously didn't bother him, it appeared to be OK with his mother's family, but it drove his paternal grandparents crazy.
"We explained to them that hair length is one of the few things a 3-year-old can have control over," said my friend, who agreed to let me use her story if she and her family could remain anonymous. "We wanted to give him that."
That wasn't good enough for her husband's parents. They started by just mentioning the length of their grandson's hair and suggesting that maybe it was time for a haircut. When that didn't work, they started pulling his hair back whenever they saw him and exclaiming, "Look how cute he is. You can see his face." Finally, the grandmother sent her husband to speak to their son, who asked his dad to please just drop it. The father agreed, but then brought it up again at the end of the conversation. They didn't speak for a month after that.
The ironic thing here is that the grandparents were not really all that upset about the length of their grandson's hair. What bothered them most was that their friends were making fun of them because of the boy's long locks.
About a month ago, the boy asked for a haircut, so his mother cut his hair. She reports that the tension with her husband's parents is much lower now. Well, sure, they finally got what they wanted, so maybe now their friends will stop giving them a hard time. But like most battles, this one caused some collateral damage.
"It was a challenging year," my friend said. "That one issue made both my husband and me want to avoid his parents, but we felt we couldn't for our son's sake. It also made us not trust them, that they wouldn't do something rash. We went to Disney World with them in December and there were some very tense moments, and it all stemmed back to something so stupid – his hair.
"It was really about respect," she said. "They don't like how we are raising their grandson, and so they felt it was OK to pick and pick and pick."
So let's review. Many people, parents and grandparents alike, probably would view as unorthodox my friend's decision to let her son grow his hair as long as he wanted. But so what? She and her husband weren't letting him play in the street or giving him bad food or doing any number of other things that might actually harm him. They just let him grow his hair until he was ready to stop. 
The grandparents, on the other hand, cared more about the opinion of their friends than the feelings of their family. In the process, they alienated their son and daughter-in-law, at least temporarily, and created an underlying mistrust that won't be easy to overcome. And you have to wonder if they learned anything from the experience. This all happened over the length of a 3-year-old's hair, after all, so what happens when other differences of opinion come up during the next 20 years or so?
It's a cautionary tale for grandparents everywhere.
It seems to me there are two principles for grandparents to keep in mind when they see their kids doing things as parents that don't quite jibe with their own views.
First, apply some of your parenting skills to yourself. Every parent knows that sometimes the best thing you can do for your kids is to let them make their own mistakes and learn from their own experience. That's as true when it comes to them learning to be good parents as it was when they were learning to navigate the social environment in junior high.
Second, the Golden Rule works here just as it does in so many life situations. Think for a minute, and you'll probably remember how you felt about your parents and in-laws telling you how to raise your kids. Why would you expect your own children to feel any better about you butting in?
This doesn't mean you can't be deeply involved in your grandchildren's lives. There are plenty of opportunities for you to give your grandkids love and attention, and to teach them things their parents can't. Just ease up on lecturing your kids about their parenting skills.
Your kids already know that you're a great resource for them. If you can resist the temptation to give them help they don't need, then chances are they'll want your advice when they hit something really challenging. In the meantime, relax and enjoy your grandkids.
News, stories, tips and laughs for moms & dads
As you trim your tree, hang the lights, bake cookies and prepare for guests, remember that there's a certain member of your family who also deserves something extra special this holiday season: your dog. Save a little space under the tree for these beds, toys, collars and outfits for your favorite canine. Plus, we've even included a couple of gifts for the dog lovers in your life!

Dr. Marty Becker shares questions you should ask yourself before making the commitment to foster a shelter pet.

What one mom learned about herself might just change your world

From Ryan Gosling earrings to portable speakers, there's something here for kids of all ages.

When it comes to holiday giving, it's the thought that counts, which is why homemade gifts from kids are so treasured by their mothers. Children might not have money to spend on an expensive piece of jewelry or designer handbag, but they do have the time to DIY something special for their number one fan. If you're in charge of helping the little ones think of presents, check out the above list of homemade gifts for mom. From a custom vase to Instagram coasters to Warhol-inspired wall art, we have something for every taste and skill level.

At our household, we have a large, diverse collection of toys. While I'm not as uptight as my husband on what enters our kids' toy chest, my husband must approve all toy acquisitions mostly because of aesthetics (appearance is important). In our search for functional and stylish toys, the sustainable ones often have the best design, and appeal to the visual and tactile senses or improve fine motor skills such as dexterity and hand coordination. Here are a few of our family favorites that intrigue and hold our little ones' attention—and look good, too.

Worried that a violent video game might sneak its way into your shopping cart during the holidays? Before you make it to the register, make sure you're armed with all the information you need regarding your child's games. Just because your well-meaning thirteen-year-old promises you that the game he's about to buy with the gift card from Uncle Mike is totally chill, doesn't mean it's good for kids. Do your research ahead of time to avoid any game store drama. And have a chat with your offspring before the big day; let them know that you're going to have to green light their choices before they get their hearts set on any particular item. At the end of the day, you're just being a good parent. Some of the games on the market now may look OK at first glance, but are actually quite objectionable. Trust us: We've done our homework and we're here to give you the ultimate low-down. Check out this slideshow for all the games to steer clear of this season. Don't say we didn't warn you.

Two sociologists have found that parents who have daughters are more inclined to support the GOP and turn a cold shoulder to Democrats.

The experts at Nameberry.com predict what will be big in baby-naming next year

Famed event-planner David Stark shared tips for making chic holiday decorations using items you already have around the house. Take a look!

Sociologist Karen Z. Kramer found that over the past decade more than 550,000 men were stay-at-home fathers, which is about 3.5 percent of the married with kids population.

Ben Miller celebrates his wife's birthday and the anniversary of the day their premature son Ward Miles came home for good with a video documenting his first year.