Number of Stay-at-home Dads Doubled in the Past Decade
And it's time for them to exercise their power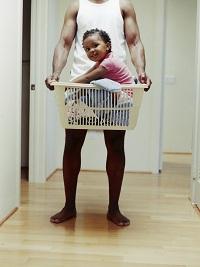 Over the past decade men have doubled the size of something—but it's probably not what they would've hoped for. From 2001-2011 the number of stay-at-home dads has climbed from 1.6% to 3.4%. In the United States, there are now about 176,000 men who spend their days throwing their kids' teddy bears through indoor basketball hoops.
My concern is not how this is happening. Some blame the "man-cession," in which men are more quickly forced to walk the plank to keep a business from sinking. In some situations it's simply an expression of liberalized gender roles. Women want to work, and the guy wants to have extra time to coach sports and play video games. Or, it could be that the woman is simply much smarter, stronger, and more ruthless, and so it makes sense that she should earn the income. Whatever. It doesn't matter. What does matter is that men must now use their growing clout in the nose-blowing community to make some long overdue changes.
For starters, men should finally declare than any towel that is not on the floor is by definition folded and put away. And tri-folding towels should be declared illegal—because it's just stupid. Secondly, putting clothes on a hamper is just as good as putting them in the hamper. What's the difference? We're going to wash them anyway.  And finally, men must start the new family tradition of eating over the sink.  For those kids not tall enough to crowd over the sink by themselves, let them have their very own sink-eating step-stools decorated in their favorite cartoon characters. Even push the babies in high chairs as close as possible to the sink. When everyone's done eating, the father must then remove the sink spray nozzle attachment and hose off his family, so that they're clean and ready for bed.
From Beevis and Buthead to biotoxins, men have made many great contributions to society. We should continue our creative ways into the new frontier of homemaking. I dream of a day in which asking, "May I be excused?" is replaced by children all across our nation burping the words, "I'm done" as they slide off their chairs and on to the floor, and then slither away.
Can men do as good of a job raising kids as women?

Photo: Zia Soleil/Stone/Getty Images

Love our blog? Become a fan of MSN Living on Facebook.  We're like the Lady Gaga of news and entertainment portals.
Check out my hilarious book Sorry I Peed on You (and other heartwarming letters to Mommy)(Andrews McMeel). Makes a great baby shower gift!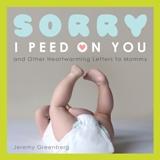 And hey, do ya love doggies and puppies? My hilarious and adorable new book, Sorry I Pooped in Your Shoe (and Other Heartwarming Letters from Doggie) (Andrews McMeel) is now available!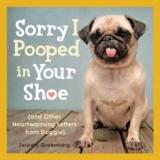 News, stories, tips and laughs for moms & dads
A new dad finds an Epcot Center's worth of innovation after expecting none at all.

Alcohol and tattoos are not meant for the pre-teen set

But Debra Harrell now has custody of daughter again

I am probably not the first to tell you this: Kids come with lots of stuff. Even if you try to be as minimal as possible, the little creatures require an awful lot to keep things running smoothly. Here's a master-plan slideshow of ways to cut corners on space in every room to accommodate all the things that come along with kids.

You never know for certain what type of parent you'll be until you've actually become one and your parenting style, as it becomes evident, may surprise you. Here are 4 parenting books to help you figure it all out.

Sunshine! Camping! Pool parties! BBQs! The sunny season is here and to help you make the most of it, we've hand-picked 7 great products to make this summer the best your family has ever had. Click through for our list to inspire your sunny day fun. From our sponsor: Walmart

We all love a picnic. But do one quick search for 'picnic ideas' on Pinterest and you're instantly teleported into a land of overachieving home chefs clearly looking for their big break on Food Network. Well, never mind that, we say. Scratch the 25-ingredient recipes and the incessant trips to the craft store for that perfect tablescape. Here are 5 truly simple picnic ideas that will look great, taste great, and make you feel like the winner you are! From our sponsor: Walmart

Admit it — you do these things, too! And that's OK. But maybe — just maybe — it's time to think about changing things up a little bit, for the sake of your sanity, your relationship with your kids, and because life's too short.

We asked veterinary experts and readers which breeds they think and if it is OK to shave longhaired pets in the summer.

Celeb moms post photos to show off their weight loss, but then they undermine their progress in the captions.

Kriste Lewis was inspired by her kidney disease to try out

Hittin' the road, moms and dads? Plan for these five things to happen...