Number of Stay-at-home Dads Doubled in the Past Decade
And it's time for them to exercise their power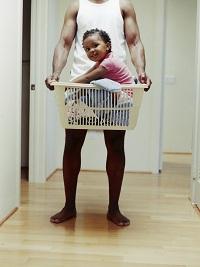 Over the past decade men have doubled the size of something—but it's probably not what they would've hoped for. From 2001-2011 the number of stay-at-home dads has climbed from 1.6% to 3.4%. In the United States, there are now about 176,000 men who spend their days throwing their kids' teddy bears through indoor basketball hoops.
My concern is not how this is happening. Some blame the "man-cession," in which men are more quickly forced to walk the plank to keep a business from sinking. In some situations it's simply an expression of liberalized gender roles. Women want to work, and the guy wants to have extra time to coach sports and play video games. Or, it could be that the woman is simply much smarter, stronger, and more ruthless, and so it makes sense that she should earn the income. Whatever. It doesn't matter. What does matter is that men must now use their growing clout in the nose-blowing community to make some long overdue changes.
For starters, men should finally declare than any towel that is not on the floor is by definition folded and put away. And tri-folding towels should be declared illegal—because it's just stupid. Secondly, putting clothes on a hamper is just as good as putting them in the hamper. What's the difference? We're going to wash them anyway.  And finally, men must start the new family tradition of eating over the sink.  For those kids not tall enough to crowd over the sink by themselves, let them have their very own sink-eating step-stools decorated in their favorite cartoon characters. Even push the babies in high chairs as close as possible to the sink. When everyone's done eating, the father must then remove the sink spray nozzle attachment and hose off his family, so that they're clean and ready for bed.
From Beevis and Buthead to biotoxins, men have made many great contributions to society. We should continue our creative ways into the new frontier of homemaking. I dream of a day in which asking, "May I be excused?" is replaced by children all across our nation burping the words, "I'm done" as they slide off their chairs and on to the floor, and then slither away.
Can men do as good of a job raising kids as women?

Photo: Zia Soleil/Stone/Getty Images

Love our blog? Become a fan of MSN Living on Facebook.  We're like the Lady Gaga of news and entertainment portals.
Check out my hilarious book Sorry I Peed on You (and other heartwarming letters to Mommy)(Andrews McMeel). Makes a great baby shower gift!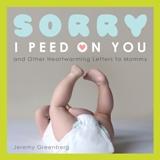 And hey, do ya love doggies and puppies? My hilarious and adorable new book, Sorry I Pooped in Your Shoe (and Other Heartwarming Letters from Doggie) (Andrews McMeel) is now available!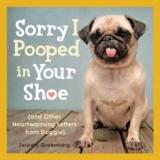 News, stories, tips and laughs for moms & dads
Make the most of the summer with these family-oriented activities!

Here our experts' best tips for how to be a positive role model for your kids so that they grow up healthy, strong and confident about the way they look.

Pets are part of many children's lives. Learn how to help them foster strong, healthy relationships.

It's that time again, parents...

One of our favorite ways to start the day is with a piping hot cup of coffee and a thought-provoking TED talk. In case you'€™re not familiar with the group, TED (which stands for Technology, Entertainment and Design) is a nonprofit organization dedicated to spreading ideas through projects and talks by a diverse group of inspired thinkers - people of all cultures, ages and disciplines. As you can probably guess, listening to these innovators share their ideas is a surefire way to jumpstart your day and get your creative juices flowing. Click through the slideshow above for the eight TED talks every parent needs to see. By Cordelia Tai

Much like their famous owners, these pooches live a fabulous life. Some are rescues, others purebred, but one thing is certain – these dogs play an important part in their famous parents' lives. Can you guess who owns each of these dogs?

If you value the backside of your theater seat and making it to your next paycheck, you may want to stay home

Two controversial science projects resembled weapons, school officials said.

One mom shares how she and her family make the Sedar fun and memorable for all

The threats were in public view on the boy's social media wall.

Sometimes, love isn't enough to save us.

Joe, Kevin, and Nick aren't the only hot bros in Hollywood. Seventeen has uncovered the cutest celebrity siblings!