Number of Stay-at-home Dads Doubled in the Past Decade
And it's time for them to exercise their power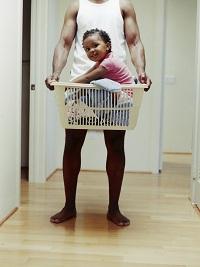 Over the past decade men have doubled the size of something—but it's probably not what they would've hoped for. From 2001-2011 the number of stay-at-home dads has climbed from 1.6% to 3.4%. In the United States, there are now about 176,000 men who spend their days throwing their kids' teddy bears through indoor basketball hoops.
My concern is not how this is happening. Some blame the "man-cession," in which men are more quickly forced to walk the plank to keep a business from sinking. In some situations it's simply an expression of liberalized gender roles. Women want to work, and the guy wants to have extra time to coach sports and play video games. Or, it could be that the woman is simply much smarter, stronger, and more ruthless, and so it makes sense that she should earn the income. Whatever. It doesn't matter. What does matter is that men must now use their growing clout in the nose-blowing community to make some long overdue changes.
For starters, men should finally declare than any towel that is not on the floor is by definition folded and put away. And tri-folding towels should be declared illegal—because it's just stupid. Secondly, putting clothes on a hamper is just as good as putting them in the hamper. What's the difference? We're going to wash them anyway.  And finally, men must start the new family tradition of eating over the sink.  For those kids not tall enough to crowd over the sink by themselves, let them have their very own sink-eating step-stools decorated in their favorite cartoon characters. Even push the babies in high chairs as close as possible to the sink. When everyone's done eating, the father must then remove the sink spray nozzle attachment and hose off his family, so that they're clean and ready for bed.
From Beevis and Buthead to biotoxins, men have made many great contributions to society. We should continue our creative ways into the new frontier of homemaking. I dream of a day in which asking, "May I be excused?" is replaced by children all across our nation burping the words, "I'm done" as they slide off their chairs and on to the floor, and then slither away.
Can men do as good of a job raising kids as women?

Photo: Zia Soleil/Stone/Getty Images

Love our blog? Become a fan of MSN Living on Facebook.  We're like the Lady Gaga of news and entertainment portals.
Check out my hilarious book Sorry I Peed on You (and other heartwarming letters to Mommy)(Andrews McMeel). Makes a great baby shower gift!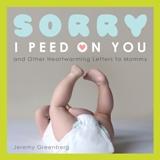 And hey, do ya love doggies and puppies? My hilarious and adorable new book, Sorry I Pooped in Your Shoe (and Other Heartwarming Letters from Doggie) (Andrews McMeel) is now available!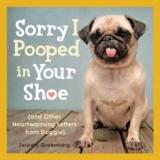 family: tips, trends & advice for all things family
With all the glitz and glamour that comes out of Tinseltown (not to mention the endless tabloid fodder), it's not always obvious that many celebrities are animal lovers, too.

From designer crosses to giant breeds, we scoured Vetstreet's data of millions of dog breeds to determine the trendiest breeds of the past decade.

One of the most unsettling consequences of bringing a child into your previously simple, happily oblivious manly life is that you're now unquestionably, inescapably…The Man.

Whether it was baby's first kick or the first time your boobs leaked in public, there's a point in every mom's life when the world as you know it ends and you realize -- Whoa, I'm someone's mom now. Some of our favorite mommy bloggers revealed what their aha moments were. They range from heartwarming to completely hilarious.

From DIY jewelry to homemade "flowers" to sweet vases, you can help your kid make mom's day with these crafty gifts.

The first parenting shock: They let you take the baby home. Like, without supervision. Only then do the real surprises unfold. Here's what readers told us was most unexpected for them as they embraced this whole mama thing.

Be prepared to say, 'awww,' multiple times while flipping through this collection super-sweet stuff for babies and kids on Etsy.com. Take a peek at some of our favorite finds for moms (and click 'More' to find out how to get this amazing gnome hat!)...By MSN Living editors

Your Mother's Day plans are all set, right? Brunch is booked and a fabulous gift is wrapped and ready to go. So take a breather and celebrate these stylish celebrity moms who work hard, care for their kids, and manage to look amazing in the process.

Find out this year's top baby names on Parenting.com, and see what we predict will be big in 2013

Sophia and Jacob reign supreme.

In an online contest, Parenting.com asked readers to tell us what it means to "have it all." Read the winner's moving essay on how that phrase has defined her motherhood, plus essays from the three runners up.

Tow lot employee finds abandoned pup.