Fruit of the Loom debuts superhero underwear for girls
Can revolution come in the form of underwear?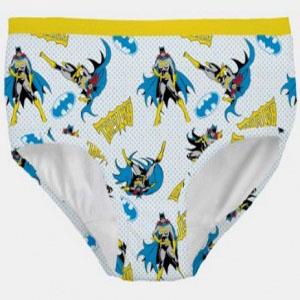 Fruit of the Loom launched a new line of superhero briefs aimed at girls. "Boys aren't the only ones that want to be Superheroes! Your little girl can run faster and jump higher in her new DC Comics briefs," reads the product description.
Plus: What happens when dad's in charge
"We looked at where there was white space in the market and found there was a lack of product like this, but a large demand," Dave Springob, vice president of licensing for Fruit of the Loom told Parenting.com. "Girls wanted to enjoy their superheroes just as much as boys did." A call for more kick-ass girl options in the blogospere, led by Tom Burns of the Good Men Project, was a happy coincidence, as the underwear were already in development.
Plus: When kids defy gender roles
However, the undies fall short of being a total BAM! POW! to gender stereotypes, featuring only female heroes Supergirl, Wonderman, and Batgirl instead of their male counterparts.
We have one other bone to pick with these skivvies: they don't seem to make them in our size.
Would you buy these for your daughter?
More from Parenting.com:
Kids weigh in on love and marriage

Good news: this website
((http://www.pokosty​le.com)
) we has been updated and 
add products and many things they abandoned their increases are welcome to visit 
our website. Accept cash or credit card payments, free transport. You can try oh, 
will make you satisfied.
http://www.pokostyle​.com
Are you sure you want to delete this comment?
News, stories, tips and laughs for moms & dads
Transform the fall vegetable into cool decor pieces.

Put together these creative, but simple, Halloween looks for your youngsters.

We know you're documenting just about every move baby makes. (Do you even have any memory left on your phone? We didn't think so.) These tips from professional photographers can help you perfect your pics.

These six on-trend ideas will make baby's room your new favorite place to hang out.

Baby probably won't remember his first birthday party, but that doesn't mean you can't go all out (after all, parents need to celebrate making it through this first year, right?). These fun, colorful themes take planning to the next level.

See what celebrities who had problems conceiving have to say.

You'll be hearing a lot of advice and opinions. Some of it will be really helpful and some will be just plain wrong. Here are the most common things people say about babies that aren't true.

A new dad finds an Epcot Center's worth of innovation after expecting none at all.

The dog days of summer may be well behind us, but that doesn't mean it's time to pack in the outdoor adventures quite yet.

Protect yourself and your family with these ingenious gizmos and smartphone apps.

Make sure your go-to gadgets are as cute as your style, with these trendy tech finds!

Oh, how the times have changed...