Fruit of the Loom debuts superhero underwear for girls
Can revolution come in the form of underwear?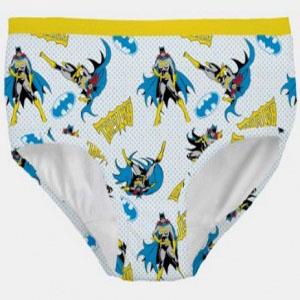 Fruit of the Loom launched a new line of superhero briefs aimed at girls. "Boys aren't the only ones that want to be Superheroes! Your little girl can run faster and jump higher in her new DC Comics briefs," reads the product description.
Plus: What happens when dad's in charge
"We looked at where there was white space in the market and found there was a lack of product like this, but a large demand," Dave Springob, vice president of licensing for Fruit of the Loom told Parenting.com. "Girls wanted to enjoy their superheroes just as much as boys did." A call for more kick-ass girl options in the blogospere, led by Tom Burns of the Good Men Project, was a happy coincidence, as the underwear were already in development.
Plus: When kids defy gender roles
However, the undies fall short of being a total BAM! POW! to gender stereotypes, featuring only female heroes Supergirl, Wonderman, and Batgirl instead of their male counterparts.
We have one other bone to pick with these skivvies: they don't seem to make them in our size.
Would you buy these for your daughter?
More from Parenting.com:
Kids weigh in on love and marriage

Good news: this website
((http://www.pokosty​le.com)
) we has been updated and 
add products and many things they abandoned their increases are welcome to visit 
our website. Accept cash or credit card payments, free transport. You can try oh, 
will make you satisfied.
http://www.pokostyle​.com
Are you sure you want to delete this comment?
News, stories, tips and laughs for moms & dads
As all the kids line up to go to school, your son, Timmy, turns to you and says, "I don't want to take the bus. My stomach hurts. Please don't make me go." You cringe and think, Here we go again. What should be a simple morning routine explodes into a daunting challenge.

Learning these 10 things is a good base with which to begin the tough preteen and teen years. Helping our children maneuver life is our jobs as parents, even if we haven't quite figured it all out ourselves yet.

We've all seen her... But should we judge her?

Unique, or downright strange?

In a few short weeks you'll be dropping your child off at college, where they'll spend the next four years learning, laughing, and probably partying. Of course, in true teen fashion, your child has already started shopping for their dorm room essentials. Don't panic just yet!

When tots burst through the door after a busy day at school, the first order of business is securing a snack.

The only thing more important than what you pack your child for lunch is what you pack it in.

Frustrated mom invents Ignore No More app

Do you have the right mix of moms surrounding you?

It's hard to keep young kids entertained while being confined indoors, but fear not, for we have some fun ideas to keep the entire family from climbing the walls during rainy days.

Back in our day, ending up with the same exact backpack as your BFF was a legitimate back-to-school concern. Nowadays? There are so many options, it's dizzying!

It is a parent's eternal dilemma: What do I make the kids for lunch today? And tomorrow? And next week? We fall into ruts, succumb to the tried-and-true, give in to our children's demands for junk food. No more! These school lunch ideas—for everything from sandwiches to snacks to hot meals—will freshen up your daily routine, so much so you may be tempted to make them for yourself.