Fruit of the Loom debuts superhero underwear for girls
Can revolution come in the form of underwear?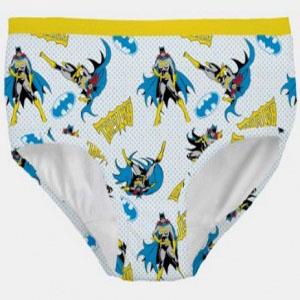 Fruit of the Loom launched a new line of superhero briefs aimed at girls. "Boys aren't the only ones that want to be Superheroes! Your little girl can run faster and jump higher in her new DC Comics briefs," reads the product description.
Plus: What happens when dad's in charge
"We looked at where there was white space in the market and found there was a lack of product like this, but a large demand," Dave Springob, vice president of licensing for Fruit of the Loom told Parenting.com. "Girls wanted to enjoy their superheroes just as much as boys did." A call for more kick-ass girl options in the blogospere, led by Tom Burns of the Good Men Project, was a happy coincidence, as the underwear were already in development.
Plus: When kids defy gender roles
However, the undies fall short of being a total BAM! POW! to gender stereotypes, featuring only female heroes Supergirl, Wonderman, and Batgirl instead of their male counterparts.
We have one other bone to pick with these skivvies: they don't seem to make them in our size.
Would you buy these for your daughter?
More from Parenting.com:
Kids weigh in on love and marriage

Good news: this website
((http://www.pokosty​le.com)
) we has been updated and 
add products and many things they abandoned their increases are welcome to visit 
our website. Accept cash or credit card payments, free transport. You can try oh, 
will make you satisfied.
http://www.pokostyle​.com
Are you sure you want to delete this comment?
News, stories, tips and laughs for moms & dads
Make sure your go-to gadgets are as cute as your style, with these trendy tech finds!

Oh, how the times have changed...

Get ready to hit the mall! Check out the hottest back-to-school trends—and get ready to make a major style statement this year.

Unique, or downright strange?

This is Kevin Droniak and his grandma. They're besties, they're awesome and they're YouTube stars.

It can be difficult to entice little ones to eat anything at all, let alone to devour a healthy plate. But feeding your kids nutritious snacks after school just got way easier, thanks to these adorably clever and cute snack ideas! For more smart and fun ways to get your kids to enjoy healthful and delicious foods, try one of these amazingly artsy lunch ideas.

Through a tonsillectomy all the way to brain surgery, my mother deserves some recognition. She's my spine, my birthday shadow, my BFF, my thunder buddy, so Mommy, thank you.

My son needs me, as much as yours needs you. Sadly, my son needs me more. He needs someone to have his back, when it seems that the police, the men he'd wave to with excitement as a little boy, see him as a being worthy only of prison or death.

If you know someone who has adopted and have made some of these comments, don't fret... now you know!

"Because you shine from within," I said, touching my finger to her heart. "Not everybody sees it, but I do. I see it. And my job is to protect that light. So when people say mean comments that squelch that light, I want you to tell me. I will protect your light by listening and loving you, my brave, courageous, and unique little firefly."

Studies have shown that it helps, top education officials have recommended it, and now doctors are officially saying the same.

I may have accidentally dropped you a few times, forgotten to document your first fart, let a little pee fly and dressed you like an idiot, but I have also loved you with every piece of me, and you will never hear an apology for that.