Fruit of the Loom debuts superhero underwear for girls
Can revolution come in the form of underwear?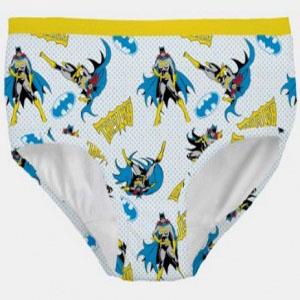 Fruit of the Loom launched a new line of superhero briefs aimed at girls. "Boys aren't the only ones that want to be Superheroes! Your little girl can run faster and jump higher in her new DC Comics briefs," reads the product description.
Plus: What happens when dad's in charge
"We looked at where there was white space in the market and found there was a lack of product like this, but a large demand," Dave Springob, vice president of licensing for Fruit of the Loom told Parenting.com. "Girls wanted to enjoy their superheroes just as much as boys did." A call for more kick-ass girl options in the blogospere, led by Tom Burns of the Good Men Project, was a happy coincidence, as the underwear were already in development.
Plus: When kids defy gender roles
However, the undies fall short of being a total BAM! POW! to gender stereotypes, featuring only female heroes Supergirl, Wonderman, and Batgirl instead of their male counterparts.
We have one other bone to pick with these skivvies: they don't seem to make them in our size.
Would you buy these for your daughter?
More from Parenting.com:
Kids weigh in on love and marriage

Good news: this website
((http://www.pokosty​le.com)
) we has been updated and 
add products and many things they abandoned their increases are welcome to visit 
our website. Accept cash or credit card payments, free transport. You can try oh, 
will make you satisfied.
http://www.pokostyle​.com
Are you sure you want to delete this comment?
News, stories, tips and laughs for moms & dads
Find out which classroom supplies and dorm-room buys you don't need to spend a fortune on

4 steps for raising a child who doesn't feel emotionally stranded.

Any of these sound familiar?

Fire challenge involves pouring alcohol on one's chest and lighting it

A coincidence after the furlough?

Helpful tips for easing first day jitters.

Getting ready for fall has never been more fun.

Great reads for the back-to-school mindset.

Remember the concept of weekends being a time for rest, relaxation, and togetherness? No? Us either. Between soccer games, playdates, dragging your kids to see the new exhibition at the local children's museum, and we need to pick up a gift for that birthday party that starts in . . . 20 minutes, juggling a busy family's weekend schedule can be more stressful than a weekday. While we know it's simply not realistic to cancel all your plans and obligations moving forward, clearing the calendar for just one weekend can be just the refresher that your family's craving. Here's why.

You just had a baby? You're a superstar! All those diapers, all that spit up, and you're makin' magic happen. But you're also likely tired - really tired - and busy (so, so busy). Taking time for yourself might seem like an indulgence but a happy mom makes for a happy baby. Here are 7 things you should definitely do to keep your sanity intact and your spirit high. <more, below>

Summertime is on, and the kids are out of school. Every mom knows that for these three months it's more important than ever to keep the kids busy. But you don't have to schedule your life away with camps, or drop a bundle on activities and games that come in a box. You can make your own fun, and even include the kids in the prep, with some simple, inexpensive DIY crafts that will keep them playing 'til the lightening bugs come out. Make your own fingerpaint, bubbles, and crayons. Create a fort-building kit and superhero capes that will kick their imaginations into overdrive. Here are 10 of our favorite kid-friendly DIY crafts to fuel your summertime fun.