Fruit of the Loom debuts superhero underwear for girls
Can revolution come in the form of underwear?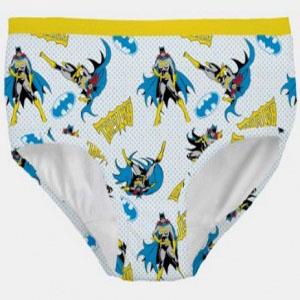 Fruit of the Loom launched a new line of superhero briefs aimed at girls. "Boys aren't the only ones that want to be Superheroes! Your little girl can run faster and jump higher in her new DC Comics briefs," reads the product description.
Plus: What happens when dad's in charge
"We looked at where there was white space in the market and found there was a lack of product like this, but a large demand," Dave Springob, vice president of licensing for Fruit of the Loom told Parenting.com. "Girls wanted to enjoy their superheroes just as much as boys did." A call for more kick-ass girl options in the blogospere, led by Tom Burns of the Good Men Project, was a happy coincidence, as the underwear were already in development.
Plus: When kids defy gender roles
However, the undies fall short of being a total BAM! POW! to gender stereotypes, featuring only female heroes Supergirl, Wonderman, and Batgirl instead of their male counterparts.
We have one other bone to pick with these skivvies: they don't seem to make them in our size.
Would you buy these for your daughter?
More from Parenting.com:
Kids weigh in on love and marriage

Good news: this website
((http://www.pokosty​le.com)
) we has been updated and 
add products and many things they abandoned their increases are welcome to visit 
our website. Accept cash or credit card payments, free transport. You can try oh, 
will make you satisfied.
http://www.pokostyle​.com
Are you sure you want to delete this comment?
News, stories, tips and laughs for moms & dads
A new dad finds an Epcot Center's worth of innovation after expecting none at all.

Alcohol and tattoos are not meant for the pre-teen set

But Debra Harrell now has custody of daughter again

I am probably not the first to tell you this: Kids come with lots of stuff. Even if you try to be as minimal as possible, the little creatures require an awful lot to keep things running smoothly. Here's a master-plan slideshow of ways to cut corners on space in every room to accommodate all the things that come along with kids.

You never know for certain what type of parent you'll be until you've actually become one and your parenting style, as it becomes evident, may surprise you. Here are 4 parenting books to help you figure it all out.

Sunshine! Camping! Pool parties! BBQs! The sunny season is here and to help you make the most of it, we've hand-picked 7 great products to make this summer the best your family has ever had. Click through for our list to inspire your sunny day fun. From our sponsor: Walmart

We all love a picnic. But do one quick search for 'picnic ideas' on Pinterest and you're instantly teleported into a land of overachieving home chefs clearly looking for their big break on Food Network. Well, never mind that, we say. Scratch the 25-ingredient recipes and the incessant trips to the craft store for that perfect tablescape. Here are 5 truly simple picnic ideas that will look great, taste great, and make you feel like the winner you are! From our sponsor: Walmart

Admit it — you do these things, too! And that's OK. But maybe — just maybe — it's time to think about changing things up a little bit, for the sake of your sanity, your relationship with your kids, and because life's too short.

We asked veterinary experts and readers which breeds they think and if it is OK to shave longhaired pets in the summer.

Celeb moms post photos to show off their weight loss, but then they undermine their progress in the captions.

Kriste Lewis was inspired by her kidney disease to try out

Hittin' the road, moms and dads? Plan for these five things to happen...