'My son had autism. Then he didn't.'
One dad's story.
I'm trying to hold him, but he's squirming. The airport lounge is packed with people, and I can feel all eyes on me: the dad who cannot appease his toddler. Brandy sees me struggling and comes up with a quick fix. She flips over the stroller. She places Jackson next to it. He begins to spin one of the wheels with his hand. He keeps spinning it. Over and over and over. He's completely absorbed. I look at Brandy quizzically. She shrugs.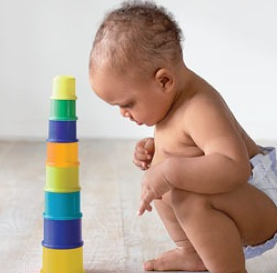 Jackson was 3 years old at the time, and by all accounts—from mother's intuition to the experts' definition—he was on the spectrum. The behavioral psychologists saw what we saw but were hesistant to make an official diagnosis. His brain is still developing. So much can change in six months. So time passed. His clothes went from 4T to 5T. Birthday candles were lit, blown out, and saved in the kitchen drawer. By age 6, the appointments with the behavioral psychologists were over. The autism books came off my wife's nightstand. Our tears were redirected to other things like kindergarten graduations.
From Healthy Living: Study says for some children, autism symptoms fade
It's a mystery we still don't understand. Did he have autism and develop out of it? Did he ever have autism? Slowly but surely, experts are unraveling this developmental disorder, and yesterday a small but groundbreaking study may just prove that Jackson is not alone.
Bing: Can autism just go away?
The study, funded by the National Institute of Health, researched 34 individuals ages 8 to 21 who had been diagnosed with autism early in life. The study found that they no longer had the symptoms. The conclusion: Some people may age out of autism. Of course, the autism community is buoyed by the findings, but are cautious to say this is a common outcome. 
More: 10 moms changing the face of autism
Let's add to this discussion a study that appeared in Pediatrics last year. It focused on 61 children aged 14 to 35 months who were on the spectrum. Two years after their initial diagnosis, 20 percent of those children no longer met the ASD criteria, which suggests that either the children are improving or were misdiagnosed from the start.
Meanwhile, the prevalence of autism has consistently been on the rise. In 1998, it was 1 in 1,000. In 2002, it was 1 in 150. Today, it's 1 in 88. Is it our increasing awareness that's inflating those figures? Is something mutating in our DNA? Does it lurk in our air or cleaning products or groundwater?
More from Healthy Living: What is autism, exactly?
That's the thing with autism: There is no pathology. It's not in the blood. Biopsies don't detect it. It doesn't appear when you shine a penlight into the pupil. It makes perfect sense that this disorder is represented in awareness campaigns by a puzzle piece.
More: Why I give my 9-year old pot
For our family, the autism spectrum was like the Alaskan winter. There was no light. The darkness went on and on and on. Then one day, a yolk-hued color broke across the horizon. And it stayed. But we haven't forgotten what the darkness was like.
By Shawn Bean at Parenting.com
More from Parenting.com:
For more content like this, find us on Facebook, Twitter and Pinterest
News, stories, tips and laughs for moms & dads
But will they get to stay together?

Readers share their favorite holiday family traditions that really make it the most wonderful time of the year. By Lauren Passell

Brand new Babycenter.com baby-naming reports reveal a few naming trends that may surprise you (or not).

Every family has its oddballs. And the holiday season is the one time of year when you're pretty much forced to interact and play nice with the grand majority of them. Click through the slideshow above for our guide to dealing with the five worst kinds of kin. *Disclaimer: All characters appearing in this work are fictitious. Any resemblance to real persons, living or dead, is purely coincidental.

When you're single, dating, and childless, the most important dining-out decision you need to make is red, white, or beer. But when you're married (or otherwise partnered) with kids, just thinking about eating out as a couple may have you reaching for the liquor cabinet: The babysitting tab alone often exceeds the meal, and that's assuming you can even find anyone reliable to watch the children. Do you just bring the kids along with you? As much as we're in favor of that, the answer is no: You do deserve a date night! And there are, in fact, better ways to go about hiring a babysitter than stalking teens at the local mall (or really anywhere: stalking teens = bad idea). Here are seven ways to find child care so you can go and enjoy a well-deserved night out.

Plus, kitten names to watch

The names that best symbolized our year

As you trim your tree, hang the lights, bake cookies and prepare for guests, remember that there's a certain member of your family who also deserves something extra special this holiday season: your dog. Save a little space under the tree for these beds, toys, collars and outfits for your favorite canine. Plus, we've even included a couple of gifts for the dog lovers in your life!

Dr. Marty Becker shares questions you should ask yourself before making the commitment to foster a shelter pet.

What one mom learned about herself might just change your world

From Ryan Gosling earrings to portable speakers, there's something here for kids of all ages.

When it comes to holiday giving, it's the thought that counts, which is why homemade gifts from kids are so treasured by their mothers. Children might not have money to spend on an expensive piece of jewelry or designer handbag, but they do have the time to DIY something special for their number one fan. If you're in charge of helping the little ones think of presents, check out the above list of homemade gifts for mom. From a custom vase to Instagram coasters to Warhol-inspired wall art, we have something for every taste and skill level.