'My son had autism. Then he didn't.'
One dad's story.
I'm trying to hold him, but he's squirming. The airport lounge is packed with people, and I can feel all eyes on me: the dad who cannot appease his toddler. Brandy sees me struggling and comes up with a quick fix. She flips over the stroller. She places Jackson next to it. He begins to spin one of the wheels with his hand. He keeps spinning it. Over and over and over. He's completely absorbed. I look at Brandy quizzically. She shrugs.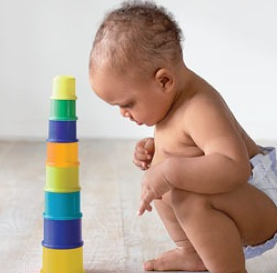 Jackson was 3 years old at the time, and by all accounts—from mother's intuition to the experts' definition—he was on the spectrum. The behavioral psychologists saw what we saw but were hesistant to make an official diagnosis. His brain is still developing. So much can change in six months. So time passed. His clothes went from 4T to 5T. Birthday candles were lit, blown out, and saved in the kitchen drawer. By age 6, the appointments with the behavioral psychologists were over. The autism books came off my wife's nightstand. Our tears were redirected to other things like kindergarten graduations.
From Healthy Living: Study says for some children, autism symptoms fade
It's a mystery we still don't understand. Did he have autism and develop out of it? Did he ever have autism? Slowly but surely, experts are unraveling this developmental disorder, and yesterday a small but groundbreaking study may just prove that Jackson is not alone.
Bing: Can autism just go away?
The study, funded by the National Institute of Health, researched 34 individuals ages 8 to 21 who had been diagnosed with autism early in life. The study found that they no longer had the symptoms. The conclusion: Some people may age out of autism. Of course, the autism community is buoyed by the findings, but are cautious to say this is a common outcome. 
More: 10 moms changing the face of autism
Let's add to this discussion a study that appeared in Pediatrics last year. It focused on 61 children aged 14 to 35 months who were on the spectrum. Two years after their initial diagnosis, 20 percent of those children no longer met the ASD criteria, which suggests that either the children are improving or were misdiagnosed from the start.
Meanwhile, the prevalence of autism has consistently been on the rise. In 1998, it was 1 in 1,000. In 2002, it was 1 in 150. Today, it's 1 in 88. Is it our increasing awareness that's inflating those figures? Is something mutating in our DNA? Does it lurk in our air or cleaning products or groundwater?
More from Healthy Living: What is autism, exactly?
That's the thing with autism: There is no pathology. It's not in the blood. Biopsies don't detect it. It doesn't appear when you shine a penlight into the pupil. It makes perfect sense that this disorder is represented in awareness campaigns by a puzzle piece.
More: Why I give my 9-year old pot
For our family, the autism spectrum was like the Alaskan winter. There was no light. The darkness went on and on and on. Then one day, a yolk-hued color broke across the horizon. And it stayed. But we haven't forgotten what the darkness was like.
By Shawn Bean at Parenting.com
More from Parenting.com:
For more content like this, find us on Facebook, Twitter and Pinterest
News, stories, tips and laughs for moms & dads
4 steps for raising a child who doesn't feel emotionally stranded.

Any of these sound familiar?

Fire challenge involves pouring alcohol on one's chest and lighting it

A coincidence after the furlough?

Helpful tips for easing first day jitters.

Getting ready for fall has never been more fun.

Great reads for the back-to-school mindset.

Remember the concept of weekends being a time for rest, relaxation, and togetherness? No? Us either. Between soccer games, playdates, dragging your kids to see the new exhibition at the local children's museum, and we need to pick up a gift for that birthday party that starts in . . . 20 minutes, juggling a busy family's weekend schedule can be more stressful than a weekday. While we know it's simply not realistic to cancel all your plans and obligations moving forward, clearing the calendar for just one weekend can be just the refresher that your family's craving. Here's why.

You just had a baby? You're a superstar! All those diapers, all that spit up, and you're makin' magic happen. But you're also likely tired - really tired - and busy (so, so busy). Taking time for yourself might seem like an indulgence but a happy mom makes for a happy baby. Here are 7 things you should definitely do to keep your sanity intact and your spirit high. <more, below>

Summertime is on, and the kids are out of school. Every mom knows that for these three months it's more important than ever to keep the kids busy. But you don't have to schedule your life away with camps, or drop a bundle on activities and games that come in a box. You can make your own fun, and even include the kids in the prep, with some simple, inexpensive DIY crafts that will keep them playing 'til the lightening bugs come out. Make your own fingerpaint, bubbles, and crayons. Create a fort-building kit and superhero capes that will kick their imaginations into overdrive. Here are 10 of our favorite kid-friendly DIY crafts to fuel your summertime fun.

Let these DIY dog bed projects be your inspiration and within a single weekend, you can construct something that really makes Rex feel like a king.