'My son had autism. Then he didn't.'
One dad's story.
I'm trying to hold him, but he's squirming. The airport lounge is packed with people, and I can feel all eyes on me: the dad who cannot appease his toddler. Brandy sees me struggling and comes up with a quick fix. She flips over the stroller. She places Jackson next to it. He begins to spin one of the wheels with his hand. He keeps spinning it. Over and over and over. He's completely absorbed. I look at Brandy quizzically. She shrugs.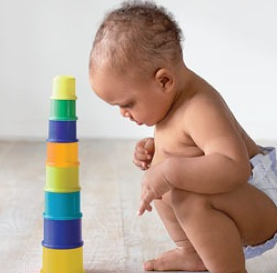 Jackson was 3 years old at the time, and by all accounts—from mother's intuition to the experts' definition—he was on the spectrum. The behavioral psychologists saw what we saw but were hesistant to make an official diagnosis. His brain is still developing. So much can change in six months. So time passed. His clothes went from 4T to 5T. Birthday candles were lit, blown out, and saved in the kitchen drawer. By age 6, the appointments with the behavioral psychologists were over. The autism books came off my wife's nightstand. Our tears were redirected to other things like kindergarten graduations.
From Healthy Living: Study says for some children, autism symptoms fade
It's a mystery we still don't understand. Did he have autism and develop out of it? Did he ever have autism? Slowly but surely, experts are unraveling this developmental disorder, and yesterday a small but groundbreaking study may just prove that Jackson is not alone.
Bing: Can autism just go away?
The study, funded by the National Institute of Health, researched 34 individuals ages 8 to 21 who had been diagnosed with autism early in life. The study found that they no longer had the symptoms. The conclusion: Some people may age out of autism. Of course, the autism community is buoyed by the findings, but are cautious to say this is a common outcome. 
More: 10 moms changing the face of autism
Let's add to this discussion a study that appeared in Pediatrics last year. It focused on 61 children aged 14 to 35 months who were on the spectrum. Two years after their initial diagnosis, 20 percent of those children no longer met the ASD criteria, which suggests that either the children are improving or were misdiagnosed from the start.
Meanwhile, the prevalence of autism has consistently been on the rise. In 1998, it was 1 in 1,000. In 2002, it was 1 in 150. Today, it's 1 in 88. Is it our increasing awareness that's inflating those figures? Is something mutating in our DNA? Does it lurk in our air or cleaning products or groundwater?
More from Healthy Living: What is autism, exactly?
That's the thing with autism: There is no pathology. It's not in the blood. Biopsies don't detect it. It doesn't appear when you shine a penlight into the pupil. It makes perfect sense that this disorder is represented in awareness campaigns by a puzzle piece.
More: Why I give my 9-year old pot
For our family, the autism spectrum was like the Alaskan winter. There was no light. The darkness went on and on and on. Then one day, a yolk-hued color broke across the horizon. And it stayed. But we haven't forgotten what the darkness was like.
By Shawn Bean at Parenting.com
More from Parenting.com:
For more content like this, find us on Facebook, Twitter and Pinterest
News, stories, tips and laughs for moms & dads
The center of the family is your relationship; not the children.

Transform your mornings from grumpy to great by following these 12 simple steps. (Singing in the shower is highly encouraged.)

We're all aware of the reasons one might prefer to raise biological children. There's the miraculous experience that is pregnancy and childbirth. Also, let's not forget how expensive adoption is (though with the cost of childbirth in the United States growing ever-more crippling, it's hard to say which method is most economical). Couple that with the difficulty of the adoption process -- unless, of course, you're Madonna -- and you've got plenty of strong incentives to go the traditional route. Despite the arduous adoption process and the significant financial commitment, all kinds of people -- both famous and not -- choose to adopt for a variety of reasons. Check out this slideshow to see which celebrities (besides the famous Jolie-Pitts) opted to adopt.

One of our favorite ways to start the day is with a piping hot cup of coffee and a thought-provoking TED talk. In case you'€™re not familiar with the group, TED (which stands for Technology, Entertainment and Design) is a nonprofit organization dedicated to spreading ideas through projects and talks by a diverse group of inspired thinkers - people of all cultures, ages and disciplines. As you can probably guess, listening to these innovators share their ideas is a surefire way to jumpstart your day and get your creative juices flowing. Click through the slideshow above for the eight TED talks every parent needs to see. By Cordelia Tai

Got kids that are questioning whether or not the Easter Bunny is real? If you want to keep the tradition going at least one more year, try one of these ideas...

You're cold-hearted? We'll take care of that for you...read on.

This kid despises poetry and he's not afraid to let you know.

I used to be one of those moms who thought, 'who on earth would bring their child to an event like that?' and then I had a son. Here's why you might become a convert, too.

Take a look at your house for these telltale signs that a cat is running the show.

Check out this list of requirements you should meet before getting a new puppy or adult dog.

Virtually everything you need to know about relationships, you learned in nursery school: Treat people as you want to be treated, clean up after yourself, and don't be a know-it-all.