'My son had autism. Then he didn't.'
One dad's story.
I'm trying to hold him, but he's squirming. The airport lounge is packed with people, and I can feel all eyes on me: the dad who cannot appease his toddler. Brandy sees me struggling and comes up with a quick fix. She flips over the stroller. She places Jackson next to it. He begins to spin one of the wheels with his hand. He keeps spinning it. Over and over and over. He's completely absorbed. I look at Brandy quizzically. She shrugs.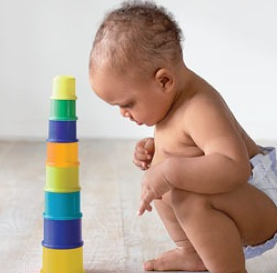 Jackson was 3 years old at the time, and by all accounts—from mother's intuition to the experts' definition—he was on the spectrum. The behavioral psychologists saw what we saw but were hesistant to make an official diagnosis. His brain is still developing. So much can change in six months. So time passed. His clothes went from 4T to 5T. Birthday candles were lit, blown out, and saved in the kitchen drawer. By age 6, the appointments with the behavioral psychologists were over. The autism books came off my wife's nightstand. Our tears were redirected to other things like kindergarten graduations.
From Healthy Living: Study says for some children, autism symptoms fade
It's a mystery we still don't understand. Did he have autism and develop out of it? Did he ever have autism? Slowly but surely, experts are unraveling this developmental disorder, and yesterday a small but groundbreaking study may just prove that Jackson is not alone.
Bing: Can autism just go away?
The study, funded by the National Institute of Health, researched 34 individuals ages 8 to 21 who had been diagnosed with autism early in life. The study found that they no longer had the symptoms. The conclusion: Some people may age out of autism. Of course, the autism community is buoyed by the findings, but are cautious to say this is a common outcome. 
More: 10 moms changing the face of autism
Let's add to this discussion a study that appeared in Pediatrics last year. It focused on 61 children aged 14 to 35 months who were on the spectrum. Two years after their initial diagnosis, 20 percent of those children no longer met the ASD criteria, which suggests that either the children are improving or were misdiagnosed from the start.
Meanwhile, the prevalence of autism has consistently been on the rise. In 1998, it was 1 in 1,000. In 2002, it was 1 in 150. Today, it's 1 in 88. Is it our increasing awareness that's inflating those figures? Is something mutating in our DNA? Does it lurk in our air or cleaning products or groundwater?
More from Healthy Living: What is autism, exactly?
That's the thing with autism: There is no pathology. It's not in the blood. Biopsies don't detect it. It doesn't appear when you shine a penlight into the pupil. It makes perfect sense that this disorder is represented in awareness campaigns by a puzzle piece.
More: Why I give my 9-year old pot
For our family, the autism spectrum was like the Alaskan winter. There was no light. The darkness went on and on and on. Then one day, a yolk-hued color broke across the horizon. And it stayed. But we haven't forgotten what the darkness was like.
By Shawn Bean at Parenting.com
More from Parenting.com:
For more content like this, find us on Facebook, Twitter and Pinterest
News, stories, tips and laughs for moms & dads
Two sociologists have found that parents who have daughters are more inclined to support the GOP and turn a cold shoulder to Democrats.

The experts at Nameberry.com predict what will be big in baby-naming next year

Famed event-planner David Stark shared tips for making chic holiday decorations using items you already have around the house. Take a look!

Sociologist Karen Z. Kramer found that over the past decade more than 550,000 men were stay-at-home fathers, which is about 3.5 percent of the married with kids population.

Ben Miller celebrates his wife's birthday and the anniversary of the day their premature son Ward Miles came home for good with a video documenting his first year.

Adopting an animal is a major commitment. Yet all too often people put more effort into researching what kind of car to get than the type of pet that would best fit their lifestyle.

'Tis the season to send out holiday greeting cards to all your friends and family. But, as our friends at Awkward Family Pet Photos know, not all holiday snapshots are the same. Some are just plain kooky — especially when pets are included. So with good tidings and great cheer, here are 10 wacky holiday animal portraits that are sure to make you laugh out loud and get you in the holiday spirit. And possibly make you think twice about dressing up the family cat this year.

King of the jungle? Nah, it's just a labradoodle!

Side-by-side images of adorable babies and their celebrity doppelgängers

Do you have a finicky furry friend on your holiday gift list this year? You're in luck! We've rounded up the coolest cat-approved products to bring you purrfect gift ideas for every kind of cat -- from the curious kitten to the most refined feline. Any one of these special gifts could make your resident kitty purr with pleasure and maybe, just maybe, like the present this year even more than the box and wrapping paper it came in!

Plus, puppy names to watch

This holiday season's hottest toy has yet to be revealed, but more often than not, the best gifts are the ones kids don't even know to ask for. So this year, surprise your kids with unique presents under the tree, and watch as their eyes light up when they unwrap them. From space-age sand to a DIY race track, these out-of-the-box gift ideas will provide some serious shopping inspiration. Click through the slideshow above for all our favorite picks.