School bans bible club prayer box
A western New York public school district ordered the advisor of a student Bible club to remove a prayer request box
The argument over what role, if any, religion can play in the classroom resurfaced this week in a western New York public school district, reports Fox News. The 'rights to free speech' debate came into play when the adviser of a student Bible club was ordered to remove a prayer request box because it was an alleged violation of the Establishment Clause of the Constitution.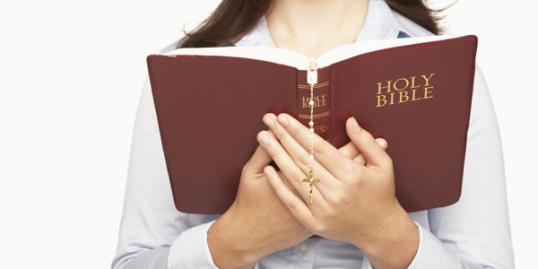 The prayer box was mounted on a wall in veteran science teacher, Joelle Silver's classroom. Students were able to place prayer requests inside that later, members of the Bible club would offer to God.
More from MSN Living: 11 mom sayings it's ok to ditch
"The placement of that box in your classroom is especially problematic because it is too easily perceived as the District endorsing or lending support to religion, which is a violation of the Establishment Clause, wrote Dennis Kane, superintendent of the Cheektowaga Central School District in an 8-page letter to the teacher. "Your rights to free speech and expression are not as broad as if you were simply a private citizen," she was informed.
More from MSN Living: The top 10 worst moments in mom judgment
Silver, also a sponsor of the high school's Bible club, filed a federal lawsuit against the school district alleging they violated her civil rights after they forced her to remove anything that had a religious reference from her classroom including posters and inspirational sticky notes, reports Fox News.
"When they launched the investigation, the literally went through her classroom with a fine-tooth comb and removed anything that had anything to do with Christianity," Silver's attorney, Robert Muise told Fox News. "I've never seen anything like that. Ms. Silver does not cease being a Christian nor does she shed her constitutional rights at the schoolhouse gate."
"They are literally cleansing the classroom of any reference to religion," he told Fox News. "They are doing it under this nonsense that there's a wall of separation between church and state."
"In God We Trust is our national motto for goodness sake," Muise was quoted. "We are a nation that was founded by religious refugees for the purposes of exercising our religious liberties. This is a Judeo-Christian nation."
Should religion have a role in education?
Bing: Facts about religion in schools
More from the Family Room:
Library reconsiders ban on children
Districts look to beef up school safety with panic buttons
Photo: Plush Studios/Getty Images
Love content like this? Friend us on Facebook, follow us on Twitter and find us on Pinterest
News, stories, tips and laughs for moms & dads
Transform the fall vegetable into cool decor pieces.

Put together these creative, but simple, Halloween looks for your youngsters.

We know you're documenting just about every move baby makes. (Do you even have any memory left on your phone? We didn't think so.) These tips from professional photographers can help you perfect your pics.

These six on-trend ideas will make baby's room your new favorite place to hang out.

Baby probably won't remember his first birthday party, but that doesn't mean you can't go all out (after all, parents need to celebrate making it through this first year, right?). These fun, colorful themes take planning to the next level.

See what celebrities who had problems conceiving have to say.

You'll be hearing a lot of advice and opinions. Some of it will be really helpful and some will be just plain wrong. Here are the most common things people say about babies that aren't true.

A new dad finds an Epcot Center's worth of innovation after expecting none at all.

The dog days of summer may be well behind us, but that doesn't mean it's time to pack in the outdoor adventures quite yet.

Protect yourself and your family with these ingenious gizmos and smartphone apps.

Make sure your go-to gadgets are as cute as your style, with these trendy tech finds!

Oh, how the times have changed...