School bans bible club prayer box
A western New York public school district ordered the advisor of a student Bible club to remove a prayer request box
The argument over what role, if any, religion can play in the classroom resurfaced this week in a western New York public school district, reports Fox News. The 'rights to free speech' debate came into play when the adviser of a student Bible club was ordered to remove a prayer request box because it was an alleged violation of the Establishment Clause of the Constitution.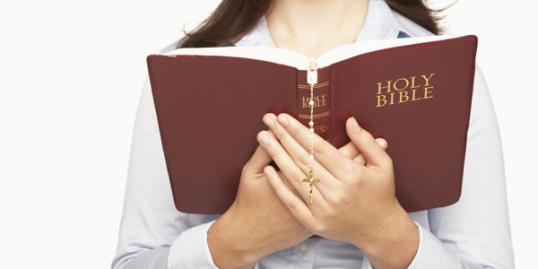 The prayer box was mounted on a wall in veteran science teacher, Joelle Silver's classroom. Students were able to place prayer requests inside that later, members of the Bible club would offer to God.
More from MSN Living: 11 mom sayings it's ok to ditch
"The placement of that box in your classroom is especially problematic because it is too easily perceived as the District endorsing or lending support to religion, which is a violation of the Establishment Clause, wrote Dennis Kane, superintendent of the Cheektowaga Central School District in an 8-page letter to the teacher. "Your rights to free speech and expression are not as broad as if you were simply a private citizen," she was informed.
More from MSN Living: The top 10 worst moments in mom judgment
Silver, also a sponsor of the high school's Bible club, filed a federal lawsuit against the school district alleging they violated her civil rights after they forced her to remove anything that had a religious reference from her classroom including posters and inspirational sticky notes, reports Fox News.
"When they launched the investigation, the literally went through her classroom with a fine-tooth comb and removed anything that had anything to do with Christianity," Silver's attorney, Robert Muise told Fox News. "I've never seen anything like that. Ms. Silver does not cease being a Christian nor does she shed her constitutional rights at the schoolhouse gate."
"They are literally cleansing the classroom of any reference to religion," he told Fox News. "They are doing it under this nonsense that there's a wall of separation between church and state."
"In God We Trust is our national motto for goodness sake," Muise was quoted. "We are a nation that was founded by religious refugees for the purposes of exercising our religious liberties. This is a Judeo-Christian nation."
Should religion have a role in education?
Bing: Facts about religion in schools
More from the Family Room:
Library reconsiders ban on children
Districts look to beef up school safety with panic buttons
Photo: Plush Studios/Getty Images
Love content like this? Friend us on Facebook, follow us on Twitter and find us on Pinterest
Are you sure you want to delete this comment?
News, stories, tips and laughs for moms & dads
As all the kids line up to go to school, your son, Timmy, turns to you and says, "I don't want to take the bus. My stomach hurts. Please don't make me go." You cringe and think, Here we go again. What should be a simple morning routine explodes into a daunting challenge.

Learning these 10 things is a good base with which to begin the tough preteen and teen years. Helping our children maneuver life is our jobs as parents, even if we haven't quite figured it all out ourselves yet.

We've all seen her... But should we judge her?

Unique, or downright strange?

In a few short weeks you'll be dropping your child off at college, where they'll spend the next four years learning, laughing, and probably partying. Of course, in true teen fashion, your child has already started shopping for their dorm room essentials. Don't panic just yet!

When tots burst through the door after a busy day at school, the first order of business is securing a snack.

The only thing more important than what you pack your child for lunch is what you pack it in.

Frustrated mom invents Ignore No More app

Do you have the right mix of moms surrounding you?

It's hard to keep young kids entertained while being confined indoors, but fear not, for we have some fun ideas to keep the entire family from climbing the walls during rainy days.

Back in our day, ending up with the same exact backpack as your BFF was a legitimate back-to-school concern. Nowadays? There are so many options, it's dizzying!

It is a parent's eternal dilemma: What do I make the kids for lunch today? And tomorrow? And next week? We fall into ruts, succumb to the tried-and-true, give in to our children's demands for junk food. No more! These school lunch ideas—for everything from sandwiches to snacks to hot meals—will freshen up your daily routine, so much so you may be tempted to make them for yourself.