School bans bible club prayer box
A western New York public school district ordered the advisor of a student Bible club to remove a prayer request box
The argument over what role, if any, religion can play in the classroom resurfaced this week in a western New York public school district, reports Fox News. The 'rights to free speech' debate came into play when the adviser of a student Bible club was ordered to remove a prayer request box because it was an alleged violation of the Establishment Clause of the Constitution.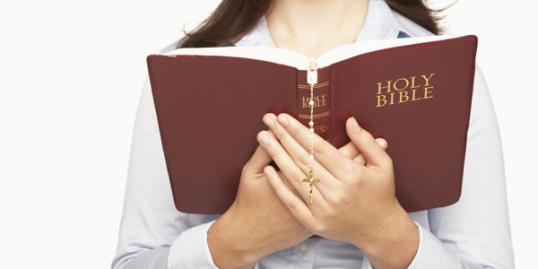 The prayer box was mounted on a wall in veteran science teacher, Joelle Silver's classroom. Students were able to place prayer requests inside that later, members of the Bible club would offer to God.
More from MSN Living: 11 mom sayings it's ok to ditch
"The placement of that box in your classroom is especially problematic because it is too easily perceived as the District endorsing or lending support to religion, which is a violation of the Establishment Clause, wrote Dennis Kane, superintendent of the Cheektowaga Central School District in an 8-page letter to the teacher. "Your rights to free speech and expression are not as broad as if you were simply a private citizen," she was informed.
More from MSN Living: The top 10 worst moments in mom judgment
Silver, also a sponsor of the high school's Bible club, filed a federal lawsuit against the school district alleging they violated her civil rights after they forced her to remove anything that had a religious reference from her classroom including posters and inspirational sticky notes, reports Fox News.
"When they launched the investigation, the literally went through her classroom with a fine-tooth comb and removed anything that had anything to do with Christianity," Silver's attorney, Robert Muise told Fox News. "I've never seen anything like that. Ms. Silver does not cease being a Christian nor does she shed her constitutional rights at the schoolhouse gate."
"They are literally cleansing the classroom of any reference to religion," he told Fox News. "They are doing it under this nonsense that there's a wall of separation between church and state."
"In God We Trust is our national motto for goodness sake," Muise was quoted. "We are a nation that was founded by religious refugees for the purposes of exercising our religious liberties. This is a Judeo-Christian nation."
Should religion have a role in education?
Bing: Facts about religion in schools
More from the Family Room:
Library reconsiders ban on children
Districts look to beef up school safety with panic buttons
Photo: Plush Studios/Getty Images
Love content like this? Friend us on Facebook, follow us on Twitter and find us on Pinterest
Are you sure you want to delete this comment?
family: tips, trends & advice for all things family
With all the glitz and glamour that comes out of Tinseltown (not to mention the endless tabloid fodder), it's not always obvious that many celebrities are animal lovers, too.

From designer crosses to giant breeds, we scoured Vetstreet's data of millions of dog breeds to determine the trendiest breeds of the past decade.

One of the most unsettling consequences of bringing a child into your previously simple, happily oblivious manly life is that you're now unquestionably, inescapably…The Man.

Whether it was baby's first kick or the first time your boobs leaked in public, there's a point in every mom's life when the world as you know it ends and you realize -- Whoa, I'm someone's mom now. Some of our favorite mommy bloggers revealed what their aha moments were. They range from heartwarming to completely hilarious.

From DIY jewelry to homemade "flowers" to sweet vases, you can help your kid make mom's day with these crafty gifts.

The first parenting shock: They let you take the baby home. Like, without supervision. Only then do the real surprises unfold. Here's what readers told us was most unexpected for them as they embraced this whole mama thing.

Be prepared to say, 'awww,' multiple times while flipping through this collection super-sweet stuff for babies and kids on Etsy.com. Take a peek at some of our favorite finds for moms (and click 'More' to find out how to get this amazing gnome hat!)...By MSN Living editors

Your Mother's Day plans are all set, right? Brunch is booked and a fabulous gift is wrapped and ready to go. So take a breather and celebrate these stylish celebrity moms who work hard, care for their kids, and manage to look amazing in the process.

Find out this year's top baby names on Parenting.com, and see what we predict will be big in 2013

Sophia and Jacob reign supreme.

In an online contest, Parenting.com asked readers to tell us what it means to "have it all." Read the winner's moving essay on how that phrase has defined her motherhood, plus essays from the three runners up.

Tow lot employee finds abandoned pup.