School bans bible club prayer box
A western New York public school district ordered the advisor of a student Bible club to remove a prayer request box
The argument over what role, if any, religion can play in the classroom resurfaced this week in a western New York public school district, reports Fox News. The 'rights to free speech' debate came into play when the adviser of a student Bible club was ordered to remove a prayer request box because it was an alleged violation of the Establishment Clause of the Constitution.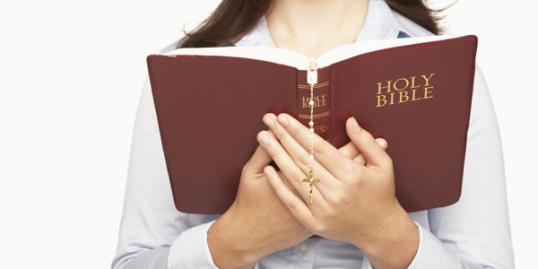 The prayer box was mounted on a wall in veteran science teacher, Joelle Silver's classroom. Students were able to place prayer requests inside that later, members of the Bible club would offer to God.
More from MSN Living: 11 mom sayings it's ok to ditch
"The placement of that box in your classroom is especially problematic because it is too easily perceived as the District endorsing or lending support to religion, which is a violation of the Establishment Clause, wrote Dennis Kane, superintendent of the Cheektowaga Central School District in an 8-page letter to the teacher. "Your rights to free speech and expression are not as broad as if you were simply a private citizen," she was informed.
More from MSN Living: The top 10 worst moments in mom judgment
Silver, also a sponsor of the high school's Bible club, filed a federal lawsuit against the school district alleging they violated her civil rights after they forced her to remove anything that had a religious reference from her classroom including posters and inspirational sticky notes, reports Fox News.
"When they launched the investigation, the literally went through her classroom with a fine-tooth comb and removed anything that had anything to do with Christianity," Silver's attorney, Robert Muise told Fox News. "I've never seen anything like that. Ms. Silver does not cease being a Christian nor does she shed her constitutional rights at the schoolhouse gate."
"They are literally cleansing the classroom of any reference to religion," he told Fox News. "They are doing it under this nonsense that there's a wall of separation between church and state."
"In God We Trust is our national motto for goodness sake," Muise was quoted. "We are a nation that was founded by religious refugees for the purposes of exercising our religious liberties. This is a Judeo-Christian nation."
Should religion have a role in education?
Bing: Facts about religion in schools
More from the Family Room:
Library reconsiders ban on children
Districts look to beef up school safety with panic buttons
Photo: Plush Studios/Getty Images
Love content like this? Friend us on Facebook, follow us on Twitter and find us on Pinterest
Are you sure you want to delete this comment?
News, stories, tips and laughs for moms & dads
Make sure your go-to gadgets are as cute as your style, with these trendy tech finds!

Oh, how the times have changed...

Get ready to hit the mall! Check out the hottest back-to-school trends—and get ready to make a major style statement this year.

Unique, or downright strange?

This is Kevin Droniak and his grandma. They're besties, they're awesome and they're YouTube stars.

It can be difficult to entice little ones to eat anything at all, let alone to devour a healthy plate. But feeding your kids nutritious snacks after school just got way easier, thanks to these adorably clever and cute snack ideas! For more smart and fun ways to get your kids to enjoy healthful and delicious foods, try one of these amazingly artsy lunch ideas.

Through a tonsillectomy all the way to brain surgery, my mother deserves some recognition. She's my spine, my birthday shadow, my BFF, my thunder buddy, so Mommy, thank you.

My son needs me, as much as yours needs you. Sadly, my son needs me more. He needs someone to have his back, when it seems that the police, the men he'd wave to with excitement as a little boy, see him as a being worthy only of prison or death.

If you know someone who has adopted and have made some of these comments, don't fret... now you know!

"Because you shine from within," I said, touching my finger to her heart. "Not everybody sees it, but I do. I see it. And my job is to protect that light. So when people say mean comments that squelch that light, I want you to tell me. I will protect your light by listening and loving you, my brave, courageous, and unique little firefly."

Studies have shown that it helps, top education officials have recommended it, and now doctors are officially saying the same.

I may have accidentally dropped you a few times, forgotten to document your first fart, let a little pee fly and dressed you like an idiot, but I have also loved you with every piece of me, and you will never hear an apology for that.