Single-sex education is on the rise
Classes at an Alabama middle school come under fire by ACLU.
In the mid-1990s, there were only two single-sex public schools in the U.S. Today, there are more than 500 public schools in 40 states that offer some single-sex academic classes or, more rarely, are entirely single sex, reports The New York Times.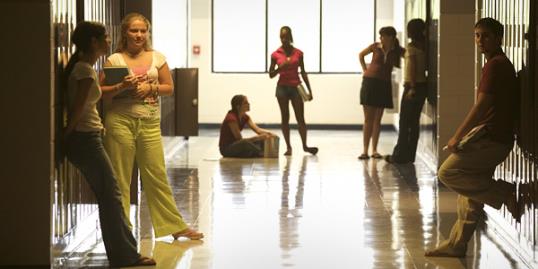 The topic of single-sex education is a controversial one as educators argue whether forcing students into a single-sex environment boosts academic success.
More on MSN Living: 51 perfect family day trips
Recently, single-sex programs at Huffman Middle School in Birmingham, Ala., as well as at another district in Idaho have come under fire by the American Civil Liberties Union (ACLU), reports AL.com. Complaints filed by the nonpartisan non-profit organization with the U.S. Department of Education's Office of Civil Rights say such programs draw on gender stereotypes, such as men are active and independent while women are passive and dependent, and deprive students of equal educational opportunities.
"We understand that teachers and parents want to provide the best education for their children. But coeducation was never the problem with failing schools, and single-sex programs are not the answer," Christina Brandt-Young, attorney with the ACLU Women's Rights Project was quoted. "These programs are poorly designed and based on pseudoscience and stereotypes that do nothing to enhance learning, and only reinforce discredited ideas about how boys and girls behave."
More on MSN Living: Top names for the top 10 dog breeds
In a September 2011 article in Science, titled "The Pseudoscience of Single-Sex Schooling," authors argue that "sex-segregated education is deeply misguided and often justified by weak, cherry-picked or misconstrued scientific claims rather than by valid scientific evidence." The article, written by eight social scientists who founded the nonprofit American Council for CoEducational School, goes onto assert, "Boys who spend more time with other boys become increasingly aggressive. Similarly, girls who spend more time with other girls become more sex-typed."
Do boys and girls learn differently? Do same-sex classrooms create a better learning environment for students? Why or why not?
Photo: Thinkstock/Getty Images
Bing: The pros and cons of single-sex schools
More on MSN Living: 
Funny sleeping baby photos
Best baby gear for every mom and dad
7 silly signs you are ready for a baby
News, stories, tips and laughs for moms & dads
The only thing more important than what you pack your child for lunch is what you pack it in.

Frustrated mom invents Ignore No More app

Do you have the right mix of moms surrounding you?

It's hard to keep young kids entertained while being confined indoors, but fear not, for we have some fun ideas to keep the entire family from climbing the walls during rainy days.

Back in our day, ending up with the same exact backpack as your BFF was a legitimate back-to-school concern. Nowadays? There are so many options, it's dizzying!

It is a parent's eternal dilemma: What do I make the kids for lunch today? And tomorrow? And next week? We fall into ruts, succumb to the tried-and-true, give in to our children's demands for junk food. No more! These school lunch ideas—for everything from sandwiches to snacks to hot meals—will freshen up your daily routine, so much so you may be tempted to make them for yourself.