Single-sex education is on the rise
Classes at an Alabama middle school come under fire by ACLU.
In the mid-1990s, there were only two single-sex public schools in the U.S. Today, there are more than 500 public schools in 40 states that offer some single-sex academic classes or, more rarely, are entirely single sex, reports The New York Times.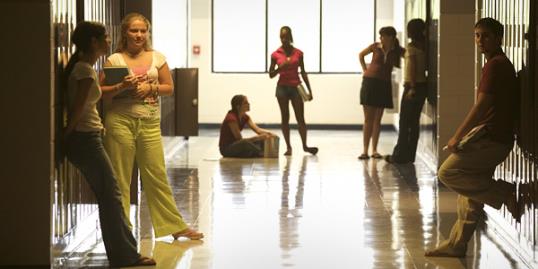 The topic of single-sex education is a controversial one as educators argue whether forcing students into a single-sex environment boosts academic success.
More on MSN Living: 51 perfect family day trips
Recently, single-sex programs at Huffman Middle School in Birmingham, Ala., as well as at another district in Idaho have come under fire by the American Civil Liberties Union (ACLU), reports AL.com. Complaints filed by the nonpartisan non-profit organization with the U.S. Department of Education's Office of Civil Rights say such programs draw on gender stereotypes, such as men are active and independent while women are passive and dependent, and deprive students of equal educational opportunities.
"We understand that teachers and parents want to provide the best education for their children. But coeducation was never the problem with failing schools, and single-sex programs are not the answer," Christina Brandt-Young, attorney with the ACLU Women's Rights Project was quoted. "These programs are poorly designed and based on pseudoscience and stereotypes that do nothing to enhance learning, and only reinforce discredited ideas about how boys and girls behave."
More on MSN Living: Top names for the top 10 dog breeds
In a September 2011 article in Science, titled "The Pseudoscience of Single-Sex Schooling," authors argue that "sex-segregated education is deeply misguided and often justified by weak, cherry-picked or misconstrued scientific claims rather than by valid scientific evidence." The article, written by eight social scientists who founded the nonprofit American Council for CoEducational School, goes onto assert, "Boys who spend more time with other boys become increasingly aggressive. Similarly, girls who spend more time with other girls become more sex-typed."
Do boys and girls learn differently? Do same-sex classrooms create a better learning environment for students? Why or why not?
Photo: Thinkstock/Getty Images
Bing: The pros and cons of single-sex schools
More on MSN Living: 
Funny sleeping baby photos
Best baby gear for every mom and dad
7 silly signs you are ready for a baby
News, stories, tips and laughs for moms & dads
Actress Kimberly Williams-Paisley hated the dementia that made her mother seem like a different person—erratic, silent, sometimes angry. Then she found a way to love that mom too.

Getting back into dating after baby can be tough -- and complicated -- but you deserve a shot at love, Mama! Just be on the look out for these red flags.

Mamas, take a cue from these smart ladies.

A habit of avoiding disappointment may result in idle adults.

What one mom learned about herself might just change your world

The 4 crucial conversations you need to have with your spouse before you make this decision.

You bring baby home and it seems like everyone has an opinion on which techniques you should use to get her to sleep, to feed her and to help her learn and develop. And they tell you which ones not to use too. So what's worth trying out and what's completely insane? Decide for yourself!

I'll say it: if your baby is melting down at Din Tai Fung, please pack your wipes and go

Pregnancy is just one long, unending stream of unsolicited advice—people love to tell you what to do, how to do it, and why you'd be crazy to do it any other way.

Maybe I was naïve, but I thought getting pregnant was as simple as having unprotected sex, and I'd be a mom in nine months flat. We spent years trying to prevent pregnancy, waiting until we were ready and having panic attacks if my period was late. So naturally, once we stopped preventing — boom! — it should've happened, right? Silly me.