Single-sex education is on the rise
Classes at an Alabama middle school come under fire by ACLU.
In the mid-1990s, there were only two single-sex public schools in the U.S. Today, there are more than 500 public schools in 40 states that offer some single-sex academic classes or, more rarely, are entirely single sex, reports The New York Times.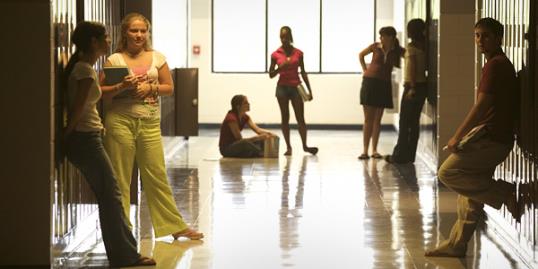 The topic of single-sex education is a controversial one as educators argue whether forcing students into a single-sex environment boosts academic success.
More on MSN Living: 51 perfect family day trips
Recently, single-sex programs at Huffman Middle School in Birmingham, Ala., as well as at another district in Idaho have come under fire by the American Civil Liberties Union (ACLU), reports AL.com. Complaints filed by the nonpartisan non-profit organization with the U.S. Department of Education's Office of Civil Rights say such programs draw on gender stereotypes, such as men are active and independent while women are passive and dependent, and deprive students of equal educational opportunities.
"We understand that teachers and parents want to provide the best education for their children. But coeducation was never the problem with failing schools, and single-sex programs are not the answer," Christina Brandt-Young, attorney with the ACLU Women's Rights Project was quoted. "These programs are poorly designed and based on pseudoscience and stereotypes that do nothing to enhance learning, and only reinforce discredited ideas about how boys and girls behave."
More on MSN Living: Top names for the top 10 dog breeds
In a September 2011 article in Science, titled "The Pseudoscience of Single-Sex Schooling," authors argue that "sex-segregated education is deeply misguided and often justified by weak, cherry-picked or misconstrued scientific claims rather than by valid scientific evidence." The article, written by eight social scientists who founded the nonprofit American Council for CoEducational School, goes onto assert, "Boys who spend more time with other boys become increasingly aggressive. Similarly, girls who spend more time with other girls become more sex-typed."
Do boys and girls learn differently? Do same-sex classrooms create a better learning environment for students? Why or why not?
Photo: Thinkstock/Getty Images
Bing: The pros and cons of single-sex schools
More on MSN Living: 
Funny sleeping baby photos
Best baby gear for every mom and dad
7 silly signs you are ready for a baby
News, stories, tips and laughs for moms & dads
I may have accidentally dropped you a few times, forgotten to document your first fart, let a little pee fly and dressed you like an idiot, but I have also loved you with every piece of me, and you will never hear an apology for that.

Back-to-school shopping is still in full swing, and your little gents probably need some new kicks to round out their fall wardrobes (you already picked up some bold shoes for the little ladies in your life, right?).

Not every kid is a fan of returning to the classroom, so parents try to ease the blow with a little back-to-school shopping.

Would you rather be a parent now or then?

As all the kids line up to go to school, your son, Timmy, turns to you and says, "I don't want to take the bus. My stomach hurts. Please don't make me go." You cringe and think, Here we go again. What should be a simple morning routine explodes into a daunting challenge.

The strong bonds that dogs can form are undeniable.

Think you know your pet's every unspoken wish? Think again. Your pet is unlikely to be capable of communicating her wants and needs in ways you might assume she would. Even those of you most in touch with your pets' feelings are likely missing a few cues here and there.

The Chesapeake Bay Retriever made both our readers' and veterinary professionals' lists of breeds that love the water.

You might proudly call yourself a dog owner, pet parent or canine guardian, but let's be real: Your dog owns you. You might be laughing now, but think about it — you've surrendered the best seat on the sofa to him, you plan your entire weekend around his trips to the dog park, and you take him to the groomer more often than you get your own hair cut. And let's not forget who's in every photo on your Facebook and Instagram feeds. Sound familiar? We thought so. But in case you still think you're in charge, here are seven classic signs that your dog is the one calling the shots.

One of the best things about being a veterinarian is all the different dogs I get to meet. Of course, I love the Labs and Beagles and Boxers and Poodles, not to mention those crazy Canine Cocktails, or what my parents used to call Heinz 57s. They are among the more popular dogs out there, and I see a lot of them. In fact, it used to be that it was rare to see anything else. Here are nine dog breeds I sometimes see now that I didn't see in the past.

Learning these 10 things is a good base with which to begin the tough preteen and teen years. Helping our children maneuver life is our jobs as parents, even if we haven't quite figured it all out ourselves yet.

Is your teen about to attend one of these top-ranking schools?