Single-sex education is on the rise
Classes at an Alabama middle school come under fire by ACLU.
In the mid-1990s, there were only two single-sex public schools in the U.S. Today, there are more than 500 public schools in 40 states that offer some single-sex academic classes or, more rarely, are entirely single sex, reports The New York Times.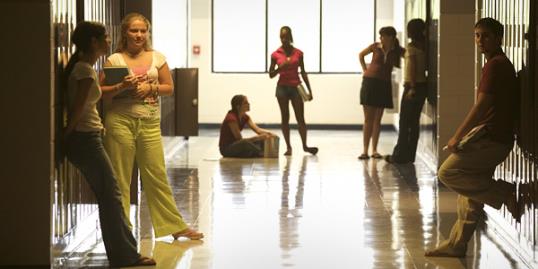 The topic of single-sex education is a controversial one as educators argue whether forcing students into a single-sex environment boosts academic success.
More on MSN Living: 51 perfect family day trips
Recently, single-sex programs at Huffman Middle School in Birmingham, Ala., as well as at another district in Idaho have come under fire by the American Civil Liberties Union (ACLU), reports AL.com. Complaints filed by the nonpartisan non-profit organization with the U.S. Department of Education's Office of Civil Rights say such programs draw on gender stereotypes, such as men are active and independent while women are passive and dependent, and deprive students of equal educational opportunities.
"We understand that teachers and parents want to provide the best education for their children. But coeducation was never the problem with failing schools, and single-sex programs are not the answer," Christina Brandt-Young, attorney with the ACLU Women's Rights Project was quoted. "These programs are poorly designed and based on pseudoscience and stereotypes that do nothing to enhance learning, and only reinforce discredited ideas about how boys and girls behave."
More on MSN Living: Top names for the top 10 dog breeds
In a September 2011 article in Science, titled "The Pseudoscience of Single-Sex Schooling," authors argue that "sex-segregated education is deeply misguided and often justified by weak, cherry-picked or misconstrued scientific claims rather than by valid scientific evidence." The article, written by eight social scientists who founded the nonprofit American Council for CoEducational School, goes onto assert, "Boys who spend more time with other boys become increasingly aggressive. Similarly, girls who spend more time with other girls become more sex-typed."
Do boys and girls learn differently? Do same-sex classrooms create a better learning environment for students? Why or why not?
Photo: Thinkstock/Getty Images
Bing: The pros and cons of single-sex schools
More on MSN Living: 
Funny sleeping baby photos
Best baby gear for every mom and dad
7 silly signs you are ready for a baby
I believe after all these years the ACLU has pretty well shown it's colors and they do no good for this great country, but instead hold it back from what it could be. It's the ACLU that needs to be thrown away!!! Just consider the amount of money that has been wasted on there petty little control tacticks. Discusting!! Show them the door!!!!

Single sex classes are proven to give males , straight ones anyway , a better grade average without females distracting them or causing the males to be fearful to interact in the classroom.
This female push to be in every part of a males life yet keep her girls only space is wrong and bias, a guys got to have some estrogen free breathing room.
Oh and the attention whores or divas that are afraid of missing out will of course have plenty to say about my comment!

Conservatives and their ideas.
Part of growing up is dealing with bullies, racism, and the opposite sex.  Those are defining items that you deal with as a kid growing up that help determine what kind of adult you grow up to be.  Dealing with the opposite sex is crucial to later relationships.  Completely removing that part of human life, which every single person alive and dead has lived with, will be a severe handicap later in life.
Horrible idea.

I think that parents should have options when it comes to their children's education. If a boy who has failed at learning language arts is put in an all boys English class and is able to excel as a result, what's the harm? If a girl who was struggling with math is able to finally feel comfortable enough to ask a question in an all girl class and is able to succeed, that's wonderful! I don't think that any school district is doing away with co-education. This are special classes that are being used at the students and parents request. Now if girls are graduating without learning science or boys are leaving school unable to write a 3 page essay, then re-evaluate the quality of the education. Otherwise let the kids learn in the best atmosphere that works for them.

Are you sure you want to delete this comment?
News, stories, tips and laughs for moms & dads
A thrill-obsessed subculture claimed another life this week.

A few suggested answers for the diciest questions

Must-haves for every mommy on the road

Here's our list of fifteen moms in the food industry that deserve some recognition.

The site gets high marks for its user-friendly interface and excellent and responsive customer service. And the reviews are also pretty accurate. Compare amenities and prices next to a hotel's in the same area, and you're likely to see Airbnb come out on top.

We captured a frame-by-frame look just for you.

Other moms can be ruthless when it comes to picking apart your parenting choices. From dissing your decision to go back to work to criticizing when you started baby on solids, here are the most ridiculous comments moms have heard. Bonus, we've got just the right way to respond to the haters! You're welcome.

Nope, you don't have to spend the next nine months in black elastic-waist pants and oversize sweaters. And you don't have to shell out a fortune on your "temporary" wardrobe either. Check out these stylish and affordable maternity clothes.

Because society crumbles without us

Another kid figured out how to get into a claw machine.

As a new mom, you've recently discovered there are many things you can live without—sleep and modesty being chief among them. But what can't you live without? Seasoned moms share their Top 10 list for how to survive the early months of motherhood.

Here are our experts' best tips for how to be a positive role model for your kids so that they grow up healthy, strong and confident about the way they look.