Single-sex education is on the rise
Classes at an Alabama middle school come under fire by ACLU.
In the mid-1990s, there were only two single-sex public schools in the U.S. Today, there are more than 500 public schools in 40 states that offer some single-sex academic classes or, more rarely, are entirely single sex, reports The New York Times.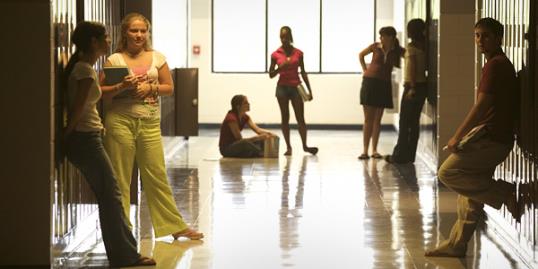 The topic of single-sex education is a controversial one as educators argue whether forcing students into a single-sex environment boosts academic success.
More on MSN Living: 51 perfect family day trips
Recently, single-sex programs at Huffman Middle School in Birmingham, Ala., as well as at another district in Idaho have come under fire by the American Civil Liberties Union (ACLU), reports AL.com. Complaints filed by the nonpartisan non-profit organization with the U.S. Department of Education's Office of Civil Rights say such programs draw on gender stereotypes, such as men are active and independent while women are passive and dependent, and deprive students of equal educational opportunities.
"We understand that teachers and parents want to provide the best education for their children. But coeducation was never the problem with failing schools, and single-sex programs are not the answer," Christina Brandt-Young, attorney with the ACLU Women's Rights Project was quoted. "These programs are poorly designed and based on pseudoscience and stereotypes that do nothing to enhance learning, and only reinforce discredited ideas about how boys and girls behave."
More on MSN Living: Top names for the top 10 dog breeds
In a September 2011 article in Science, titled "The Pseudoscience of Single-Sex Schooling," authors argue that "sex-segregated education is deeply misguided and often justified by weak, cherry-picked or misconstrued scientific claims rather than by valid scientific evidence." The article, written by eight social scientists who founded the nonprofit American Council for CoEducational School, goes onto assert, "Boys who spend more time with other boys become increasingly aggressive. Similarly, girls who spend more time with other girls become more sex-typed."
Do boys and girls learn differently? Do same-sex classrooms create a better learning environment for students? Why or why not?
Photo: Thinkstock/Getty Images
Bing: The pros and cons of single-sex schools
More on MSN Living: 
Funny sleeping baby photos
Best baby gear for every mom and dad
7 silly signs you are ready for a baby
News, stories, tips and laughs for moms & dads
From Ryan Gosling earrings to portable speakers, there's something here for kids of all ages.

When it comes to holiday giving, it's the thought that counts, which is why homemade gifts from kids are so treasured by their mothers. Children might not have money to spend on an expensive piece of jewelry or designer handbag, but they do have the time to DIY something special for their number one fan. If you're in charge of helping the little ones think of presents, check out the above list of homemade gifts for mom. From a custom vase to Instagram coasters to Warhol-inspired wall art, we have something for every taste and skill level.

At our household, we have a large, diverse collection of toys. While I'm not as uptight as my husband on what enters our kids' toy chest, my husband must approve all toy acquisitions mostly because of aesthetics (appearance is important). In our search for functional and stylish toys, the sustainable ones often have the best design, and appeal to the visual and tactile senses or improve fine motor skills such as dexterity and hand coordination. Here are a few of our family favorites that intrigue and hold our little ones' attention—and look good, too.

Worried that a violent video game might sneak its way into your shopping cart during the holidays? Before you make it to the register, make sure you're armed with all the information you need regarding your child's games. Just because your well-meaning thirteen-year-old promises you that the game he's about to buy with the gift card from Uncle Mike is totally chill, doesn't mean it's good for kids. Do your research ahead of time to avoid any game store drama. And have a chat with your offspring before the big day; let them know that you're going to have to green light their choices before they get their hearts set on any particular item. At the end of the day, you're just being a good parent. Some of the games on the market now may look OK at first glance, but are actually quite objectionable. Trust us: We've done our homework and we're here to give you the ultimate low-down. Check out this slideshow for all the games to steer clear of this season. Don't say we didn't warn you.

Two sociologists have found that parents who have daughters are more inclined to support the GOP and turn a cold shoulder to Democrats.

The experts at Nameberry.com predict what will be big in baby-naming next year

Famed event-planner David Stark shared tips for making chic holiday decorations using items you already have around the house. Take a look!

Sociologist Karen Z. Kramer found that over the past decade more than 550,000 men were stay-at-home fathers, which is about 3.5 percent of the married with kids population.

Ben Miller celebrates his wife's birthday and the anniversary of the day their premature son Ward Miles came home for good with a video documenting his first year.

Adopting an animal is a major commitment. Yet all too often people put more effort into researching what kind of car to get than the type of pet that would best fit their lifestyle.

'Tis the season to send out holiday greeting cards to all your friends and family. But, as our friends at Awkward Family Pet Photos know, not all holiday snapshots are the same. Some are just plain kooky — especially when pets are included. So with good tidings and great cheer, here are 10 wacky holiday animal portraits that are sure to make you laugh out loud and get you in the holiday spirit. And possibly make you think twice about dressing up the family cat this year.

King of the jungle? Nah, it's just a labradoodle!