Kate applauded for not hiding new-mommy tummy
In contrast, Princess Diana's caftan-like outfit hid the post-childbirth tummy bump in 1982.
NEW YORK (AP) — As Kate and William showed off the royal baby, what caught the eye of many women was not the new heir to the throne but the duchess of Cambridge's post-childbirth silhouette: that little bump under her pretty polka-dot dress.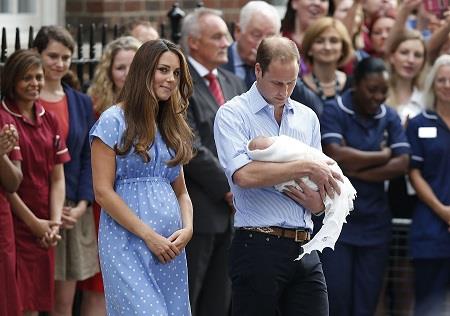 "I love that she came out and there was a mommy tummy. It was there! We all saw it!" said Lyss Stern of New York, who remembers turning down offers of a girdle and diet pills after her first child was born nine years ago.
MSN Living: 10 unforgettable, extravagant royal weddings
Stern, whose company Divamoms.com organizes events and product launches, added that Kate was sending "the right message," in stark contrast to Hollywood celebrities who are shown "three weeks after childbirth with a flat stomach and G-string bikini. That's not real."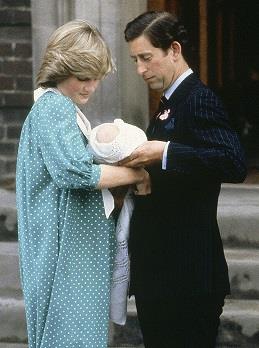 Even those who make a living getting new moms into shape applauded Kate. "I'm thrilled that she went out there like that, because we never see real mommy tummies," said Helene Byrne, a personal trainer in Oakland, Calif., who specializes in pre- and post-natal exercise. "When you see a magazine or photos of new celebrity moms, they're Photoshopped. They're fake! They're a big lie!"
The Daily Beast even ran a headline saying Kate's "unabashed baby belly busts the last taboo of pregnancy." Indeed, most celebrity new moms don't have their pictures taken until their tummies are flat again. And while the stars usually credit diet and exercise with making their bodies bikini-ready so fast, gossip and plastic surgeons often cite something else: the popular procedure known as a tummy tuck.
People magazine has an entire online archive devoted to "Body After Baby: Celebrity moms show off shockingly svelte figures after giving birth," but the magazine declined to comment Wednesday on the example set by Kate. Meanwhile, the summer's other celebrity mom, Kim Kardashian, has yet to be seen in public. Us Weekly reported that she won't leave the house until she's ready to "debut her post-baby body."
MSN Living: 10 best-dressed first ladies of the world
Nobody can say whether Kate consciously chose to send a message that this is what new mothers really look like, or whether she didn't realize — or didn't care — how obvious her tummy would be. Either way, she unselfconsciously handed the baby off to her husband rather than using the newborn to camouflage her figure from the cameras and crowds when she emerged from the hospital Tuesday. And her form-draping dress was a contrast to the caftan-like outfit that hid Princess Diana's figure when she appeared publicly for the first time after giving birth to Will in 1982.
Bing: Will royal baby spark a lot of George babies?
Nancy Manister, who worked for 20 years as a maternity nurse and now teaches at Fairfield University in Connecticut, even noticed a moment during the photo op when Kate "clasped her hands together underneath the belly, and I thought, 'She's not trying to hide it.'" As for anxious new moms wondering when that bump will go away, Manister says, "It takes six weeks to lose 25 pounds, and a full year" to get your old body back.
Jennifer Moneta, who works in public relations in Dallas, gave birth nine weeks ago and was especially pleased that Kate made the post-partum silhouette "look very natural, as if that is what all moms can and should expect after having a baby." Moneta said that when she left the hospital, "I still looked five months pregnant, even though I only gained 20 pounds during pregnancy. My father even lovingly kidded me about it, saying, 'I didn't realize the baby was still in there.'"
Alison Jimenez, a fashion blogger in Astoria, N.Y., said she was "outraged" by comments from some Kate-watchers asking things like "Is she pregnant again?"
"This woman has just given birth. What was she supposed to do? Struggle into a pair of Spanx?" Jimenez said.
But some new moms do swear by girdles or their modern equivalent. Josephine Giraci, of Lloyd Neck, N.Y., says the best piece of advice she got before her first child was born 11 years ago was to pack a girdle in her maternity bag. She wore it for three months after giving birth: "I slept in it and everything."
One shapewear company, Hourglass Angel, wasted no time Wednesday emailing pitches showing a picture of Kate with the mommy tummy alongside ads for corsets and girdles as a way for women to "regain their body" and "feel even more beautiful."
Dr. Robert Atlas, an obstetrician-gynecol​ogist at Mercy Medical Center in Baltimore, explained that the "bulge that women have after they deliver" is mostly loose skin and fat. He said breast-feeding can help new mothers lose the weight "due to extra metabolic processing," but he doesn't recommend girdles as a way to lose baby weight, though women who have cesarean sections do wear a binder-like accessory around their midsections to support abdominal muscles.
As he spoke, he was with a patient, Melissa Baker, of Ellicott City, Md., who gave birth just a week ago. Asked what she thought of Kate, Baker said, simply, "I liked that she didn't look perfect."
More from The Family Room:
11 not-so-princessy things Duchess Kate will have to deal with as a mom
Meet George Alexander Louis, prince of Cambridge
What will the royal baby's last name be?
Subscribe to The Family Room | Friend us on Facebook, follow us on Twitter and find us on Pinterest.
Photo 1: Britain's Prince William, right, and Duchess Kate pose for photographers outside St. Mary's Hospital in London on July 23.(AP Photo/Sang Tan, File)
Photo 2: In this June 22, 1982, file photo, Britain's Prince Charles and Princess Diana take home their newborn son, Prince William, as they leave St. Mary's Hospital in London. Princess Diana's caftan-like outfit hid the post-childbirth tummy bump that is normal for any new mom. (AP Photo/John Redman, File)
News, stories, tips and laughs for moms & dads
Stroll down any aisle of a Toys"R"Us these days and you'll be confronted with a billion options that are light-years beyond anything you had to entertain yourself with as a kid. Lego cruise ships (complete with flatscreen TVs in the lounge and sideboard jet-skis), battery-operated Mercedes-Benz sedans, and hi-tech tablets with Android operating systems abound. We wondered, as we let ourselves get nostalgic for a moment, if any of the beloved toys we played with as children were still even on the market. Thanks to a quick hunt on the Internet we were able to find that Fisher Price still makes their classic Two Tune TV, and you can still get your hands on a good ol' Slinky. Here's a roundup of the best old-school toys for kids-- we encourage you to click through the slideshow and consider wrapping up a well-loved classic for your little one this year.

Not great with a budget? Don't sweat it. Try these simple ways to save.

Watch the video of Kristen Bell going head to head with paparazzi - it will make you angry

Every year, toy makers from around the world gather to show their latest creations at the Toy Fair in New York City. The high-tech models, gadgets and trinkets on display put those basic Legos we played with at kids to shame. Here are 10 new toys that we'd happily buy or children. Or, really, ourselves.

Find yourself wandering the aisles, suddenly needing an owl-shaped candle while drinking a $5 latte? You're not alone, moms...

Here's some parenting advice for whatever stage of separation or divorce you're in.

Whether you pop it in the mail or post it on social media, a creative photo is a surefire way to grab everyone's attention and proudly say, "I'm pregnant!" Prepare for a lot of likes.

Remember the magical children's rooms in Peter Pan and The Little Prince? These timeless novels described spaces that were enchanting and made us wish that we could inhabit the rooms ourselves. The sumptuous interiors that were filled with never-ending toys and fort-like draping may seem like a fairytale, but thanks to four of our favorite kids' furniture websites, the dream could actually become a reality. Click through the slideshow to check out the best kids furniture websites that have everything necessary to create a fantasy room for your little one. And check out Sophia Demenge's super-fun space in the video below. By Barry Samaha

They lay, they play, and they take selfies with supermodels. Meet 5 of the most social media-savvy pets—animals taking control of their own fashionable online image.

We could try to offer you carefully researched and crafted words of Dad-centric inspiration, intended to show you the path to being a better man and, in turn, a better father. But Tom Limbert took up the task for us in his new book 'Dad's Playbook: Wisdom for Fathers from the Greatest Coaches of All Time,' so we left it to him. Limbert -- a parent coach and the founder of the Studio Grow children's play space in Berkeley, California -- has collected pearls of wisdom from an elite crew of coaches who have not only experienced greatness themselves, but also found ways to consistently instill it in their teams. "It's monkey-see, monkey-do," Limbert told us, after we asked him to gather the best quotes on achieving one's goals. "If you want your child to follow, you have to lead." Click on to read the often simple-seeming words that have inspired countless others to follow through on the field, but that can also easily be translated to the school, work, fitness, and, of course, parenting arenas.

What parents need to know

It's raining, it's pouring ... but that doesn't mean the day has to be a snore. Rather than let the kids grow restless and rambunctious, why not divert their energy toward some fun family bonding activities? Although the weather may have scotched your original plans for the day, seize the opportunity to reconnect and let loose with your loved ones. Click through this slideshow for ten refreshing rainy day activities that'll make you glad the clouds (almost) rained on your parade.