Kate applauded for not hiding new-mommy tummy
In contrast, Princess Diana's caftan-like outfit hid the post-childbirth tummy bump in 1982.
NEW YORK (AP) — As Kate and William showed off the royal baby, what caught the eye of many women was not the new heir to the throne but the duchess of Cambridge's post-childbirth silhouette: that little bump under her pretty polka-dot dress.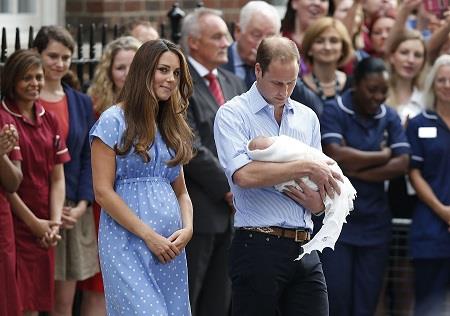 "I love that she came out and there was a mommy tummy. It was there! We all saw it!" said Lyss Stern of New York, who remembers turning down offers of a girdle and diet pills after her first child was born nine years ago.
MSN Living: 10 unforgettable, extravagant royal weddings
Stern, whose company Divamoms.com organizes events and product launches, added that Kate was sending "the right message," in stark contrast to Hollywood celebrities who are shown "three weeks after childbirth with a flat stomach and G-string bikini. That's not real."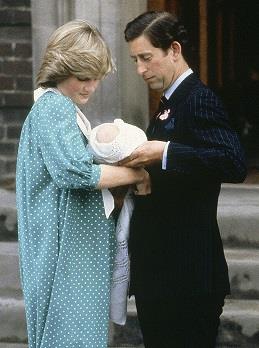 Even those who make a living getting new moms into shape applauded Kate. "I'm thrilled that she went out there like that, because we never see real mommy tummies," said Helene Byrne, a personal trainer in Oakland, Calif., who specializes in pre- and post-natal exercise. "When you see a magazine or photos of new celebrity moms, they're Photoshopped. They're fake! They're a big lie!"
The Daily Beast even ran a headline saying Kate's "unabashed baby belly busts the last taboo of pregnancy." Indeed, most celebrity new moms don't have their pictures taken until their tummies are flat again. And while the stars usually credit diet and exercise with making their bodies bikini-ready so fast, gossip and plastic surgeons often cite something else: the popular procedure known as a tummy tuck.
People magazine has an entire online archive devoted to "Body After Baby: Celebrity moms show off shockingly svelte figures after giving birth," but the magazine declined to comment Wednesday on the example set by Kate. Meanwhile, the summer's other celebrity mom, Kim Kardashian, has yet to be seen in public. Us Weekly reported that she won't leave the house until she's ready to "debut her post-baby body."
MSN Living: 10 best-dressed first ladies of the world
Nobody can say whether Kate consciously chose to send a message that this is what new mothers really look like, or whether she didn't realize — or didn't care — how obvious her tummy would be. Either way, she unselfconsciously handed the baby off to her husband rather than using the newborn to camouflage her figure from the cameras and crowds when she emerged from the hospital Tuesday. And her form-draping dress was a contrast to the caftan-like outfit that hid Princess Diana's figure when she appeared publicly for the first time after giving birth to Will in 1982.
Bing: Will royal baby spark a lot of George babies?
Nancy Manister, who worked for 20 years as a maternity nurse and now teaches at Fairfield University in Connecticut, even noticed a moment during the photo op when Kate "clasped her hands together underneath the belly, and I thought, 'She's not trying to hide it.'" As for anxious new moms wondering when that bump will go away, Manister says, "It takes six weeks to lose 25 pounds, and a full year" to get your old body back.
Jennifer Moneta, who works in public relations in Dallas, gave birth nine weeks ago and was especially pleased that Kate made the post-partum silhouette "look very natural, as if that is what all moms can and should expect after having a baby." Moneta said that when she left the hospital, "I still looked five months pregnant, even though I only gained 20 pounds during pregnancy. My father even lovingly kidded me about it, saying, 'I didn't realize the baby was still in there.'"
Alison Jimenez, a fashion blogger in Astoria, N.Y., said she was "outraged" by comments from some Kate-watchers asking things like "Is she pregnant again?"
"This woman has just given birth. What was she supposed to do? Struggle into a pair of Spanx?" Jimenez said.
But some new moms do swear by girdles or their modern equivalent. Josephine Giraci, of Lloyd Neck, N.Y., says the best piece of advice she got before her first child was born 11 years ago was to pack a girdle in her maternity bag. She wore it for three months after giving birth: "I slept in it and everything."
One shapewear company, Hourglass Angel, wasted no time Wednesday emailing pitches showing a picture of Kate with the mommy tummy alongside ads for corsets and girdles as a way for women to "regain their body" and "feel even more beautiful."
Dr. Robert Atlas, an obstetrician-gynecol​ogist at Mercy Medical Center in Baltimore, explained that the "bulge that women have after they deliver" is mostly loose skin and fat. He said breast-feeding can help new mothers lose the weight "due to extra metabolic processing," but he doesn't recommend girdles as a way to lose baby weight, though women who have cesarean sections do wear a binder-like accessory around their midsections to support abdominal muscles.
As he spoke, he was with a patient, Melissa Baker, of Ellicott City, Md., who gave birth just a week ago. Asked what she thought of Kate, Baker said, simply, "I liked that she didn't look perfect."
More from The Family Room:
11 not-so-princessy things Duchess Kate will have to deal with as a mom
Meet George Alexander Louis, prince of Cambridge
What will the royal baby's last name be?
Subscribe to The Family Room | Friend us on Facebook, follow us on Twitter and find us on Pinterest.
Photo 1: Britain's Prince William, right, and Duchess Kate pose for photographers outside St. Mary's Hospital in London on July 23.(AP Photo/Sang Tan, File)
Photo 2: In this June 22, 1982, file photo, Britain's Prince Charles and Princess Diana take home their newborn son, Prince William, as they leave St. Mary's Hospital in London. Princess Diana's caftan-like outfit hid the post-childbirth tummy bump that is normal for any new mom. (AP Photo/John Redman, File)
News, stories, tips and laughs for moms & dads
Remember the concept of weekends being a time for rest, relaxation, and togetherness? No? Us either. Between soccer games, playdates, dragging your kids to see the new exhibition at the local children's museum, and we need to pick up a gift for that birthday party that starts in . . . 20 minutes, juggling a busy family's weekend schedule can be more stressful than a weekday. While we know it's simply not realistic to cancel all your plans and obligations moving forward, clearing the calendar for just one weekend can be just the refresher that your family's craving. Here's why.

Any of these sound familiar?

4 steps for raising a child who doesn't feel emotionally stranded.

You just had a baby? You're a superstar! All those diapers, all that spit up, and you're makin' magic happen. But you're also likely tired - really tired - and busy (so, so busy). Taking time for yourself might seem like an indulgence but a happy mom makes for a happy baby. Here are 7 things you should definitely do to keep your sanity intact and your spirit high. <more, below>

Summertime is on, and the kids are out of school. Every mom knows that for these three months it's more important than ever to keep the kids busy. But you don't have to schedule your life away with camps, or drop a bundle on activities and games that come in a box. You can make your own fun, and even include the kids in the prep, with some simple, inexpensive DIY crafts that will keep them playing 'til the lightening bugs come out. Make your own fingerpaint, bubbles, and crayons. Create a fort-building kit and superhero capes that will kick their imaginations into overdrive. Here are 10 of our favorite kid-friendly DIY crafts to fuel your summertime fun.

Let these DIY dog bed projects be your inspiration and within a single weekend, you can construct something that really makes Rex feel like a king.

The task of finding an eco-friendly, safe-for-baby gift parents-to-be will actually use is kind of challenging. Add to that a price limit of $50, and the feat suddenly feels impossible! Fortunately, we combed the marketplace for some of the prettiest, most useful, sweetest gifts for baby and family. Many are fine on their own, while others would work well as part of a bigger basket — you know, if you wish to achieve that shower-goer hero status.

Jennifer Goodall gave birth Friday after much drama

My kids snapped a pic of me on my phone and it changed how I see myself

6-year-old has rare brain condition

He wanted to know if woman was pregnant

Did your state make the grade?