Some teachers ban kids from having best friends
Several schools in the United Kingdom have implemented a rule reportedly designed to prevent children from getting their feelings hurt.
Friendships and fallouts are an essential part of childhood, but several schools in the United Kingdom think otherwise, reports The Sun.
In an absurd effort to avoid hurt feelings, schools in Kingston, South West London and Surrey are encouraging students to play in large groups and steer clear of making best friends. The devastation of losing a friend and subsequent hurt feelings are seen as too much to bear for a child who's learning how to build healthy relationships. Pass the politically correct tissues, please.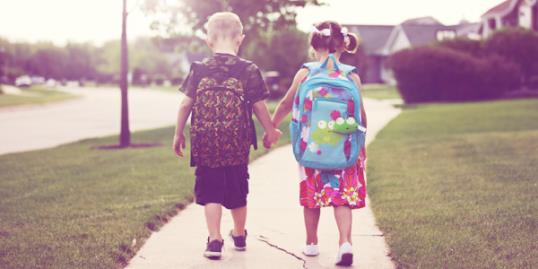 More on MSN Living: Famous Girl Scouts who have made a difference
"I have noticed that teachers tell children they shouldn't have a best friend and that everyone should play together," educational psychologist Gaynor Sbuttoni told The Sun.
"They are doing it because they want to save the child the pain of splitting up from their best friend. But it is natural for some children to want a best friend. If they break up, they have to feel the pain because they're learning to deal with it."
More on MSN Living: 11 best baby memes of all time
Reality check: Over the course of nearly four decades, I've split from many close friends. Sure, it stings to have a falling-out with someone you care about. But guess what? It's part of life, and I've managed to survive with minimal childhood scars and certainly none from bygone besties.
"I don't see how you can stop people from forming close friendships. We make and lose friends throughout our lives," Russell Hobby of the National Association of Head Teachers told The Sun.
Think such a bizarre ban couldn't happen in the United States? Think again. One Maryland school district recently outlawed hugs, classroom treats on birthdays and handing out party invitations at school if the entire class is not included.
What do you think about the best friends ban?
Bing: Weirdest things schools have banned
More from Family Room:
5 low-tech suggestions for managing a road trip with kids
5 things parents need to know about spring break
Love content like this? Friend us on Facebook, follow us on Twitter and find us on Pinterest.
Readers: Calling all mom bloggers – we're looking for fresh voices on MSN Living. Email us your samples and contact info!
Photo: R. Nelson/Getty Images
News, stories, tips and laughs for moms & dads
As all the kids line up to go to school, your son, Timmy, turns to you and says, "I don't want to take the bus. My stomach hurts. Please don't make me go." You cringe and think, Here we go again. What should be a simple morning routine explodes into a daunting challenge.

Learning these 10 things is a good base with which to begin the tough preteen and teen years. Helping our children maneuver life is our jobs as parents, even if we haven't quite figured it all out ourselves yet.

We've all seen her... But should we judge her?

Unique, or downright strange?

In a few short weeks you'll be dropping your child off at college, where they'll spend the next four years learning, laughing, and probably partying. Of course, in true teen fashion, your child has already started shopping for their dorm room essentials. Don't panic just yet!

When tots burst through the door after a busy day at school, the first order of business is securing a snack.

The only thing more important than what you pack your child for lunch is what you pack it in.

Frustrated mom invents Ignore No More app

Do you have the right mix of moms surrounding you?

It's hard to keep young kids entertained while being confined indoors, but fear not, for we have some fun ideas to keep the entire family from climbing the walls during rainy days.

Back in our day, ending up with the same exact backpack as your BFF was a legitimate back-to-school concern. Nowadays? There are so many options, it's dizzying!

It is a parent's eternal dilemma: What do I make the kids for lunch today? And tomorrow? And next week? We fall into ruts, succumb to the tried-and-true, give in to our children's demands for junk food. No more! These school lunch ideas—for everything from sandwiches to snacks to hot meals—will freshen up your daily routine, so much so you may be tempted to make them for yourself.