Some teachers ban kids from having best friends
Several schools in the United Kingdom have implemented a rule reportedly designed to prevent children from getting their feelings hurt.
Friendships and fallouts are an essential part of childhood, but several schools in the United Kingdom think otherwise, reports The Sun.
In an absurd effort to avoid hurt feelings, schools in Kingston, South West London and Surrey are encouraging students to play in large groups and steer clear of making best friends. The devastation of losing a friend and subsequent hurt feelings are seen as too much to bear for a child who's learning how to build healthy relationships. Pass the politically correct tissues, please.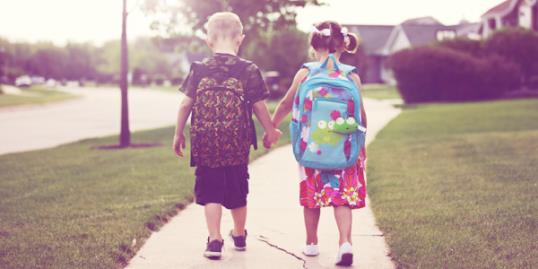 More on MSN Living: Famous Girl Scouts who have made a difference
"I have noticed that teachers tell children they shouldn't have a best friend and that everyone should play together," educational psychologist Gaynor Sbuttoni told The Sun.
"They are doing it because they want to save the child the pain of splitting up from their best friend. But it is natural for some children to want a best friend. If they break up, they have to feel the pain because they're learning to deal with it."
More on MSN Living: 11 best baby memes of all time
Reality check: Over the course of nearly four decades, I've split from many close friends. Sure, it stings to have a falling-out with someone you care about. But guess what? It's part of life, and I've managed to survive with minimal childhood scars and certainly none from bygone besties.
"I don't see how you can stop people from forming close friendships. We make and lose friends throughout our lives," Russell Hobby of the National Association of Head Teachers told The Sun.
Think such a bizarre ban couldn't happen in the United States? Think again. One Maryland school district recently outlawed hugs, classroom treats on birthdays and handing out party invitations at school if the entire class is not included.
What do you think about the best friends ban?
Bing: Weirdest things schools have banned
More from Family Room:
5 low-tech suggestions for managing a road trip with kids
5 things parents need to know about spring break
Love content like this? Friend us on Facebook, follow us on Twitter and find us on Pinterest.
Readers: Calling all mom bloggers – we're looking for fresh voices on MSN Living. Email us your samples and contact info!
Photo: R. Nelson/Getty Images
News, stories, tips and laughs for moms & dads
Remember the concept of weekends being a time for rest, relaxation, and togetherness? No? Us either. Between soccer games, playdates, dragging your kids to see the new exhibition at the local children's museum, and we need to pick up a gift for that birthday party that starts in . . . 20 minutes, juggling a busy family's weekend schedule can be more stressful than a weekday. While we know it's simply not realistic to cancel all your plans and obligations moving forward, clearing the calendar for just one weekend can be just the refresher that your family's craving. Here's why.

Any of these sound familiar?

4 steps for raising a child who doesn't feel emotionally stranded.

You just had a baby? You're a superstar! All those diapers, all that spit up, and you're makin' magic happen. But you're also likely tired - really tired - and busy (so, so busy). Taking time for yourself might seem like an indulgence but a happy mom makes for a happy baby. Here are 7 things you should definitely do to keep your sanity intact and your spirit high. <more, below>

Summertime is on, and the kids are out of school. Every mom knows that for these three months it's more important than ever to keep the kids busy. But you don't have to schedule your life away with camps, or drop a bundle on activities and games that come in a box. You can make your own fun, and even include the kids in the prep, with some simple, inexpensive DIY crafts that will keep them playing 'til the lightening bugs come out. Make your own fingerpaint, bubbles, and crayons. Create a fort-building kit and superhero capes that will kick their imaginations into overdrive. Here are 10 of our favorite kid-friendly DIY crafts to fuel your summertime fun.

Let these DIY dog bed projects be your inspiration and within a single weekend, you can construct something that really makes Rex feel like a king.

The task of finding an eco-friendly, safe-for-baby gift parents-to-be will actually use is kind of challenging. Add to that a price limit of $50, and the feat suddenly feels impossible! Fortunately, we combed the marketplace for some of the prettiest, most useful, sweetest gifts for baby and family. Many are fine on their own, while others would work well as part of a bigger basket — you know, if you wish to achieve that shower-goer hero status.

Jennifer Goodall gave birth Friday after much drama

My kids snapped a pic of me on my phone and it changed how I see myself

6-year-old has rare brain condition

He wanted to know if woman was pregnant

Did your state make the grade?