Study: Students are hiding talents from bullies
Why are some of today's students are afraid to shine too brightly?
Marianne Williamson once wrote: "There is nothing enlightened about shrinking so that other people won't feel insecure around you. We are all meant to shine, as children do."
But it appears that some of today's children are afraid to shine too brightly, lest they attract the notice of bullies.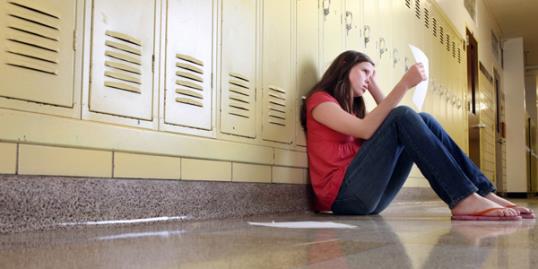 A survey of 1,042 British children ages 11-16 revealed that more than half of school-age kids are downplaying their talents or refusing to showcase their abilities, out of fear that bullies would ridicule them for it.
More from Parenting: Car seat safety
Those looking to torment their peers do not deem scholarly abilities, such as proficiency in math or science, "cool", so some children are deliberately underachieving (one in 10 girls admitted to hiding their abilities in science and one in five, their abilities in math).
And it's not just grades that are being affected: Many children are abandoning extracurricular activities, too. They're dropping out of singing, dance and drama classes, choosing instead to walk the halls with lowered heads and the fervent wish that they remain unnoticed. Instead of talents being a source of joy to be celebrated, students are afraid that they're an invitation for the unwanted attention of critical bullies. Effectively, kids are choosing to dull their own light so that bullies have no reason to attack them.
More from Parenting: 9 unique holiday traditions
"It's unacceptable that rather than celebrate their talent, they feel that they have to hide their gifts, purposely underachieve in crucial subjects and miss out on things they enjoy because of bullying," Ross Hendry, the chair of the Anti-Bullying Alliance, tells The Daily Mail.
The results of this survey came out just as Anti-Bullying Week (Nov. 19-23), which hopes to bring light to the issue and offer useful advice, was getting under way in the United States.
What are some of the ways that you can encourage your child to shine this week?
Bing: More about Anti-Bullying Week
Photo: Katrina Wittkamp/Getty Images
More from Parenting:
After-school snack ideas
Search for baby names
Best gifts for kids
News, stories, tips and laughs for moms & dads
Transform the fall vegetable into cool decor pieces.

Put together these creative, but simple, Halloween looks for your youngsters.

We know you're documenting just about every move baby makes. (Do you even have any memory left on your phone? We didn't think so.) These tips from professional photographers can help you perfect your pics.

These six on-trend ideas will make baby's room your new favorite place to hang out.

Baby probably won't remember his first birthday party, but that doesn't mean you can't go all out (after all, parents need to celebrate making it through this first year, right?). These fun, colorful themes take planning to the next level.

See what celebrities who had problems conceiving have to say.

You'll be hearing a lot of advice and opinions. Some of it will be really helpful and some will be just plain wrong. Here are the most common things people say about babies that aren't true.

A new dad finds an Epcot Center's worth of innovation after expecting none at all.

The dog days of summer may be well behind us, but that doesn't mean it's time to pack in the outdoor adventures quite yet.

Protect yourself and your family with these ingenious gizmos and smartphone apps.

Make sure your go-to gadgets are as cute as your style, with these trendy tech finds!

Oh, how the times have changed...