Study: Students are hiding talents from bullies
Why are some of today's students are afraid to shine too brightly?
Marianne Williamson once wrote: "There is nothing enlightened about shrinking so that other people won't feel insecure around you. We are all meant to shine, as children do."
But it appears that some of today's children are afraid to shine too brightly, lest they attract the notice of bullies.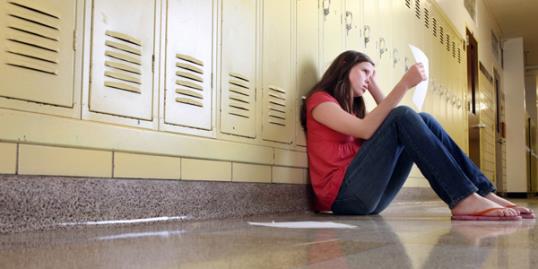 A survey of 1,042 British children ages 11-16 revealed that more than half of school-age kids are downplaying their talents or refusing to showcase their abilities, out of fear that bullies would ridicule them for it.
More from Parenting: Car seat safety
Those looking to torment their peers do not deem scholarly abilities, such as proficiency in math or science, "cool", so some children are deliberately underachieving (one in 10 girls admitted to hiding their abilities in science and one in five, their abilities in math).
And it's not just grades that are being affected: Many children are abandoning extracurricular activities, too. They're dropping out of singing, dance and drama classes, choosing instead to walk the halls with lowered heads and the fervent wish that they remain unnoticed. Instead of talents being a source of joy to be celebrated, students are afraid that they're an invitation for the unwanted attention of critical bullies. Effectively, kids are choosing to dull their own light so that bullies have no reason to attack them.
More from Parenting: 9 unique holiday traditions
"It's unacceptable that rather than celebrate their talent, they feel that they have to hide their gifts, purposely underachieve in crucial subjects and miss out on things they enjoy because of bullying," Ross Hendry, the chair of the Anti-Bullying Alliance, tells The Daily Mail.
The results of this survey came out just as Anti-Bullying Week (Nov. 19-23), which hopes to bring light to the issue and offer useful advice, was getting under way in the United States.
What are some of the ways that you can encourage your child to shine this week?
Bing: More about Anti-Bullying Week
Photo: Katrina Wittkamp/Getty Images
More from Parenting:
After-school snack ideas
Search for baby names
Best gifts for kids
News, stories, tips and laughs for moms & dads
Make sure your go-to gadgets are as cute as your style, with these trendy tech finds!

Oh, how the times have changed...

Get ready to hit the mall! Check out the hottest back-to-school trends—and get ready to make a major style statement this year.

Unique, or downright strange?

This is Kevin Droniak and his grandma. They're besties, they're awesome and they're YouTube stars.

It can be difficult to entice little ones to eat anything at all, let alone to devour a healthy plate. But feeding your kids nutritious snacks after school just got way easier, thanks to these adorably clever and cute snack ideas! For more smart and fun ways to get your kids to enjoy healthful and delicious foods, try one of these amazingly artsy lunch ideas.

Through a tonsillectomy all the way to brain surgery, my mother deserves some recognition. She's my spine, my birthday shadow, my BFF, my thunder buddy, so Mommy, thank you.

My son needs me, as much as yours needs you. Sadly, my son needs me more. He needs someone to have his back, when it seems that the police, the men he'd wave to with excitement as a little boy, see him as a being worthy only of prison or death.

If you know someone who has adopted and have made some of these comments, don't fret... now you know!

"Because you shine from within," I said, touching my finger to her heart. "Not everybody sees it, but I do. I see it. And my job is to protect that light. So when people say mean comments that squelch that light, I want you to tell me. I will protect your light by listening and loving you, my brave, courageous, and unique little firefly."

Studies have shown that it helps, top education officials have recommended it, and now doctors are officially saying the same.

I may have accidentally dropped you a few times, forgotten to document your first fart, let a little pee fly and dressed you like an idiot, but I have also loved you with every piece of me, and you will never hear an apology for that.