Study: Students are hiding talents from bullies
Why are some of today's students are afraid to shine too brightly?
Marianne Williamson once wrote: "There is nothing enlightened about shrinking so that other people won't feel insecure around you. We are all meant to shine, as children do."
But it appears that some of today's children are afraid to shine too brightly, lest they attract the notice of bullies.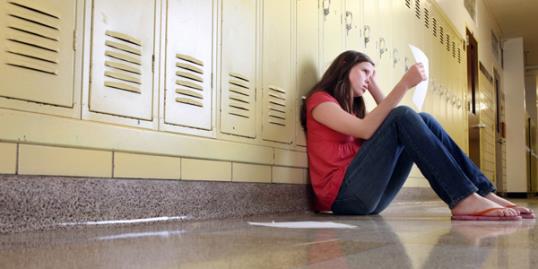 A survey of 1,042 British children ages 11-16 revealed that more than half of school-age kids are downplaying their talents or refusing to showcase their abilities, out of fear that bullies would ridicule them for it.
More from Parenting: Car seat safety
Those looking to torment their peers do not deem scholarly abilities, such as proficiency in math or science, "cool", so some children are deliberately underachieving (one in 10 girls admitted to hiding their abilities in science and one in five, their abilities in math).
And it's not just grades that are being affected: Many children are abandoning extracurricular activities, too. They're dropping out of singing, dance and drama classes, choosing instead to walk the halls with lowered heads and the fervent wish that they remain unnoticed. Instead of talents being a source of joy to be celebrated, students are afraid that they're an invitation for the unwanted attention of critical bullies. Effectively, kids are choosing to dull their own light so that bullies have no reason to attack them.
More from Parenting: 9 unique holiday traditions
"It's unacceptable that rather than celebrate their talent, they feel that they have to hide their gifts, purposely underachieve in crucial subjects and miss out on things they enjoy because of bullying," Ross Hendry, the chair of the Anti-Bullying Alliance, tells The Daily Mail.
The results of this survey came out just as Anti-Bullying Week (Nov. 19-23), which hopes to bring light to the issue and offer useful advice, was getting under way in the United States.
What are some of the ways that you can encourage your child to shine this week?
Bing: More about Anti-Bullying Week
Photo: Katrina Wittkamp/Getty Images
More from Parenting:
After-school snack ideas
Search for baby names
Best gifts for kids
News, stories, tips and laughs for moms & dads
A thrill-obsessed subculture claimed another life this week.

A few suggested answers for the diciest questions

Must-haves for every mommy on the road

Here's our list of fifteen moms in the food industry that deserve some recognition.

The site gets high marks for its user-friendly interface and excellent and responsive customer service. And the reviews are also pretty accurate. Compare amenities and prices next to a hotel's in the same area, and you're likely to see Airbnb come out on top.

We captured a frame-by-frame look just for you.

Other moms can be ruthless when it comes to picking apart your parenting choices. From dissing your decision to go back to work to criticizing when you started baby on solids, here are the most ridiculous comments moms have heard. Bonus, we've got just the right way to respond to the haters! You're welcome.

Nope, you don't have to spend the next nine months in black elastic-waist pants and oversize sweaters. And you don't have to shell out a fortune on your "temporary" wardrobe either. Check out these stylish and affordable maternity clothes.

Because society crumbles without us

Another kid figured out how to get into a claw machine.

As a new mom, you've recently discovered there are many things you can live without—sleep and modesty being chief among them. But what can't you live without? Seasoned moms share their Top 10 list for how to survive the early months of motherhood.

Here are our experts' best tips for how to be a positive role model for your kids so that they grow up healthy, strong and confident about the way they look.