Primates of Park Avenue: How the 1 percent does Disney
New book reveals how rich families hire handicapped "black-market Disney guides" to skip long lines.
If what social anthropologist Dr. Wednesday Martin claims is true, the world of the rich and privileged has officially lost its moral compass.
In her new book, "Primates of Park Avenue," Martin claims to expose a troubling trend: "Upper crust" moms using a "black market" connection to hire handicapped tour guides to walk them through Disney World so they can take advantage of the line-skipping auxiliary entrances for disabled patrons, reports Gawker.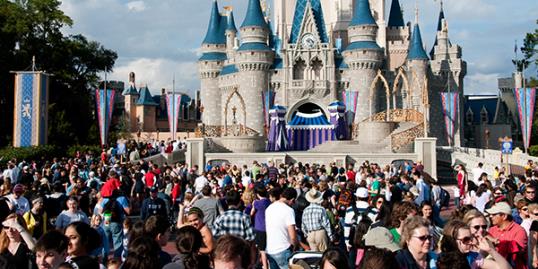 More from MSN Living: What no one told me about motherhood
"My daughter waited one minute to get on 'It's a Small World' — the other kids had to wait 2 1/2 hours," one "rich mom" says in the book. "You can't go to Disney without a tour concierge. This is how the 1 percent does Disney."
More from MSN Living: 8 most wrinkled dog breeds
The "black-market Disney guides" reportedly earn roughly $130 an hour, which adds up to $1,040 for an all-day, eight-hour tour. A steal considering New York Post reports that a Disney World fast pass for a family starts at $310 an hour.
Bing: Most dangerous attractions in the world
"Who wants a speed pass when you can use your black-market handicapped guide to circumvent the lines all together?" Dr. Martin writes.
Read the rest of the story here.
Tell us: What do you think of this claim?
More from The Family Room
How to talk to your kids about kidnapping
'Sesame Street' gets new Hispanic character
Most popular baby names of 2012
Love content like this? Friend us on Facebook, follow us on Twitter, and find us on Pinterest.
Readers: Calling all mom bloggers — we're looking for fresh voices on MSN Living. Email us your samples and contact info.
Photo: Disney / Peter Ptschelinzew/Getty Images
Are you sure you want to delete this comment?
News, stories, tips and laughs for moms & dads
Find out which classroom supplies and dorm-room buys you don't need to spend a fortune on

4 steps for raising a child who doesn't feel emotionally stranded.

Any of these sound familiar?

Fire challenge involves pouring alcohol on one's chest and lighting it

A coincidence after the furlough?

Helpful tips for easing first day jitters.

Getting ready for fall has never been more fun.

Great reads for the back-to-school mindset.

Remember the concept of weekends being a time for rest, relaxation, and togetherness? No? Us either. Between soccer games, playdates, dragging your kids to see the new exhibition at the local children's museum, and we need to pick up a gift for that birthday party that starts in . . . 20 minutes, juggling a busy family's weekend schedule can be more stressful than a weekday. While we know it's simply not realistic to cancel all your plans and obligations moving forward, clearing the calendar for just one weekend can be just the refresher that your family's craving. Here's why.

You just had a baby? You're a superstar! All those diapers, all that spit up, and you're makin' magic happen. But you're also likely tired - really tired - and busy (so, so busy). Taking time for yourself might seem like an indulgence but a happy mom makes for a happy baby. Here are 7 things you should definitely do to keep your sanity intact and your spirit high. <more, below>

Summertime is on, and the kids are out of school. Every mom knows that for these three months it's more important than ever to keep the kids busy. But you don't have to schedule your life away with camps, or drop a bundle on activities and games that come in a box. You can make your own fun, and even include the kids in the prep, with some simple, inexpensive DIY crafts that will keep them playing 'til the lightening bugs come out. Make your own fingerpaint, bubbles, and crayons. Create a fort-building kit and superhero capes that will kick their imaginations into overdrive. Here are 10 of our favorite kid-friendly DIY crafts to fuel your summertime fun.