Moms admit to texting, driving with kids
A new survey reveals that new mothers make risky choices on the road – even with their babies in the backseat.
Every mother has the occasional "bad mommy" moment, but talking or texting while driving is a major no-no. Accidents happen and all it takes is a split second of having your eyes off the road to compromise your precious cargo's safety.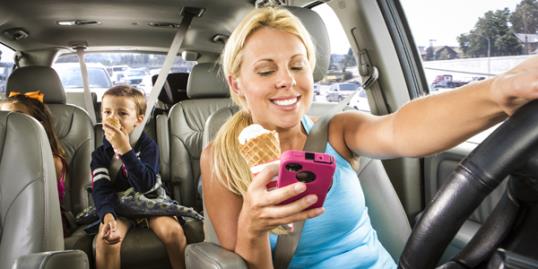 A poll of more than 2,000 moms conducted by American Baby and child-protection advocacy group Safe Kids Worldwide found that 78 percent of moms with kids under age two talk on the phone while driving; 26 percent text or check their e-mail. The majority of new moms surveyed (63 percent) say they're more cautious behind the wheel since giving birth, but that's not reflected in their behavior.
More from MSN Living: 11 mom sayings it's ok to ditch
"Everyone wants to think they're a good driver, especially when they're a mom," Laura Kalehoff, executive editor of American Baby told USA TODAY. "You pick out the safest car seat, the safest crib, and you want to feel like you're making the right choices. They thought they were being better drivers, while their behavior showed otherwise."
More from MSN Living: The top 10 worst moments in mom judgment
"It's become part of our culture to not just drive, but to drive and do twenty other things," Kate Carr, president and CEO of Safe Kids Worldwide was quoted in Parents.  "The problem is multi-tasking in the car can lead to tragedies. As a mother of three, I know there is nothing a mom wouldn't do to protect her child. This survey shows moms the little things they can change in their behavior to make a big difference in the safety of their children."
Bing: Dangerous driving mistakes moms make
Highlights from the American Baby and Safe Kids Worldwide survey:
26 percent text or check email, which is twice as risky as drunk driving.
Moms log an average of 5 hours and 20 minutes of consecutive sleep nightly, slowing their reaction time.
Two-thirds of moms find it tough to concentrate on a single task, like driving.
Nearly 10 percent of new moms have been in a crash while driving with their baby. 
Read the complete survey titled, "Is Your Baby Safe on the Road?" here.
Do you ever talk or text with your baby in the car?
More from Family Room:
Most addictive video games for kids
Toddler death raises concern over car seat rules
Violent video games and child aggression
Photo: William Howard/Getty Images

i try to instill in my children as many good habits as possible...whether its health, manners and so on and so forth....throught not only nagging but practice!
i admit i answer my phone and talk on phone while i drive but i do not text and drive!
life and death....
i have a 19,14,12 and 9 year old
Are you sure you want to delete this comment?
News, stories, tips and laughs for moms & dads
Millennials have a notoriously bad rap. In the age of all-encompassing technology, recent generations are often criticized for their affinity for video games, their short attention spans and their selfie-obsession. Such insularity in face of the apex of globalization seems especially troubling. And yet, there may be hope. All conjecture aside, social media has a different story to tell about the leaders of tomorrow. Not too long ago, Malala Yousufzai became the youngest Nobel Peace Prize nominee in history, but she's not the only wunderkind to watch. Click through this slideshow for our list of today's top ten inspirational kids. We think you'll find Malala's in very good company.

Find yourself wandering the aisles, suddenly needing an owl-shaped candle while drinking a $5 latte? You're not alone, moms...

When it comes to traveling with the family, "adventure" can mean a lot of different things. Just packing the suitcases for a 3-hour flight can be an adventure of its own. And surviving a 5-hour flight with a toddler? That's a whole different kind of adventure (tip: pack snacks). But when your family adventure is good, it can be is really, really good. Sometimes swimming with dolphins or ziplining through the rainforest is just the kind of vacation that will make you forget all about airport hassle, and will get your kids (even the teens) smiling. From hiking the Rockies to white-water rafting, we've found 11 family adventure vacations that will get the adrenaline pumping without driving you crazy.

When you're expecting a baby, preparations can be overwhelming. Decorating is stressful as it is, and when it comes to nurseries, there are the added concerns of reducing sharp edges, use of engaging colors and -- if you're a believer in the powers of feng shui—optimal furniture placement. Luckily, your favorite fashionable A-listers are here with tons of dazzling baby room ideas. Click through this slideshow for more nursery ideas from celebrities, stylists and just plain fashionable moms.

Our Research Institute scouted out the New York City Toy Fair and spotted a few standouts we predict will be topping wish lists shortly.

When we scoped out the New York City Toy Fair, we spotted everything from human-like robots to kid-friendly DIY projects.

Stroll down any aisle of a Toys"R"Us these days and you'll be confronted with a billion options that are light-years beyond anything you had to entertain yourself with as a kid. Lego cruise ships (complete with flatscreen TVs in the lounge and sideboard jet-skis), battery-operated Mercedes-Benz sedans, and hi-tech tablets with Android operating systems abound. We wondered, as we let ourselves get nostalgic for a moment, if any of the beloved toys we played with as children were still even on the market. Thanks to a quick hunt on the Internet we were able to find that Fisher Price still makes their classic Two Tune TV, and you can still get your hands on a good ol' Slinky. Here's a roundup of the best old-school toys for kids-- we encourage you to click through the slideshow and consider wrapping up a well-loved classic for your little one this year.

Not great with a budget? Don't sweat it. Try these simple ways to save.

Watch the video of Kristen Bell going head to head with paparazzi - it will make you angry

Every year, toy makers from around the world gather to show their latest creations at the Toy Fair in New York City. The high-tech models, gadgets and trinkets on display put those basic Legos we played with at kids to shame. Here are 10 new toys that we'd happily buy or children. Or, really, ourselves.

Here's some parenting advice for whatever stage of separation or divorce you're in.

Whether you pop it in the mail or post it on social media, a creative photo is a surefire way to grab everyone's attention and proudly say, "I'm pregnant!" Prepare for a lot of likes.