Moms admit to texting, driving with kids
A new survey reveals that new mothers make risky choices on the road – even with their babies in the backseat.
Every mother has the occasional "bad mommy" moment, but talking or texting while driving is a major no-no. Accidents happen and all it takes is a split second of having your eyes off the road to compromise your precious cargo's safety.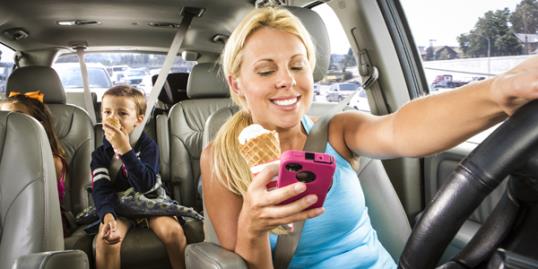 A poll of more than 2,000 moms conducted by American Baby and child-protection advocacy group Safe Kids Worldwide found that 78 percent of moms with kids under age two talk on the phone while driving; 26 percent text or check their e-mail. The majority of new moms surveyed (63 percent) say they're more cautious behind the wheel since giving birth, but that's not reflected in their behavior.
More from MSN Living: 11 mom sayings it's ok to ditch
"Everyone wants to think they're a good driver, especially when they're a mom," Laura Kalehoff, executive editor of American Baby told USA TODAY. "You pick out the safest car seat, the safest crib, and you want to feel like you're making the right choices. They thought they were being better drivers, while their behavior showed otherwise."
More from MSN Living: The top 10 worst moments in mom judgment
"It's become part of our culture to not just drive, but to drive and do twenty other things," Kate Carr, president and CEO of Safe Kids Worldwide was quoted in Parents.  "The problem is multi-tasking in the car can lead to tragedies. As a mother of three, I know there is nothing a mom wouldn't do to protect her child. This survey shows moms the little things they can change in their behavior to make a big difference in the safety of their children."
Bing: Dangerous driving mistakes moms make
Highlights from the American Baby and Safe Kids Worldwide survey:
26 percent text or check email, which is twice as risky as drunk driving.
Moms log an average of 5 hours and 20 minutes of consecutive sleep nightly, slowing their reaction time.
Two-thirds of moms find it tough to concentrate on a single task, like driving.
Nearly 10 percent of new moms have been in a crash while driving with their baby. 
Read the complete survey titled, "Is Your Baby Safe on the Road?" here.
Do you ever talk or text with your baby in the car?
More from Family Room:
Most addictive video games for kids
Toddler death raises concern over car seat rules
Violent video games and child aggression
Photo: William Howard/Getty Images

i try to instill in my children as many good habits as possible...whether its health, manners and so on and so forth....throught not only nagging but practice!
i admit i answer my phone and talk on phone while i drive but i do not text and drive!
life and death....
i have a 19,14,12 and 9 year old
Are you sure you want to delete this comment?
News, stories, tips and laughs for moms & dads
Two sociologists have found that parents who have daughters are more inclined to support the GOP and turn a cold shoulder to Democrats.

The experts at Nameberry.com predict what will be big in baby-naming next year

Famed event-planner David Stark shared tips for making chic holiday decorations using items you already have around the house. Take a look!

Sociologist Karen Z. Kramer found that over the past decade more than 550,000 men were stay-at-home fathers, which is about 3.5 percent of the married with kids population.

Ben Miller celebrates his wife's birthday and the anniversary of the day their premature son Ward Miles came home for good with a video documenting his first year.

Adopting an animal is a major commitment. Yet all too often people put more effort into researching what kind of car to get than the type of pet that would best fit their lifestyle.

'Tis the season to send out holiday greeting cards to all your friends and family. But, as our friends at Awkward Family Pet Photos know, not all holiday snapshots are the same. Some are just plain kooky — especially when pets are included. So with good tidings and great cheer, here are 10 wacky holiday animal portraits that are sure to make you laugh out loud and get you in the holiday spirit. And possibly make you think twice about dressing up the family cat this year.

King of the jungle? Nah, it's just a labradoodle!

Side-by-side images of adorable babies and their celebrity doppelgängers

Do you have a finicky furry friend on your holiday gift list this year? You're in luck! We've rounded up the coolest cat-approved products to bring you purrfect gift ideas for every kind of cat -- from the curious kitten to the most refined feline. Any one of these special gifts could make your resident kitty purr with pleasure and maybe, just maybe, like the present this year even more than the box and wrapping paper it came in!

Plus, puppy names to watch

This holiday season's hottest toy has yet to be revealed, but more often than not, the best gifts are the ones kids don't even know to ask for. So this year, surprise your kids with unique presents under the tree, and watch as their eyes light up when they unwrap them. From space-age sand to a DIY race track, these out-of-the-box gift ideas will provide some serious shopping inspiration. Click through the slideshow above for all our favorite picks.