Moms admit to texting, driving with kids
A new survey reveals that new mothers make risky choices on the road – even with their babies in the backseat.
Every mother has the occasional "bad mommy" moment, but talking or texting while driving is a major no-no. Accidents happen and all it takes is a split second of having your eyes off the road to compromise your precious cargo's safety.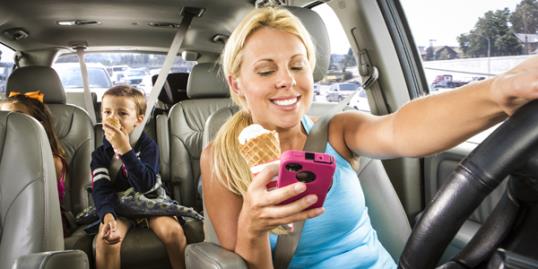 A poll of more than 2,000 moms conducted by American Baby and child-protection advocacy group Safe Kids Worldwide found that 78 percent of moms with kids under age two talk on the phone while driving; 26 percent text or check their e-mail. The majority of new moms surveyed (63 percent) say they're more cautious behind the wheel since giving birth, but that's not reflected in their behavior.
More from MSN Living: 11 mom sayings it's ok to ditch
"Everyone wants to think they're a good driver, especially when they're a mom," Laura Kalehoff, executive editor of American Baby told USA TODAY. "You pick out the safest car seat, the safest crib, and you want to feel like you're making the right choices. They thought they were being better drivers, while their behavior showed otherwise."
More from MSN Living: The top 10 worst moments in mom judgment
"It's become part of our culture to not just drive, but to drive and do twenty other things," Kate Carr, president and CEO of Safe Kids Worldwide was quoted in Parents.  "The problem is multi-tasking in the car can lead to tragedies. As a mother of three, I know there is nothing a mom wouldn't do to protect her child. This survey shows moms the little things they can change in their behavior to make a big difference in the safety of their children."
Bing: Dangerous driving mistakes moms make
Highlights from the American Baby and Safe Kids Worldwide survey:
26 percent text or check email, which is twice as risky as drunk driving.
Moms log an average of 5 hours and 20 minutes of consecutive sleep nightly, slowing their reaction time.
Two-thirds of moms find it tough to concentrate on a single task, like driving.
Nearly 10 percent of new moms have been in a crash while driving with their baby. 
Read the complete survey titled, "Is Your Baby Safe on the Road?" here.
Do you ever talk or text with your baby in the car?
More from Family Room:
Most addictive video games for kids
Toddler death raises concern over car seat rules
Violent video games and child aggression
Photo: William Howard/Getty Images

i try to instill in my children as many good habits as possible...whether its health, manners and so on and so forth....throught not only nagging but practice!
i admit i answer my phone and talk on phone while i drive but i do not text and drive!
life and death....
i have a 19,14,12 and 9 year old
Are you sure you want to delete this comment?
News, stories, tips and laughs for moms & dads
6-year-old has rare brain condition

He wanted to know if woman was pregnant

Did your state make the grade?

A new dad finds an Epcot Center's worth of innovation after expecting none at all.

Alcohol and tattoos are not meant for the pre-teen set

But Debra Harrell now has custody of daughter again

I am probably not the first to tell you this: Kids come with lots of stuff. Even if you try to be as minimal as possible, the little creatures require an awful lot to keep things running smoothly. Here's a master-plan slideshow of ways to cut corners on space in every room to accommodate all the things that come along with kids.

You never know for certain what type of parent you'll be until you've actually become one and your parenting style, as it becomes evident, may surprise you. Here are 4 parenting books to help you figure it all out.

Sunshine! Camping! Pool parties! BBQs! The sunny season is here and to help you make the most of it, we've hand-picked 7 great products to make this summer the best your family has ever had. Click through for our list to inspire your sunny day fun. From our sponsor: Walmart

We all love a picnic. But do one quick search for 'picnic ideas' on Pinterest and you're instantly teleported into a land of overachieving home chefs clearly looking for their big break on Food Network. Well, never mind that, we say. Scratch the 25-ingredient recipes and the incessant trips to the craft store for that perfect tablescape. Here are 5 truly simple picnic ideas that will look great, taste great, and make you feel like the winner you are! From our sponsor: Walmart

Admit it — you do these things, too! And that's OK. But maybe — just maybe — it's time to think about changing things up a little bit, for the sake of your sanity, your relationship with your kids, and because life's too short.

We asked veterinary experts and readers which breeds they think and if it is OK to shave longhaired pets in the summer.