Moms admit to texting, driving with kids
A new survey reveals that new mothers make risky choices on the road – even with their babies in the backseat.
Every mother has the occasional "bad mommy" moment, but talking or texting while driving is a major no-no. Accidents happen and all it takes is a split second of having your eyes off the road to compromise your precious cargo's safety.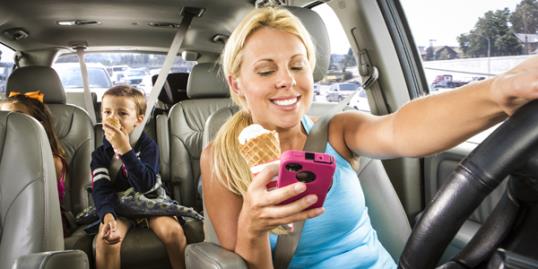 A poll of more than 2,000 moms conducted by American Baby and child-protection advocacy group Safe Kids Worldwide found that 78 percent of moms with kids under age two talk on the phone while driving; 26 percent text or check their e-mail. The majority of new moms surveyed (63 percent) say they're more cautious behind the wheel since giving birth, but that's not reflected in their behavior.
More from MSN Living: 11 mom sayings it's ok to ditch
"Everyone wants to think they're a good driver, especially when they're a mom," Laura Kalehoff, executive editor of American Baby told USA TODAY. "You pick out the safest car seat, the safest crib, and you want to feel like you're making the right choices. They thought they were being better drivers, while their behavior showed otherwise."
More from MSN Living: The top 10 worst moments in mom judgment
"It's become part of our culture to not just drive, but to drive and do twenty other things," Kate Carr, president and CEO of Safe Kids Worldwide was quoted in Parents.  "The problem is multi-tasking in the car can lead to tragedies. As a mother of three, I know there is nothing a mom wouldn't do to protect her child. This survey shows moms the little things they can change in their behavior to make a big difference in the safety of their children."
Bing: Dangerous driving mistakes moms make
Highlights from the American Baby and Safe Kids Worldwide survey:
26 percent text or check email, which is twice as risky as drunk driving.
Moms log an average of 5 hours and 20 minutes of consecutive sleep nightly, slowing their reaction time.
Two-thirds of moms find it tough to concentrate on a single task, like driving.
Nearly 10 percent of new moms have been in a crash while driving with their baby. 
Read the complete survey titled, "Is Your Baby Safe on the Road?" here.
Do you ever talk or text with your baby in the car?
More from Family Room:
Most addictive video games for kids
Toddler death raises concern over car seat rules
Violent video games and child aggression
Photo: William Howard/Getty Images

i try to instill in my children as many good habits as possible...whether its health, manners and so on and so forth....throught not only nagging but practice!
i admit i answer my phone and talk on phone while i drive but i do not text and drive!
life and death....
i have a 19,14,12 and 9 year old
Are you sure you want to delete this comment?
News, stories, tips and laughs for moms & dads
The center of the family is your relationship; not the children.

Transform your mornings from grumpy to great by following these 12 simple steps. (Singing in the shower is highly encouraged.)

We're all aware of the reasons one might prefer to raise biological children. There's the miraculous experience that is pregnancy and childbirth. Also, let's not forget how expensive adoption is (though with the cost of childbirth in the United States growing ever-more crippling, it's hard to say which method is most economical). Couple that with the difficulty of the adoption process -- unless, of course, you're Madonna -- and you've got plenty of strong incentives to go the traditional route. Despite the arduous adoption process and the significant financial commitment, all kinds of people -- both famous and not -- choose to adopt for a variety of reasons. Check out this slideshow to see which celebrities (besides the famous Jolie-Pitts) opted to adopt.

One of our favorite ways to start the day is with a piping hot cup of coffee and a thought-provoking TED talk. In case you'€™re not familiar with the group, TED (which stands for Technology, Entertainment and Design) is a nonprofit organization dedicated to spreading ideas through projects and talks by a diverse group of inspired thinkers - people of all cultures, ages and disciplines. As you can probably guess, listening to these innovators share their ideas is a surefire way to jumpstart your day and get your creative juices flowing. Click through the slideshow above for the eight TED talks every parent needs to see. By Cordelia Tai

Got kids that are questioning whether or not the Easter Bunny is real? If you want to keep the tradition going at least one more year, try one of these ideas...

You're cold-hearted? We'll take care of that for you...read on.

This kid despises poetry and he's not afraid to let you know.

I used to be one of those moms who thought, 'who on earth would bring their child to an event like that?' and then I had a son. Here's why you might become a convert, too.

Take a look at your house for these telltale signs that a cat is running the show.

Check out this list of requirements you should meet before getting a new puppy or adult dog.

Virtually everything you need to know about relationships, you learned in nursery school: Treat people as you want to be treated, clean up after yourself, and don't be a know-it-all.