Middle School Bans Hugging
A veto on embraces upsets students, sparks Facebook campaign.
We've heard of banning cell phones, drugs and even certain clothing items, but hugs? 
School officials at Chase Middle School in Forest City, N.C., have declared that hugs between friends and other classmates are not appropriate school behavior, the New York Daily News reports.
As shocking as it may be, it turns out this kind of policy isn't all that uncommon.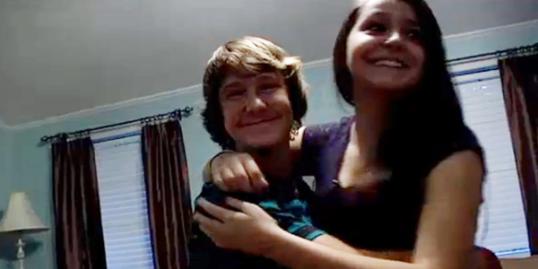 In 2010, students at West Sylvan Middle School in Portland, Ore., were told that embracing would no longer be tolerated because it disrupts learning. The principal received complaints from parents about the pervasive "culture of hugging" at the school.
In March of this year, a New Jersey middle school declared itself a "no hugging school" after some "incidents of unsuitable, physical interactions," according to principal Tyler Blackmore.
Bing: Read more about the school's hugging ban.
But the students at Chase Middle School aren't taking the new rule lying down. Eighth-grader Parker Jackson and his friends have created a pro-hugging Facebook page and students also gathered at the school to "hug as many people as you can" to protest the school's ban.
Photo: Courtesy of FOX Carolina
Read the full story on Fox Carolina
News, stories, tips and laughs for moms & dads
Transform the fall vegetable into cool decor pieces.

Put together these creative, but simple, Halloween looks for your youngsters.

We know you're documenting just about every move baby makes. (Do you even have any memory left on your phone? We didn't think so.) These tips from professional photographers can help you perfect your pics.

These six on-trend ideas will make baby's room your new favorite place to hang out.

Baby probably won't remember his first birthday party, but that doesn't mean you can't go all out (after all, parents need to celebrate making it through this first year, right?). These fun, colorful themes take planning to the next level.

See what celebrities who had problems conceiving have to say.

You'll be hearing a lot of advice and opinions. Some of it will be really helpful and some will be just plain wrong. Here are the most common things people say about babies that aren't true.

A new dad finds an Epcot Center's worth of innovation after expecting none at all.

The dog days of summer may be well behind us, but that doesn't mean it's time to pack in the outdoor adventures quite yet.

Protect yourself and your family with these ingenious gizmos and smartphone apps.

Make sure your go-to gadgets are as cute as your style, with these trendy tech finds!

Oh, how the times have changed...