Middle School Bans Hugging
A veto on embraces upsets students, sparks Facebook campaign.
We've heard of banning cell phones, drugs and even certain clothing items, but hugs? 
School officials at Chase Middle School in Forest City, N.C., have declared that hugs between friends and other classmates are not appropriate school behavior, the New York Daily News reports.
As shocking as it may be, it turns out this kind of policy isn't all that uncommon.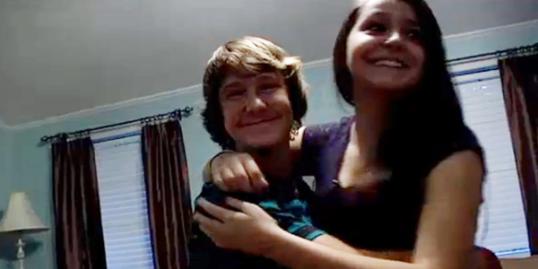 In 2010, students at West Sylvan Middle School in Portland, Ore., were told that embracing would no longer be tolerated because it disrupts learning. The principal received complaints from parents about the pervasive "culture of hugging" at the school.
In March of this year, a New Jersey middle school declared itself a "no hugging school" after some "incidents of unsuitable, physical interactions," according to principal Tyler Blackmore.
Bing: Read more about the school's hugging ban.
But the students at Chase Middle School aren't taking the new rule lying down. Eighth-grader Parker Jackson and his friends have created a pro-hugging Facebook page and students also gathered at the school to "hug as many people as you can" to protest the school's ban.
Photo: Courtesy of FOX Carolina
Read the full story on Fox Carolina
News, stories, tips and laughs for moms & dads
Learning these 10 things is a good base with which to begin the tough preteen and teen years. Helping our children maneuver life is our jobs as parents, even if we haven't quite figured it all out ourselves yet.

We've all seen her... But should we judge her?

Unique, or downright strange?

In a few short weeks you'll be dropping your child off at college, where they'll spend the next four years learning, laughing, and probably partying. Of course, in true teen fashion, your child has already started shopping for their dorm room essentials. Don't panic just yet!

When tots burst through the door after a busy day at school, the first order of business is securing a snack.

The only thing more important than what you pack your child for lunch is what you pack it in.

Frustrated mom invents Ignore No More app

Do you have the right mix of moms surrounding you?

It's hard to keep young kids entertained while being confined indoors, but fear not, for we have some fun ideas to keep the entire family from climbing the walls during rainy days.

Back in our day, ending up with the same exact backpack as your BFF was a legitimate back-to-school concern. Nowadays? There are so many options, it's dizzying!

It is a parent's eternal dilemma: What do I make the kids for lunch today? And tomorrow? And next week? We fall into ruts, succumb to the tried-and-true, give in to our children's demands for junk food. No more! These school lunch ideas—for everything from sandwiches to snacks to hot meals—will freshen up your daily routine, so much so you may be tempted to make them for yourself.

Whether your kids have recently gone back to school or are preparing to go shortly, it's never too late to start thinking about how we can make this year successful and low-stress, both for our kids and ourselves. With that, here are 6 things parents might want to stop doing this year in order to make it the best one yet...for all of you!