Middle School Bans Hugging
A veto on embraces upsets students, sparks Facebook campaign.
We've heard of banning cell phones, drugs and even certain clothing items, but hugs? 
School officials at Chase Middle School in Forest City, N.C., have declared that hugs between friends and other classmates are not appropriate school behavior, the New York Daily News reports.
As shocking as it may be, it turns out this kind of policy isn't all that uncommon.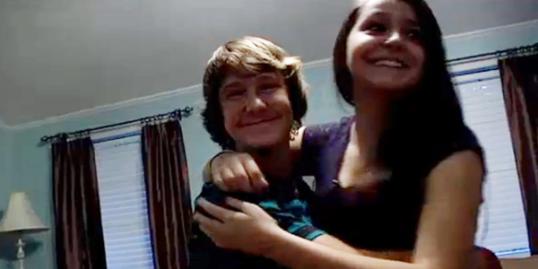 In 2010, students at West Sylvan Middle School in Portland, Ore., were told that embracing would no longer be tolerated because it disrupts learning. The principal received complaints from parents about the pervasive "culture of hugging" at the school.
In March of this year, a New Jersey middle school declared itself a "no hugging school" after some "incidents of unsuitable, physical interactions," according to principal Tyler Blackmore.
Bing: Read more about the school's hugging ban.
But the students at Chase Middle School aren't taking the new rule lying down. Eighth-grader Parker Jackson and his friends have created a pro-hugging Facebook page and students also gathered at the school to "hug as many people as you can" to protest the school's ban.
Photo: Courtesy of FOX Carolina
Read the full story on Fox Carolina
News, stories, tips and laughs for moms & dads
Find out which classroom supplies and dorm-room buys you don't need to spend a fortune on

4 steps for raising a child who doesn't feel emotionally stranded.

Any of these sound familiar?

Fire challenge involves pouring alcohol on one's chest and lighting it

A coincidence after the furlough?

Helpful tips for easing first day jitters.

Getting ready for fall has never been more fun.

Great reads for the back-to-school mindset.

Remember the concept of weekends being a time for rest, relaxation, and togetherness? No? Us either. Between soccer games, playdates, dragging your kids to see the new exhibition at the local children's museum, and we need to pick up a gift for that birthday party that starts in . . . 20 minutes, juggling a busy family's weekend schedule can be more stressful than a weekday. While we know it's simply not realistic to cancel all your plans and obligations moving forward, clearing the calendar for just one weekend can be just the refresher that your family's craving. Here's why.

You just had a baby? You're a superstar! All those diapers, all that spit up, and you're makin' magic happen. But you're also likely tired - really tired - and busy (so, so busy). Taking time for yourself might seem like an indulgence but a happy mom makes for a happy baby. Here are 7 things you should definitely do to keep your sanity intact and your spirit high. <more, below>

Summertime is on, and the kids are out of school. Every mom knows that for these three months it's more important than ever to keep the kids busy. But you don't have to schedule your life away with camps, or drop a bundle on activities and games that come in a box. You can make your own fun, and even include the kids in the prep, with some simple, inexpensive DIY crafts that will keep them playing 'til the lightening bugs come out. Make your own fingerpaint, bubbles, and crayons. Create a fort-building kit and superhero capes that will kick their imaginations into overdrive. Here are 10 of our favorite kid-friendly DIY crafts to fuel your summertime fun.