Middle School Bans Hugging
A veto on embraces upsets students, sparks Facebook campaign.
We've heard of banning cell phones, drugs and even certain clothing items, but hugs? 
School officials at Chase Middle School in Forest City, N.C., have declared that hugs between friends and other classmates are not appropriate school behavior, the New York Daily News reports.
As shocking as it may be, it turns out this kind of policy isn't all that uncommon.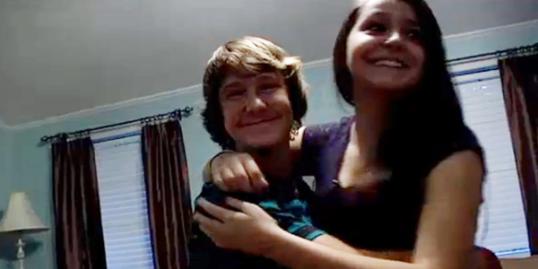 In 2010, students at West Sylvan Middle School in Portland, Ore., were told that embracing would no longer be tolerated because it disrupts learning. The principal received complaints from parents about the pervasive "culture of hugging" at the school.
In March of this year, a New Jersey middle school declared itself a "no hugging school" after some "incidents of unsuitable, physical interactions," according to principal Tyler Blackmore.
Bing: Read more about the school's hugging ban.
But the students at Chase Middle School aren't taking the new rule lying down. Eighth-grader Parker Jackson and his friends have created a pro-hugging Facebook page and students also gathered at the school to "hug as many people as you can" to protest the school's ban.
Photo: Courtesy of FOX Carolina
Read the full story on Fox Carolina
News, stories, tips and laughs for moms & dads
A thrill-obsessed subculture claimed another life this week.

A few suggested answers for the diciest questions

Must-haves for every mommy on the road

Here's our list of fifteen moms in the food industry that deserve some recognition.

The site gets high marks for its user-friendly interface and excellent and responsive customer service. And the reviews are also pretty accurate. Compare amenities and prices next to a hotel's in the same area, and you're likely to see Airbnb come out on top.

We captured a frame-by-frame look just for you.

Other moms can be ruthless when it comes to picking apart your parenting choices. From dissing your decision to go back to work to criticizing when you started baby on solids, here are the most ridiculous comments moms have heard. Bonus, we've got just the right way to respond to the haters! You're welcome.

Nope, you don't have to spend the next nine months in black elastic-waist pants and oversize sweaters. And you don't have to shell out a fortune on your "temporary" wardrobe either. Check out these stylish and affordable maternity clothes.

Because society crumbles without us

Another kid figured out how to get into a claw machine.

As a new mom, you've recently discovered there are many things you can live without—sleep and modesty being chief among them. But what can't you live without? Seasoned moms share their Top 10 list for how to survive the early months of motherhood.

Here are our experts' best tips for how to be a positive role model for your kids so that they grow up healthy, strong and confident about the way they look.