Middle School Bans Hugging
A veto on embraces upsets students, sparks Facebook campaign.
We've heard of banning cell phones, drugs and even certain clothing items, but hugs? 
School officials at Chase Middle School in Forest City, N.C., have declared that hugs between friends and other classmates are not appropriate school behavior, the New York Daily News reports.
As shocking as it may be, it turns out this kind of policy isn't all that uncommon.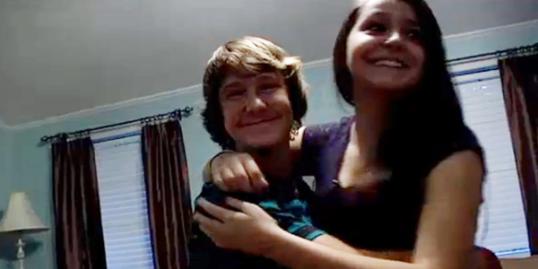 In 2010, students at West Sylvan Middle School in Portland, Ore., were told that embracing would no longer be tolerated because it disrupts learning. The principal received complaints from parents about the pervasive "culture of hugging" at the school.
In March of this year, a New Jersey middle school declared itself a "no hugging school" after some "incidents of unsuitable, physical interactions," according to principal Tyler Blackmore.
Bing: Read more about the school's hugging ban.
But the students at Chase Middle School aren't taking the new rule lying down. Eighth-grader Parker Jackson and his friends have created a pro-hugging Facebook page and students also gathered at the school to "hug as many people as you can" to protest the school's ban.
Photo: Courtesy of FOX Carolina
Read the full story on Fox Carolina
News, stories, tips and laughs for moms & dads
This kid despises poetry and he's not afraid to let you know.

I used to be one of those moms who thought, 'who on earth would bring their child to an event like that?' and then I had a son. Here's why you might become a convert, too.

Take a look at your house for these telltale signs that a cat is running the show.

Check out this list of requirements you should meet before getting a new puppy or adult dog.

Virtually everything you need to know about relationships, you learned in nursery school: Treat people as you want to be treated, clean up after yourself, and don't be a know-it-all.

Here are our experts' best tips for how to be a positive role model for your kids so that they grow up healthy, strong and confident about the way they look.

Much like their famous owners, these pooches live a fabulous life. Some are rescues, others purebred, but one thing is certain – these dogs play an important part in their famous parents' lives. Can you guess who owns each of these dogs?

We captured a frame-by-frame look just for you.

Two controversial science projects resembled weapons, school officials said.

Make the most of the summer with these family-oriented activities!

Pets are part of many children's lives. Learn how to help them foster strong, healthy relationships.