Hot baby names for 2013
What names are big -- and trending -- this year?
What baby names are hottest out of the gate for 2013?
According to Nameberry statistics, there are 13 unusual and surprising names attracting significantly higher views in the first quarter of this year versus the same time period last year.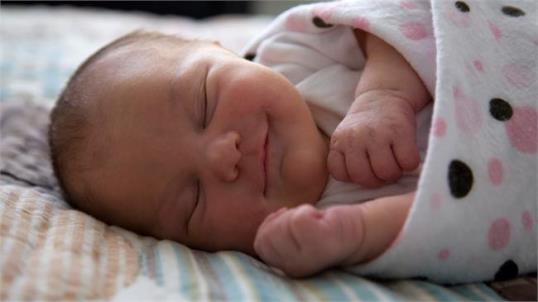 Influences include television characters and romantic literary heroes, celebrity babies and classic jazz musicians. Our picks for popping names are as contemporary as Wilder and as ancient as Phaedra, include surnames and word names and diminutives along with classic firsts.
Here, Nameberry's 13 hottest names for 2013 -- so far.
Marnie 
The '60s-style name Marnie had its first moment in the sun in well, the '60s, when the eponymous Hitchcock movie came out. It is now is enjoying an unlikely resurgence, thanks to the Marnie character played by the lovely Allison Williams on HBO's "Girls" and to its choice by pop singer Lily Allen for her younger daughter.  Interest in Marnie, a variation of a Hebrew name meaning "rejoice," has shot up sevenfold on our site over the first quarter of last year.
Marlowe
Marlowe and, to a lesser extent, Marlow, are enjoying big bounces in the first part of this year thanks to a bumper crop of star babies: Sienna Miller's Marlowe Ottoline, Nathan Followill's Violet Marlowe and Jason Schwartzman's Marlowe -- all girls -- along with designer Phoebe Philo's son Marlow. That's not to mention 16th-century dramatist Christopher Marlowe. The English surname, which you might think of as a fresh spin on the flagging Marley, means "driftwood" and is up more than 350 percent, primarily for girls.
Christian
Christian has been a popular name for boys for two decades now, yet interest in it has tripled in the first quarter of 2013 over the same period last year. What happened? "Fifty Shades of Grey" and its hero, Christian Grey, added their notoriety to the already-romantic image conveyed by actors Christian Bale and Christian Slater, along with designers Christian Dior, Lacroix and Louboutin.
Related: Top baby names of all time
Nelly 
The sweetly old-fashioned diminutive Nelly, which appeared only briefly on the Top 1,000 more than a century ago, is basking in new light, thanks to singer Nelly Furtado as well as its use as a nickname for Kardashian baby Penelope "Nelly" Disick.  Cute!  Originally a short form for Helen or Eleanor, Nelly and sister names Nellie and Nell have been off the official scope for several decades, but Nelly is up in our statistics nearly 300 percent for 2013.
Mavis 
Mavis is suddenly hot, on the heels of her sleek cousin Maeve, thanks to the adorable vampire heroine of "Hotel Transylvania," voiced by Selena Gomez. As with Finn, many parents mistakenly think Maeve is a diminutive that demands a more formal long form, which is another explanation for Mavis' sudden 250 percent rise. Mavis is French for "songbird" and also derives from the Welsh word for strawberries.
Related: Worst baby names
Thor
Hunky Chris Hemsworth and "The Avengers" did for Thor what the god of Norse mythology could not: made it a popping baby name for 2013.  Views of the name Thor are up more than 200 percent in the first three months of this year, joining other newly cool mythological names such as Orion, Juno, Jupiter and Persephone.
Severine
Severine may be past its prime in its native France, but its use for the latest Bond Girl in "Skyfall" has won it new interest as a baby name possibility. With views up more than 200 percent on Nameberry in the first part of the year, Severine joins Harry Potteresque brother name Severus -- they both mean, not surprisingly, "severe" or "stern" -- as a fresh 21st-century choice.
Bruce 
Bruce? As in Willis, Springsteen, Jenner, Lee, maybe even your dad?  Midcentury favorite Bruce, a top 50 name throughout the 1950s, sagged under an effeminate image but now is attracting new interest as the real name of both The Hulk and Batman. This Norman (as in Normandy) place name got its original big break as the surname of Scottish King Robert the Bruce, who won independence from England in the 14th century. It's up nearly 200 percent so far on Nameberry this year.
Wilder
Wilder is a newly hot baby name that wants to have it both ways: It's a bad-boy name as well as a literary choice thanks to playwright Thornton, who wrote the classic "Our Town," and "Little House" author Laura Ingalls. Despite those gentle references, we can't help associating Wilder with crazier. Views of Wilder are up nearly 200 percent for 2013.
Phaedra
Phaedra is an ancient mythological name with a tragic back story that's finding new life in the modern world. This Greek name meaning "bright" has a rich literary history.  But it may be the "Real Housewives of Atlanta" cast member named Phaedra who's responsible for the name's 178 percent rise so far this year.
Mingus
This surname of jazz great Charles was first used as a baby name by supermodel Helena Christensen. Interest in Mingus is up more than 150 percent in the first three months of this year, and other jazzy names finding new fans include Miles, Ella, Calloway, Ellington, Etta and Thelonious. Mingus is up more than 150 percent so far in 2013.
Linnea
This top 10 Swedish name is attracting new attention stateside as a more exotic member of the popular floral family of girls' names: It means "twinflower" and is derived from the name of the renowned botanist Carolus Linnaeus. It may be pronounced lin-NAY-ah or lin-NEE-ah. Linnea, also the name of a charming children's book heroine, attracted more than 150 percent more traffic in the first three months of 2013 than it did in the same period in 2012.
Finnegan
Finnegan is an Irish surname meaning "fair" that many parents are choosing as a long form for the popular Finn. Also embodying literary references to "Finnegan's Wake" by James Joyce, Finnegan has been on the U.S. top 1,000 since 2005 and now stands at No. 478. Views of Finnegan are up more than 125 percent on Nameberry in the first quarter of 2013.
News, stories, tips and laughs for moms & dads
Transform the fall vegetable into cool decor pieces.

Put together these creative, but simple, Halloween looks for your youngsters.

We know you're documenting just about every move baby makes. (Do you even have any memory left on your phone? We didn't think so.) These tips from professional photographers can help you perfect your pics.

These six on-trend ideas will make baby's room your new favorite place to hang out.

Baby probably won't remember his first birthday party, but that doesn't mean you can't go all out (after all, parents need to celebrate making it through this first year, right?). These fun, colorful themes take planning to the next level.

See what celebrities who had problems conceiving have to say.

You'll be hearing a lot of advice and opinions. Some of it will be really helpful and some will be just plain wrong. Here are the most common things people say about babies that aren't true.

A new dad finds an Epcot Center's worth of innovation after expecting none at all.

The dog days of summer may be well behind us, but that doesn't mean it's time to pack in the outdoor adventures quite yet.

Protect yourself and your family with these ingenious gizmos and smartphone apps.

Make sure your go-to gadgets are as cute as your style, with these trendy tech finds!

Oh, how the times have changed...