Hot baby names for 2013
What names are big -- and trending -- this year?
What baby names are hottest out of the gate for 2013?
According to Nameberry statistics, there are 13 unusual and surprising names attracting significantly higher views in the first quarter of this year versus the same time period last year.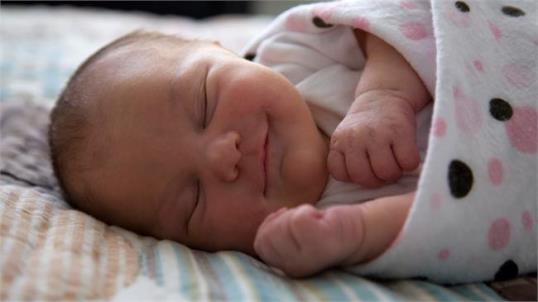 Influences include television characters and romantic literary heroes, celebrity babies and classic jazz musicians. Our picks for popping names are as contemporary as Wilder and as ancient as Phaedra, include surnames and word names and diminutives along with classic firsts.
Here, Nameberry's 13 hottest names for 2013 -- so far.
Marnie 
The '60s-style name Marnie had its first moment in the sun in well, the '60s, when the eponymous Hitchcock movie came out. It is now is enjoying an unlikely resurgence, thanks to the Marnie character played by the lovely Allison Williams on HBO's "Girls" and to its choice by pop singer Lily Allen for her younger daughter.  Interest in Marnie, a variation of a Hebrew name meaning "rejoice," has shot up sevenfold on our site over the first quarter of last year.
Marlowe
Marlowe and, to a lesser extent, Marlow, are enjoying big bounces in the first part of this year thanks to a bumper crop of star babies: Sienna Miller's Marlowe Ottoline, Nathan Followill's Violet Marlowe and Jason Schwartzman's Marlowe -- all girls -- along with designer Phoebe Philo's son Marlow. That's not to mention 16th-century dramatist Christopher Marlowe. The English surname, which you might think of as a fresh spin on the flagging Marley, means "driftwood" and is up more than 350 percent, primarily for girls.
Christian
Christian has been a popular name for boys for two decades now, yet interest in it has tripled in the first quarter of 2013 over the same period last year. What happened? "Fifty Shades of Grey" and its hero, Christian Grey, added their notoriety to the already-romantic image conveyed by actors Christian Bale and Christian Slater, along with designers Christian Dior, Lacroix and Louboutin.
Related: Top baby names of all time
Nelly 
The sweetly old-fashioned diminutive Nelly, which appeared only briefly on the Top 1,000 more than a century ago, is basking in new light, thanks to singer Nelly Furtado as well as its use as a nickname for Kardashian baby Penelope "Nelly" Disick.  Cute!  Originally a short form for Helen or Eleanor, Nelly and sister names Nellie and Nell have been off the official scope for several decades, but Nelly is up in our statistics nearly 300 percent for 2013.
Mavis 
Mavis is suddenly hot, on the heels of her sleek cousin Maeve, thanks to the adorable vampire heroine of "Hotel Transylvania," voiced by Selena Gomez. As with Finn, many parents mistakenly think Maeve is a diminutive that demands a more formal long form, which is another explanation for Mavis' sudden 250 percent rise. Mavis is French for "songbird" and also derives from the Welsh word for strawberries.
Related: Worst baby names
Thor
Hunky Chris Hemsworth and "The Avengers" did for Thor what the god of Norse mythology could not: made it a popping baby name for 2013.  Views of the name Thor are up more than 200 percent in the first three months of this year, joining other newly cool mythological names such as Orion, Juno, Jupiter and Persephone.
Severine
Severine may be past its prime in its native France, but its use for the latest Bond Girl in "Skyfall" has won it new interest as a baby name possibility. With views up more than 200 percent on Nameberry in the first part of the year, Severine joins Harry Potteresque brother name Severus -- they both mean, not surprisingly, "severe" or "stern" -- as a fresh 21st-century choice.
Bruce 
Bruce? As in Willis, Springsteen, Jenner, Lee, maybe even your dad?  Midcentury favorite Bruce, a top 50 name throughout the 1950s, sagged under an effeminate image but now is attracting new interest as the real name of both The Hulk and Batman. This Norman (as in Normandy) place name got its original big break as the surname of Scottish King Robert the Bruce, who won independence from England in the 14th century. It's up nearly 200 percent so far on Nameberry this year.
Wilder
Wilder is a newly hot baby name that wants to have it both ways: It's a bad-boy name as well as a literary choice thanks to playwright Thornton, who wrote the classic "Our Town," and "Little House" author Laura Ingalls. Despite those gentle references, we can't help associating Wilder with crazier. Views of Wilder are up nearly 200 percent for 2013.
Phaedra
Phaedra is an ancient mythological name with a tragic back story that's finding new life in the modern world. This Greek name meaning "bright" has a rich literary history.  But it may be the "Real Housewives of Atlanta" cast member named Phaedra who's responsible for the name's 178 percent rise so far this year.
Mingus
This surname of jazz great Charles was first used as a baby name by supermodel Helena Christensen. Interest in Mingus is up more than 150 percent in the first three months of this year, and other jazzy names finding new fans include Miles, Ella, Calloway, Ellington, Etta and Thelonious. Mingus is up more than 150 percent so far in 2013.
Linnea
This top 10 Swedish name is attracting new attention stateside as a more exotic member of the popular floral family of girls' names: It means "twinflower" and is derived from the name of the renowned botanist Carolus Linnaeus. It may be pronounced lin-NAY-ah or lin-NEE-ah. Linnea, also the name of a charming children's book heroine, attracted more than 150 percent more traffic in the first three months of 2013 than it did in the same period in 2012.
Finnegan
Finnegan is an Irish surname meaning "fair" that many parents are choosing as a long form for the popular Finn. Also embodying literary references to "Finnegan's Wake" by James Joyce, Finnegan has been on the U.S. top 1,000 since 2005 and now stands at No. 478. Views of Finnegan are up more than 125 percent on Nameberry in the first quarter of 2013.
News, stories, tips and laughs for moms & dads
As all the kids line up to go to school, your son, Timmy, turns to you and says, "I don't want to take the bus. My stomach hurts. Please don't make me go." You cringe and think, Here we go again. What should be a simple morning routine explodes into a daunting challenge.

Learning these 10 things is a good base with which to begin the tough preteen and teen years. Helping our children maneuver life is our jobs as parents, even if we haven't quite figured it all out ourselves yet.

We've all seen her... But should we judge her?

Unique, or downright strange?

In a few short weeks you'll be dropping your child off at college, where they'll spend the next four years learning, laughing, and probably partying. Of course, in true teen fashion, your child has already started shopping for their dorm room essentials. Don't panic just yet!

When tots burst through the door after a busy day at school, the first order of business is securing a snack.

The only thing more important than what you pack your child for lunch is what you pack it in.

Frustrated mom invents Ignore No More app

Do you have the right mix of moms surrounding you?

It's hard to keep young kids entertained while being confined indoors, but fear not, for we have some fun ideas to keep the entire family from climbing the walls during rainy days.

Back in our day, ending up with the same exact backpack as your BFF was a legitimate back-to-school concern. Nowadays? There are so many options, it's dizzying!

It is a parent's eternal dilemma: What do I make the kids for lunch today? And tomorrow? And next week? We fall into ruts, succumb to the tried-and-true, give in to our children's demands for junk food. No more! These school lunch ideas—for everything from sandwiches to snacks to hot meals—will freshen up your daily routine, so much so you may be tempted to make them for yourself.