California allows transgender students to pick bathrooms
Supporters say the new law should reduce bullying and curb discrimination.
California made history Monday, becoming the first state in the nation to allow transgender students to pick their own bathrooms and sports teams.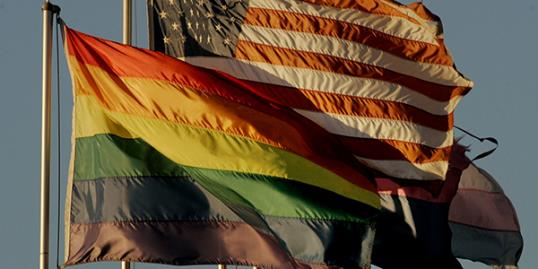 MSN Living:
School builds unisex bathrooms for transgender students
Gov. Jerry Brown signed transgender-rights bill AB1266 into law, which allows students "to participate in sex-segregated programs, activities and facilities" based on their self-perception rather than birth gender. It will go into effect Jan. 1.
Bing: Stories of LGBT youth
Parents of transgender students have often debated with school districts over what restrooms their children can use, and many times these disagreements land in court. 
Supporters of the bill believe it will curb discrimination and bullying.
Opponents of the bill say it could lead to an invasion of privacy. But Carlos Alcala, a spokesman for the bill's author, says the law is about allowing transgender students to fit in.
"They're not interested in going into bathrooms and flaunting their physiology," Alcala said.
According to the Los Angeles Times, the Los Angeles Unified School District has held a similar policy for eight years without a hitch.
"Clearly, there are some parents who are not going to like it," Alcala said. "We are hopeful school districts will work with them so no students are put in an uncomfortable position."
More from Family Room: 
Study: Same-sex parents raise well-adjusted kids
Some teachers ban kids from having best friends
How to survive a quarter-life crisis
Subscribe to The Family Room | Friend us on Facebook, follow us on Twitter and find us on Pinterest.
Photo: An American flag flies next to a rainbow flag at the San Diego Lesbian Gay Bisexual Transgender Community Center. (© Sandy Huffaker/Getty Images)
News, stories, tips and laughs for moms & dads
I am probably not the first to tell you this: Kids come with lots of stuff. Even if you try to be as minimal as possible, the little creatures require an awful lot to keep things running smoothly. Here's a master-plan slideshow of ways to cut corners on space in every room to accommodate all the things that come along with kids.

You never know for certain what type of parent you'll be until you've actually become one and your parenting style, as it becomes evident, may surprise you. Here are 4 parenting books to help you figure it all out.

Sunshine! Camping! Pool parties! BBQs! The sunny season is here and to help you make the most of it, we've hand-picked 7 great products to make this summer the best your family has ever had. Click through for our list to inspire your sunny day fun. From our sponsor: Walmart

We all love a picnic. But do one quick search for 'picnic ideas' on Pinterest and you're instantly teleported into a land of overachieving home chefs clearly looking for their big break on Food Network. Well, never mind that, we say. Scratch the 25-ingredient recipes and the incessant trips to the craft store for that perfect tablescape. Here are 5 truly simple picnic ideas that will look great, taste great, and make you feel like the winner you are! From our sponsor: Walmart

Admit it — you do these things, too! And that's OK. But maybe — just maybe — it's time to think about changing things up a little bit, for the sake of your sanity, your relationship with your kids, and because life's too short.

We asked veterinary experts and readers which breeds they think and if it is OK to shave longhaired pets in the summer.

Celeb moms post photos to show off their weight loss, but then they undermine their progress in the captions.

Kriste Lewis was inspired by her kidney disease to try out

Hittin' the road, moms and dads? Plan for these five things to happen...

Who knew parenting would make you feel so dumb?

Bob King, 68, found himself stuck

Witnesses now say they were helping mom, who was on the scene