California allows transgender students to pick bathrooms
Supporters say the new law should reduce bullying and curb discrimination.
California made history Monday, becoming the first state in the nation to allow transgender students to pick their own bathrooms and sports teams.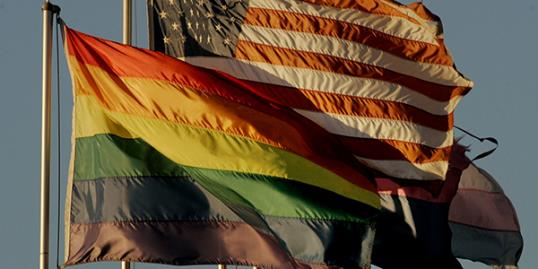 MSN Living:
School builds unisex bathrooms for transgender students
Gov. Jerry Brown signed transgender-rights bill AB1266 into law, which allows students "to participate in sex-segregated programs, activities and facilities" based on their self-perception rather than birth gender. It will go into effect Jan. 1.
Bing: Stories of LGBT youth
Parents of transgender students have often debated with school districts over what restrooms their children can use, and many times these disagreements land in court. 
Supporters of the bill believe it will curb discrimination and bullying.
Opponents of the bill say it could lead to an invasion of privacy. But Carlos Alcala, a spokesman for the bill's author, says the law is about allowing transgender students to fit in.
"They're not interested in going into bathrooms and flaunting their physiology," Alcala said.
According to the Los Angeles Times, the Los Angeles Unified School District has held a similar policy for eight years without a hitch.
"Clearly, there are some parents who are not going to like it," Alcala said. "We are hopeful school districts will work with them so no students are put in an uncomfortable position."
More from Family Room: 
Study: Same-sex parents raise well-adjusted kids
Some teachers ban kids from having best friends
How to survive a quarter-life crisis
Subscribe to The Family Room | Friend us on Facebook, follow us on Twitter and find us on Pinterest.
Photo: An American flag flies next to a rainbow flag at the San Diego Lesbian Gay Bisexual Transgender Community Center. (© Sandy Huffaker/Getty Images)
News, stories, tips and laughs for moms & dads
Make sure your go-to gadgets are as cute as your style, with these trendy tech finds!

Oh, how the times have changed...

Get ready to hit the mall! Check out the hottest back-to-school trends—and get ready to make a major style statement this year.

Unique, or downright strange?

This is Kevin Droniak and his grandma. They're besties, they're awesome and they're YouTube stars.

It can be difficult to entice little ones to eat anything at all, let alone to devour a healthy plate. But feeding your kids nutritious snacks after school just got way easier, thanks to these adorably clever and cute snack ideas! For more smart and fun ways to get your kids to enjoy healthful and delicious foods, try one of these amazingly artsy lunch ideas.

Through a tonsillectomy all the way to brain surgery, my mother deserves some recognition. She's my spine, my birthday shadow, my BFF, my thunder buddy, so Mommy, thank you.

My son needs me, as much as yours needs you. Sadly, my son needs me more. He needs someone to have his back, when it seems that the police, the men he'd wave to with excitement as a little boy, see him as a being worthy only of prison or death.

If you know someone who has adopted and have made some of these comments, don't fret... now you know!

"Because you shine from within," I said, touching my finger to her heart. "Not everybody sees it, but I do. I see it. And my job is to protect that light. So when people say mean comments that squelch that light, I want you to tell me. I will protect your light by listening and loving you, my brave, courageous, and unique little firefly."

Studies have shown that it helps, top education officials have recommended it, and now doctors are officially saying the same.

I may have accidentally dropped you a few times, forgotten to document your first fart, let a little pee fly and dressed you like an idiot, but I have also loved you with every piece of me, and you will never hear an apology for that.