California allows transgender students to pick bathrooms
Supporters say the new law should reduce bullying and curb discrimination.
California made history Monday, becoming the first state in the nation to allow transgender students to pick their own bathrooms and sports teams.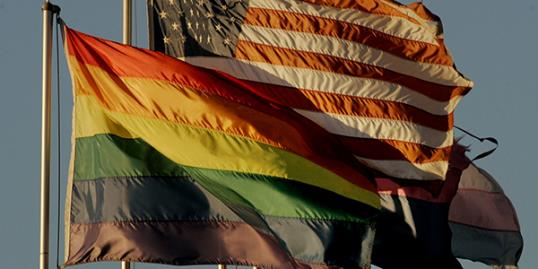 MSN Living:
School builds unisex bathrooms for transgender students
Gov. Jerry Brown signed transgender-rights bill AB1266 into law, which allows students "to participate in sex-segregated programs, activities and facilities" based on their self-perception rather than birth gender. It will go into effect Jan. 1.
Bing: Stories of LGBT youth
Parents of transgender students have often debated with school districts over what restrooms their children can use, and many times these disagreements land in court. 
Supporters of the bill believe it will curb discrimination and bullying.
Opponents of the bill say it could lead to an invasion of privacy. But Carlos Alcala, a spokesman for the bill's author, says the law is about allowing transgender students to fit in.
"They're not interested in going into bathrooms and flaunting their physiology," Alcala said.
According to the Los Angeles Times, the Los Angeles Unified School District has held a similar policy for eight years without a hitch.
"Clearly, there are some parents who are not going to like it," Alcala said. "We are hopeful school districts will work with them so no students are put in an uncomfortable position."
More from Family Room: 
Study: Same-sex parents raise well-adjusted kids
Some teachers ban kids from having best friends
How to survive a quarter-life crisis
Subscribe to The Family Room | Friend us on Facebook, follow us on Twitter and find us on Pinterest.
Photo: An American flag flies next to a rainbow flag at the San Diego Lesbian Gay Bisexual Transgender Community Center. (© Sandy Huffaker/Getty Images)
News, stories, tips and laughs for moms & dads
What are we teaching our children when we focus on their achievements rather than their kindness?

Discover the seemingly insignificant things that can affect your chances of getting pregnant.

A thrill-obsessed subculture claimed another life this week.

A few suggested answers for the diciest questions

Must-haves for every mommy on the road

Here's our list of fifteen moms in the food industry that deserve some recognition.

The site gets high marks for its user-friendly interface and excellent and responsive customer service. And the reviews are also pretty accurate. Compare amenities and prices next to a hotel's in the same area, and you're likely to see Airbnb come out on top.

We captured a frame-by-frame look just for you.

Other moms can be ruthless when it comes to picking apart your parenting choices. From dissing your decision to go back to work to criticizing when you started baby on solids, here are the most ridiculous comments moms have heard. Bonus, we've got just the right way to respond to the haters! You're welcome.

Nope, you don't have to spend the next nine months in black elastic-waist pants and oversize sweaters. And you don't have to shell out a fortune on your "temporary" wardrobe either. Check out these stylish and affordable maternity clothes.

Because society crumbles without us

Another kid figured out how to get into a claw machine.