California allows transgender students to pick bathrooms
Supporters say the new law should reduce bullying and curb discrimination.
California made history Monday, becoming the first state in the nation to allow transgender students to pick their own bathrooms and sports teams.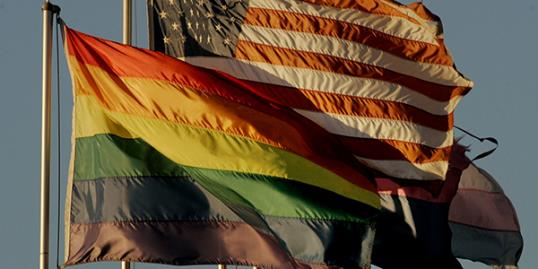 MSN Living:
School builds unisex bathrooms for transgender students
Gov. Jerry Brown signed transgender-rights bill AB1266 into law, which allows students "to participate in sex-segregated programs, activities and facilities" based on their self-perception rather than birth gender. It will go into effect Jan. 1.
Bing: Stories of LGBT youth
Parents of transgender students have often debated with school districts over what restrooms their children can use, and many times these disagreements land in court. 
Supporters of the bill believe it will curb discrimination and bullying.
Opponents of the bill say it could lead to an invasion of privacy. But Carlos Alcala, a spokesman for the bill's author, says the law is about allowing transgender students to fit in.
"They're not interested in going into bathrooms and flaunting their physiology," Alcala said.
According to the Los Angeles Times, the Los Angeles Unified School District has held a similar policy for eight years without a hitch.
"Clearly, there are some parents who are not going to like it," Alcala said. "We are hopeful school districts will work with them so no students are put in an uncomfortable position."
More from Family Room: 
Study: Same-sex parents raise well-adjusted kids
Some teachers ban kids from having best friends
How to survive a quarter-life crisis
Subscribe to The Family Room | Friend us on Facebook, follow us on Twitter and find us on Pinterest.
Photo: An American flag flies next to a rainbow flag at the San Diego Lesbian Gay Bisexual Transgender Community Center. (© Sandy Huffaker/Getty Images)
News, stories, tips and laughs for moms & dads
Transform the fall vegetable into cool decor pieces.

Put together these creative, but simple, Halloween looks for your youngsters.

We know you're documenting just about every move baby makes. (Do you even have any memory left on your phone? We didn't think so.) These tips from professional photographers can help you perfect your pics.

These six on-trend ideas will make baby's room your new favorite place to hang out.

Baby probably won't remember his first birthday party, but that doesn't mean you can't go all out (after all, parents need to celebrate making it through this first year, right?). These fun, colorful themes take planning to the next level.

See what celebrities who had problems conceiving have to say.

You'll be hearing a lot of advice and opinions. Some of it will be really helpful and some will be just plain wrong. Here are the most common things people say about babies that aren't true.

A new dad finds an Epcot Center's worth of innovation after expecting none at all.

The dog days of summer may be well behind us, but that doesn't mean it's time to pack in the outdoor adventures quite yet.

Protect yourself and your family with these ingenious gizmos and smartphone apps.

Make sure your go-to gadgets are as cute as your style, with these trendy tech finds!

Oh, how the times have changed...