California allows transgender students to pick bathrooms
Supporters say the new law should reduce bullying and curb discrimination.
California made history Monday, becoming the first state in the nation to allow transgender students to pick their own bathrooms and sports teams.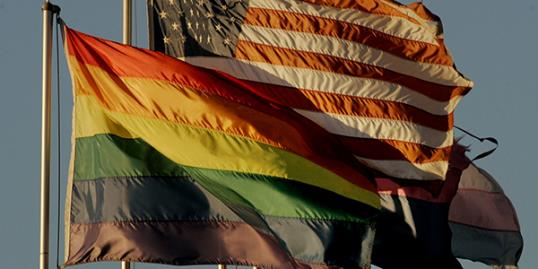 MSN Living:
School builds unisex bathrooms for transgender students
Gov. Jerry Brown signed transgender-rights bill AB1266 into law, which allows students "to participate in sex-segregated programs, activities and facilities" based on their self-perception rather than birth gender. It will go into effect Jan. 1.
Bing: Stories of LGBT youth
Parents of transgender students have often debated with school districts over what restrooms their children can use, and many times these disagreements land in court. 
Supporters of the bill believe it will curb discrimination and bullying.
Opponents of the bill say it could lead to an invasion of privacy. But Carlos Alcala, a spokesman for the bill's author, says the law is about allowing transgender students to fit in.
"They're not interested in going into bathrooms and flaunting their physiology," Alcala said.
According to the Los Angeles Times, the Los Angeles Unified School District has held a similar policy for eight years without a hitch.
"Clearly, there are some parents who are not going to like it," Alcala said. "We are hopeful school districts will work with them so no students are put in an uncomfortable position."
More from Family Room: 
Study: Same-sex parents raise well-adjusted kids
Some teachers ban kids from having best friends
How to survive a quarter-life crisis
Subscribe to The Family Room | Friend us on Facebook, follow us on Twitter and find us on Pinterest.
Photo: An American flag flies next to a rainbow flag at the San Diego Lesbian Gay Bisexual Transgender Community Center. (© Sandy Huffaker/Getty Images)
News, stories, tips and laughs for moms & dads
Got kids that are questioning whether or not the Easter Bunny is real? If you want to keep the tradition going at least one more year, try one of these ideas...

You're cold-hearted? We'll take care of that for you...read on.

This kid despises poetry and he's not afraid to let you know.

I used to be one of those moms who thought, 'who on earth would bring their child to an event like that?' and then I had a son. Here's why you might become a convert, too.

Take a look at your house for these telltale signs that a cat is running the show.

Check out this list of requirements you should meet before getting a new puppy or adult dog.

Virtually everything you need to know about relationships, you learned in nursery school: Treat people as you want to be treated, clean up after yourself, and don't be a know-it-all.

Here are our experts' best tips for how to be a positive role model for your kids so that they grow up healthy, strong and confident about the way they look.

Much like their famous owners, these pooches live a fabulous life. Some are rescues, others purebred, but one thing is certain – these dogs play an important part in their famous parents' lives. Can you guess who owns each of these dogs?

We captured a frame-by-frame look just for you.

Two controversial science projects resembled weapons, school officials said.