Obama leads Romney, if kids could vote
The nation's youngsters have spoken.
If American children had their way, President Barack Obama would serve another four years as the Commander in Chief.
That's according to the recent Scholastic Student Vote where those under 18 got to weigh in on the important election. Nearly a quarter of a million students across the country cast their ballots, and the results are in: President Barack Obama walked away with a 6 percent lead over Republican candidate Mitt Romney.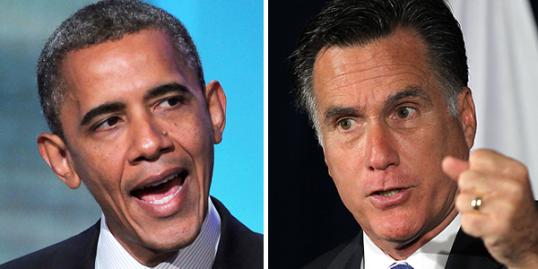 Students who voted for "Other," wrote in Republicans such as Ron Paul, Rick Santorum, John McCain and Paul Ryan, according to a press release from Scholastic, peppered with the occasional "my mom" or "my dad."
Final results:
Barack Obama 51 percent
Mitt Romney 45 percent
Other 4 percent
More on MSN Living: Creative Halloween Costumes for Pregnant Moms
The Scholastic Student Vote was launched during the 1940 Presidential election and has been held every election year since then, with the outcome reflecting that of the general election in every contest but two (in 1948 when students chose Thomas E. Dewey over Harry S. Truman and in 1960 when more students voted for Richard M. Nixon than John F. Kennedy).
"The students have made their voices heard once again, and it proved to be a tight race," said Elliott Rebhun, editor and publisher, Scholastic's Social Studies Classroom Magazines. "The Scholastic Student Vote shows us that students are engaged and excited about the election, and has provided classroom teachers with a tool to bring current events to life and teach students about our country's democratic process."
More on MSN Living: Kids' Fashion Classics
Students from across the country voted through mail-in paper ballots found in many of Scholastic's classroom magazines, including Scholastic News® and Junior Scholastic® beginning in September and online at the Scholastic 2012 Election site (www.scholastic.com/​election) from August to Oct. 10, 2012.
Bing: Get highlights from the Oct. 16 presidential debate.
Photo: Jin Lee/Bloomberg via Getty Images; Alex Wong/Getty Images
More from MSN Living:
Awkward Family Vacation Stories
9 Fabulous Family Rooms
10 Juiciest Mom Confessions
News, stories, tips and laughs for moms & dads
A new dad finds an Epcot Center's worth of innovation after expecting none at all.

The dog days of summer may be well behind us, but that doesn't mean it's time to pack in the outdoor adventures quite yet.

Protect yourself and your family with these ingenious gizmos and smartphone apps.

Make sure your go-to gadgets are as cute as your style, with these trendy tech finds!

Oh, how the times have changed...

Get ready to hit the mall! Check out the hottest back-to-school trends—and get ready to make a major style statement this year.

Unique, or downright strange?

This is Kevin Droniak and his grandma. They're besties, they're awesome and they're YouTube stars.

It can be difficult to entice little ones to eat anything at all, let alone to devour a healthy plate. But feeding your kids nutritious snacks after school just got way easier, thanks to these adorably clever and cute snack ideas! For more smart and fun ways to get your kids to enjoy healthful and delicious foods, try one of these amazingly artsy lunch ideas.

Through a tonsillectomy all the way to brain surgery, my mother deserves some recognition. She's my spine, my birthday shadow, my BFF, my thunder buddy, so Mommy, thank you.

My son needs me, as much as yours needs you. Sadly, my son needs me more. He needs someone to have his back, when it seems that the police, the men he'd wave to with excitement as a little boy, see him as a being worthy only of prison or death.

If you know someone who has adopted and have made some of these comments, don't fret... now you know!