Obama leads Romney, if kids could vote
The nation's youngsters have spoken.
If American children had their way, President Barack Obama would serve another four years as the Commander in Chief.
That's according to the recent Scholastic Student Vote where those under 18 got to weigh in on the important election. Nearly a quarter of a million students across the country cast their ballots, and the results are in: President Barack Obama walked away with a 6 percent lead over Republican candidate Mitt Romney.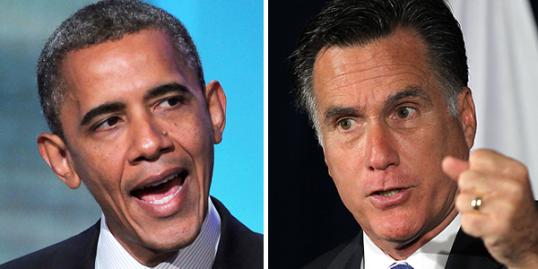 Students who voted for "Other," wrote in Republicans such as Ron Paul, Rick Santorum, John McCain and Paul Ryan, according to a press release from Scholastic, peppered with the occasional "my mom" or "my dad."
Final results:
Barack Obama 51 percent
Mitt Romney 45 percent
Other 4 percent
More on MSN Living: Creative Halloween Costumes for Pregnant Moms
The Scholastic Student Vote was launched during the 1940 Presidential election and has been held every election year since then, with the outcome reflecting that of the general election in every contest but two (in 1948 when students chose Thomas E. Dewey over Harry S. Truman and in 1960 when more students voted for Richard M. Nixon than John F. Kennedy).
"The students have made their voices heard once again, and it proved to be a tight race," said Elliott Rebhun, editor and publisher, Scholastic's Social Studies Classroom Magazines. "The Scholastic Student Vote shows us that students are engaged and excited about the election, and has provided classroom teachers with a tool to bring current events to life and teach students about our country's democratic process."
More on MSN Living: Kids' Fashion Classics
Students from across the country voted through mail-in paper ballots found in many of Scholastic's classroom magazines, including Scholastic News® and Junior Scholastic® beginning in September and online at the Scholastic 2012 Election site (www.scholastic.com/​election) from August to Oct. 10, 2012.
Bing: Get highlights from the Oct. 16 presidential debate.
Photo: Jin Lee/Bloomberg via Getty Images; Alex Wong/Getty Images
More from MSN Living:
Awkward Family Vacation Stories
9 Fabulous Family Rooms
10 Juiciest Mom Confessions
News, stories, tips and laughs for moms & dads
Virtually everything you need to know about relationships, you learned in nursery school: Treat people as you want to be treated, clean up after yourself, and don't be a know-it-all.

Much like their famous owners, these pooches live a fabulous life. Some are rescues, others purebred, but one thing is certain – these dogs play an important part in their famous parents' lives. Can you guess who owns each of these dogs?

We captured a frame-by-frame look just for you.

Two controversial science projects resembled weapons, school officials said.

Here our experts' best tips for how to be a positive role model for your kids so that they grow up healthy, strong and confident about the way they look.

Make the most of the summer with these family-oriented activities!

Pets are part of many children's lives. Learn how to help them foster strong, healthy relationships.

It's that time again, parents...

One of our favorite ways to start the day is with a piping hot cup of coffee and a thought-provoking TED talk. In case you'€™re not familiar with the group, TED (which stands for Technology, Entertainment and Design) is a nonprofit organization dedicated to spreading ideas through projects and talks by a diverse group of inspired thinkers - people of all cultures, ages and disciplines. As you can probably guess, listening to these innovators share their ideas is a surefire way to jumpstart your day and get your creative juices flowing. Click through the slideshow above for the eight TED talks every parent needs to see. By Cordelia Tai

If you value the backside of your theater seat and making it to your next paycheck, you may want to stay home

One mom shares how she and her family make the Sedar fun and memorable for all

The threats were in public view on the boy's social media wall.