Obama leads Romney, if kids could vote
The nation's youngsters have spoken.
If American children had their way, President Barack Obama would serve another four years as the Commander in Chief.
That's according to the recent Scholastic Student Vote where those under 18 got to weigh in on the important election. Nearly a quarter of a million students across the country cast their ballots, and the results are in: President Barack Obama walked away with a 6 percent lead over Republican candidate Mitt Romney.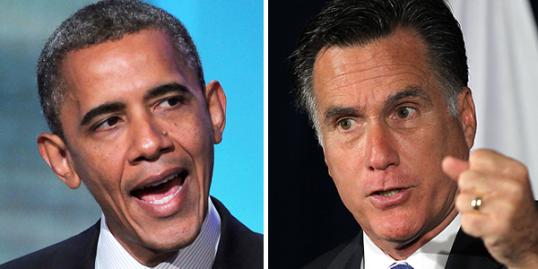 Students who voted for "Other," wrote in Republicans such as Ron Paul, Rick Santorum, John McCain and Paul Ryan, according to a press release from Scholastic, peppered with the occasional "my mom" or "my dad."
Final results:
Barack Obama 51 percent
Mitt Romney 45 percent
Other 4 percent
More on MSN Living: Creative Halloween Costumes for Pregnant Moms
The Scholastic Student Vote was launched during the 1940 Presidential election and has been held every election year since then, with the outcome reflecting that of the general election in every contest but two (in 1948 when students chose Thomas E. Dewey over Harry S. Truman and in 1960 when more students voted for Richard M. Nixon than John F. Kennedy).
"The students have made their voices heard once again, and it proved to be a tight race," said Elliott Rebhun, editor and publisher, Scholastic's Social Studies Classroom Magazines. "The Scholastic Student Vote shows us that students are engaged and excited about the election, and has provided classroom teachers with a tool to bring current events to life and teach students about our country's democratic process."
More on MSN Living: Kids' Fashion Classics
Students from across the country voted through mail-in paper ballots found in many of Scholastic's classroom magazines, including Scholastic News® and Junior Scholastic® beginning in September and online at the Scholastic 2012 Election site (www.scholastic.com/​election) from August to Oct. 10, 2012.
Bing: Get highlights from the Oct. 16 presidential debate.
Photo: Jin Lee/Bloomberg via Getty Images; Alex Wong/Getty Images
More from MSN Living:
Awkward Family Vacation Stories
9 Fabulous Family Rooms
10 Juiciest Mom Confessions
News, stories, tips and laughs for moms & dads
You just had a baby? You're a superstar! All those diapers, all that spit up, and you're makin' magic happen. But you're also likely tired - really tired - and busy (so, so busy). Taking time for yourself might seem like an indulgence but a happy mom makes for a happy baby. Here are 7 things you should definitely do to keep your sanity intact and your spirit high. <more, below>

Summertime is on, and the kids are out of school. Every mom knows that for these three months it's more important than ever to keep the kids busy. But you don't have to schedule your life away with camps, or drop a bundle on activities and games that come in a box. You can make your own fun, and even include the kids in the prep, with some simple, inexpensive DIY crafts that will keep them playing 'til the lightening bugs come out. Make your own fingerpaint, bubbles, and crayons. Create a fort-building kit and superhero capes that will kick their imaginations into overdrive. Here are 10 of our favorite kid-friendly DIY crafts to fuel your summertime fun.

Let these DIY dog bed projects be your inspiration and within a single weekend, you can construct something that really makes Rex feel like a king.

The task of finding an eco-friendly, safe-for-baby gift parents-to-be will actually use is kind of challenging. Add to that a price limit of $50, and the feat suddenly feels impossible! Fortunately, we combed the marketplace for some of the prettiest, most useful, sweetest gifts for baby and family. Many are fine on their own, while others would work well as part of a bigger basket — you know, if you wish to achieve that shower-goer hero status.

Jennifer Goodall gave birth Friday after much drama

My kids snapped a pic of me on my phone and it changed how I see myself

6-year-old has rare brain condition

He wanted to know if woman was pregnant

Did your state make the grade?

Remember the concept of weekends being a time for rest, relaxation, and togetherness? No? Us either. Between soccer games, playdates, dragging your kids to see the new exhibition at the local children's museum, and we need to pick up a gift for that birthday party that starts in . . . 20 minutes, juggling a busy family's weekend schedule can be more stressful than a weekday. While we know it's simply not realistic to cancel all your plans and obligations moving forward, clearing the calendar for just one weekend can be just the refresher that your family's craving. Here's why.

A new dad finds an Epcot Center's worth of innovation after expecting none at all.

Alcohol and tattoos are not meant for the pre-teen set