Obama leads Romney, if kids could vote
The nation's youngsters have spoken.
If American children had their way, President Barack Obama would serve another four years as the Commander in Chief.
That's according to the recent Scholastic Student Vote where those under 18 got to weigh in on the important election. Nearly a quarter of a million students across the country cast their ballots, and the results are in: President Barack Obama walked away with a 6 percent lead over Republican candidate Mitt Romney.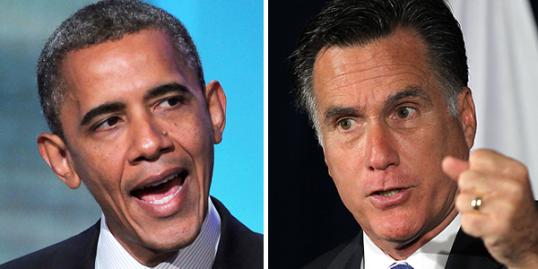 Students who voted for "Other," wrote in Republicans such as Ron Paul, Rick Santorum, John McCain and Paul Ryan, according to a press release from Scholastic, peppered with the occasional "my mom" or "my dad."
Final results:
Barack Obama 51 percent
Mitt Romney 45 percent
Other 4 percent
More on MSN Living: Creative Halloween Costumes for Pregnant Moms
The Scholastic Student Vote was launched during the 1940 Presidential election and has been held every election year since then, with the outcome reflecting that of the general election in every contest but two (in 1948 when students chose Thomas E. Dewey over Harry S. Truman and in 1960 when more students voted for Richard M. Nixon than John F. Kennedy).
"The students have made their voices heard once again, and it proved to be a tight race," said Elliott Rebhun, editor and publisher, Scholastic's Social Studies Classroom Magazines. "The Scholastic Student Vote shows us that students are engaged and excited about the election, and has provided classroom teachers with a tool to bring current events to life and teach students about our country's democratic process."
More on MSN Living: Kids' Fashion Classics
Students from across the country voted through mail-in paper ballots found in many of Scholastic's classroom magazines, including Scholastic News® and Junior Scholastic® beginning in September and online at the Scholastic 2012 Election site (www.scholastic.com/​election) from August to Oct. 10, 2012.
Bing: Get highlights from the Oct. 16 presidential debate.
Photo: Jin Lee/Bloomberg via Getty Images; Alex Wong/Getty Images
More from MSN Living:
Awkward Family Vacation Stories
9 Fabulous Family Rooms
10 Juiciest Mom Confessions
News, stories, tips and laughs for moms & dads
6-year-old has rare brain condition

He wanted to know if woman was pregnant

Did your state make the grade?

A new dad finds an Epcot Center's worth of innovation after expecting none at all.

Alcohol and tattoos are not meant for the pre-teen set

But Debra Harrell now has custody of daughter again

I am probably not the first to tell you this: Kids come with lots of stuff. Even if you try to be as minimal as possible, the little creatures require an awful lot to keep things running smoothly. Here's a master-plan slideshow of ways to cut corners on space in every room to accommodate all the things that come along with kids.

You never know for certain what type of parent you'll be until you've actually become one and your parenting style, as it becomes evident, may surprise you. Here are 4 parenting books to help you figure it all out.

Sunshine! Camping! Pool parties! BBQs! The sunny season is here and to help you make the most of it, we've hand-picked 7 great products to make this summer the best your family has ever had. Click through for our list to inspire your sunny day fun. From our sponsor: Walmart

We all love a picnic. But do one quick search for 'picnic ideas' on Pinterest and you're instantly teleported into a land of overachieving home chefs clearly looking for their big break on Food Network. Well, never mind that, we say. Scratch the 25-ingredient recipes and the incessant trips to the craft store for that perfect tablescape. Here are 5 truly simple picnic ideas that will look great, taste great, and make you feel like the winner you are! From our sponsor: Walmart

Admit it — you do these things, too! And that's OK. But maybe — just maybe — it's time to think about changing things up a little bit, for the sake of your sanity, your relationship with your kids, and because life's too short.

We asked veterinary experts and readers which breeds they think and if it is OK to shave longhaired pets in the summer.