Obama leads Romney, if kids could vote
The nation's youngsters have spoken.
If American children had their way, President Barack Obama would serve another four years as the Commander in Chief.
That's according to the recent Scholastic Student Vote where those under 18 got to weigh in on the important election. Nearly a quarter of a million students across the country cast their ballots, and the results are in: President Barack Obama walked away with a 6 percent lead over Republican candidate Mitt Romney.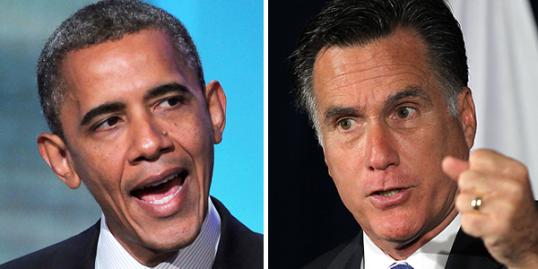 Students who voted for "Other," wrote in Republicans such as Ron Paul, Rick Santorum, John McCain and Paul Ryan, according to a press release from Scholastic, peppered with the occasional "my mom" or "my dad."
Final results:
Barack Obama 51 percent
Mitt Romney 45 percent
Other 4 percent
More on MSN Living: Creative Halloween Costumes for Pregnant Moms
The Scholastic Student Vote was launched during the 1940 Presidential election and has been held every election year since then, with the outcome reflecting that of the general election in every contest but two (in 1948 when students chose Thomas E. Dewey over Harry S. Truman and in 1960 when more students voted for Richard M. Nixon than John F. Kennedy).
"The students have made their voices heard once again, and it proved to be a tight race," said Elliott Rebhun, editor and publisher, Scholastic's Social Studies Classroom Magazines. "The Scholastic Student Vote shows us that students are engaged and excited about the election, and has provided classroom teachers with a tool to bring current events to life and teach students about our country's democratic process."
More on MSN Living: Kids' Fashion Classics
Students from across the country voted through mail-in paper ballots found in many of Scholastic's classroom magazines, including Scholastic News® and Junior Scholastic® beginning in September and online at the Scholastic 2012 Election site (www.scholastic.com/​election) from August to Oct. 10, 2012.
Bing: Get highlights from the Oct. 16 presidential debate.
Photo: Jin Lee/Bloomberg via Getty Images; Alex Wong/Getty Images
More from MSN Living:
Awkward Family Vacation Stories
9 Fabulous Family Rooms
10 Juiciest Mom Confessions
News, stories, tips and laughs for moms & dads
A thrill-obsessed subculture claimed another life this week.

A few suggested answers for the diciest questions

Must-haves for every mommy on the road

Here's our list of fifteen moms in the food industry that deserve some recognition.

The site gets high marks for its user-friendly interface and excellent and responsive customer service. And the reviews are also pretty accurate. Compare amenities and prices next to a hotel's in the same area, and you're likely to see Airbnb come out on top.

We captured a frame-by-frame look just for you.

Other moms can be ruthless when it comes to picking apart your parenting choices. From dissing your decision to go back to work to criticizing when you started baby on solids, here are the most ridiculous comments moms have heard. Bonus, we've got just the right way to respond to the haters! You're welcome.

Nope, you don't have to spend the next nine months in black elastic-waist pants and oversize sweaters. And you don't have to shell out a fortune on your "temporary" wardrobe either. Check out these stylish and affordable maternity clothes.

Because society crumbles without us

Another kid figured out how to get into a claw machine.

As a new mom, you've recently discovered there are many things you can live without—sleep and modesty being chief among them. But what can't you live without? Seasoned moms share their Top 10 list for how to survive the early months of motherhood.

Here are our experts' best tips for how to be a positive role model for your kids so that they grow up healthy, strong and confident about the way they look.