Flying Nannies: Would you use one during your next flight with baby?
Your airline experience is about to get a sky-high makeover.
By Kylie McConville
Etihad Airways, the national airline of the United Arab Emirates, is now offering "Flying Nannies" to passengers on-board.
The nannies are specifically trained to entertain children on long-haul flights. Aubrey Tiedt, Etihad Airways' vice president of guest services, said, "The Flying Nanny will liaise with parents and use their experience and knowledge to make the travel experience easier. This includes helping serve children's meals early in the flight and offering activities and challenges to help entertain and occupy younger guests.'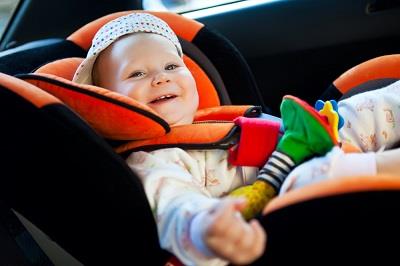 More from The Bump: How is your nanny using social media?
According to the company's website, Etihad Airways has trained more than 300 cabin crew members for the role of Flying Nanny. This month, they'll train 60 more, adding more on the roster each month so that by the end of 2013, a total of 500 Flying Nannies will be working across Etihad Airways flights. The training course includes in-depth training from Norland College with a focus on child psychology and sociology, which will help the nannies recognize different times of behavior and developmental stages that each child goes through to better care for the needs of traveling families. In addition to the training, they've also learned different and creative ways to entertain and engage with children during these flights.
The nannies — who are all female — wear bright orange aprons and aim to "provide a helping hand to families and unaccompanied minors." Younger passengers will also be introduced to Zoe the bee, Jamool the camel, Kundai the lion and Boo the panda (all traditional Etihad characters) on their flight.
More from The Bump: How to find the best nanny for your family
As far as games go, the nannies will have a special kit to play with, including straws, stickers and cardboard cutouts so that the children can learn simple arts and crafts. They'll also have paper cups at their disposal, which can be made into hats. Children will also learn the Japanese art of origami to fold paper into sculpture. All of the activities, the website says, are designed so that the Flying Nanny can leave the children to produce and complete on their own. They'll also have sock puppets, simple magic tricks and even quizzes and challenges for older passengers.
When appropriate, children will be taken on tours of the galley during the flight. Towards the end of the flight, nannies will help parents by replenishing milk bottles and offering them water, fruit and other snacks (in case the family is headed on to another flight). For passengers whose final destination is Abu Dhabi, Flying Nannies will be a source of education, advising them on the child facilities at the airport, as well as the children's play areas.
Do you think this type of service would be helpful for parents on flights?
Plus, more from The Bump:
Secrets to getting it all done
7 annoying moms you're sure to meet
Worst things to say to new moms
News, stories, tips and laughs for moms & dads
Two sociologists have found that parents who have daughters are more inclined to support the GOP and turn a cold shoulder to Democrats.

The experts at Nameberry.com predict what will be big in baby-naming next year

Famed event-planner David Stark shared tips for making chic holiday decorations using items you already have around the house. Take a look!

Sociologist Karen Z. Kramer found that over the past decade more than 550,000 men were stay-at-home fathers, which is about 3.5 percent of the married with kids population.

Ben Miller celebrates his wife's birthday and the anniversary of the day their premature son Ward Miles came home for good with a video documenting his first year.

Adopting an animal is a major commitment. Yet all too often people put more effort into researching what kind of car to get than the type of pet that would best fit their lifestyle.

'Tis the season to send out holiday greeting cards to all your friends and family. But, as our friends at Awkward Family Pet Photos know, not all holiday snapshots are the same. Some are just plain kooky — especially when pets are included. So with good tidings and great cheer, here are 10 wacky holiday animal portraits that are sure to make you laugh out loud and get you in the holiday spirit. And possibly make you think twice about dressing up the family cat this year.

King of the jungle? Nah, it's just a labradoodle!

Side-by-side images of adorable babies and their celebrity doppelgängers

Do you have a finicky furry friend on your holiday gift list this year? You're in luck! We've rounded up the coolest cat-approved products to bring you purrfect gift ideas for every kind of cat -- from the curious kitten to the most refined feline. Any one of these special gifts could make your resident kitty purr with pleasure and maybe, just maybe, like the present this year even more than the box and wrapping paper it came in!

Plus, puppy names to watch

This holiday season's hottest toy has yet to be revealed, but more often than not, the best gifts are the ones kids don't even know to ask for. So this year, surprise your kids with unique presents under the tree, and watch as their eyes light up when they unwrap them. From space-age sand to a DIY race track, these out-of-the-box gift ideas will provide some serious shopping inspiration. Click through the slideshow above for all our favorite picks.