Spanking in public: Another great parenting debate
When you spank your kid in public, don't be surprised if strangers have something to say about it.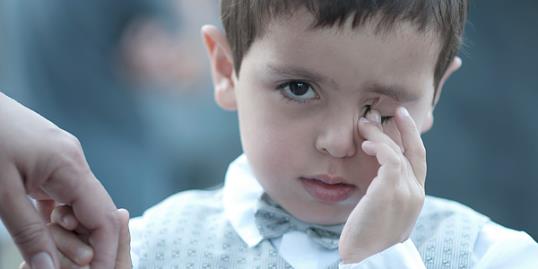 Doctors, academics, child-rearing experts and millions of parents all have an opinion on the topic of spanking.
It's not exactly a new debate, however, a writer over at The Stir raises an interesting point: When you hit your child in public, does it become everyone's business?
More from MSN Living: 4 musts for moms of boys
She recounts a recent incident on a New York City subway platform where she witnessed a mother was spanking her 4- or 5-year-old boy:
I'm not going to lie. I completely disapproved. I don't feel comfortable with the notion of spanking your kid in public. That feels like it's more about humiliation than discipline to me.  But I guess my face didn't reflect that because she looked at me and gave that exasperated mom look before saying, "He's a handful." She clearly expected me to sympathize with her. I didn't utter a word. I just turned my head, hoping that passive-aggressive move made it clear that we were not on the same page.
More from MSN Living: 10 single mom secrets
The author goes onto to say another passenger took a much more direct approach to show her displeasure by saying, "Spanking solves nothing."
The mom shot back, "Mind your own business, lady." Not exactly a shocking reaction.
So, is spanking ever OK? If so, under what circumstances is it acceptable?
The American Academy of Pediatrics does not endorse spanking under any circumstances. It's a form of punishment that becomes less effective with repeated use, according to the AAP; it also makes discipline more difficult as the child outgrows it.
Instead of spanking, the AAP recommends time-outs, which force children to calm down and think about their emotions rather than acting on them reflexively. Isn't the whole point of punishment to understand what they did wrong and reflect upon why they did it in the first place?
How do you feel about parents spanking their kids in public? Is it a personal choice for each parent and family? Or do you disapprove?
Bing: The long-term effects of spanking
More from Family Room:
Study: Same-sex parents raise well-adjusted kids
Some teachers ban kids from having best friends
Love content like this? Friend us on Facebook, follow us on Twitter and find us on Pinterest.
Readers: Calling all mom bloggers — we're looking for fresh voices on MSN Living. Email us your samples and contact info.
Photo: Pablo Baracat Photography/Getty Images
News, stories, tips and laughs for moms & dads
Learning these 10 things is a good base with which to begin the tough preteen and teen years. Helping our children maneuver life is our jobs as parents, even if we haven't quite figured it all out ourselves yet.

We've all seen her... But should we judge her?

Unique, or downright strange?

In a few short weeks you'll be dropping your child off at college, where they'll spend the next four years learning, laughing, and probably partying. Of course, in true teen fashion, your child has already started shopping for their dorm room essentials. Don't panic just yet!

When tots burst through the door after a busy day at school, the first order of business is securing a snack.

The only thing more important than what you pack your child for lunch is what you pack it in.

Frustrated mom invents Ignore No More app

Do you have the right mix of moms surrounding you?

It's hard to keep young kids entertained while being confined indoors, but fear not, for we have some fun ideas to keep the entire family from climbing the walls during rainy days.

Back in our day, ending up with the same exact backpack as your BFF was a legitimate back-to-school concern. Nowadays? There are so many options, it's dizzying!

It is a parent's eternal dilemma: What do I make the kids for lunch today? And tomorrow? And next week? We fall into ruts, succumb to the tried-and-true, give in to our children's demands for junk food. No more! These school lunch ideas—for everything from sandwiches to snacks to hot meals—will freshen up your daily routine, so much so you may be tempted to make them for yourself.

Whether your kids have recently gone back to school or are preparing to go shortly, it's never too late to start thinking about how we can make this year successful and low-stress, both for our kids and ourselves. With that, here are 6 things parents might want to stop doing this year in order to make it the best one yet...for all of you!