Spanking in public: Another great parenting debate
When you spank your kid in public, don't be surprised if strangers have something to say about it.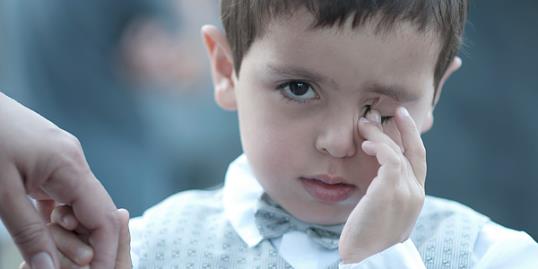 Doctors, academics, child-rearing experts and millions of parents all have an opinion on the topic of spanking.
It's not exactly a new debate, however, a writer over at The Stir raises an interesting point: When you hit your child in public, does it become everyone's business?
More from MSN Living: 4 musts for moms of boys
She recounts a recent incident on a New York City subway platform where she witnessed a mother was spanking her 4- or 5-year-old boy:
I'm not going to lie. I completely disapproved. I don't feel comfortable with the notion of spanking your kid in public. That feels like it's more about humiliation than discipline to me.  But I guess my face didn't reflect that because she looked at me and gave that exasperated mom look before saying, "He's a handful." She clearly expected me to sympathize with her. I didn't utter a word. I just turned my head, hoping that passive-aggressive move made it clear that we were not on the same page.
More from MSN Living: 10 single mom secrets
The author goes onto to say another passenger took a much more direct approach to show her displeasure by saying, "Spanking solves nothing."
The mom shot back, "Mind your own business, lady." Not exactly a shocking reaction.
So, is spanking ever OK? If so, under what circumstances is it acceptable?
The American Academy of Pediatrics does not endorse spanking under any circumstances. It's a form of punishment that becomes less effective with repeated use, according to the AAP; it also makes discipline more difficult as the child outgrows it.
Instead of spanking, the AAP recommends time-outs, which force children to calm down and think about their emotions rather than acting on them reflexively. Isn't the whole point of punishment to understand what they did wrong and reflect upon why they did it in the first place?
How do you feel about parents spanking their kids in public? Is it a personal choice for each parent and family? Or do you disapprove?
Bing: The long-term effects of spanking
More from Family Room:
Study: Same-sex parents raise well-adjusted kids
Some teachers ban kids from having best friends
Love content like this? Friend us on Facebook, follow us on Twitter and find us on Pinterest.
Readers: Calling all mom bloggers — we're looking for fresh voices on MSN Living. Email us your samples and contact info.
Photo: Pablo Baracat Photography/Getty Images
News, stories, tips and laughs for moms & dads
What are we teaching our children when we focus on their achievements rather than their kindness?

Discover the seemingly insignificant things that can affect your chances of getting pregnant.

A thrill-obsessed subculture claimed another life this week.

A few suggested answers for the diciest questions

Must-haves for every mommy on the road

Here's our list of fifteen moms in the food industry that deserve some recognition.

The site gets high marks for its user-friendly interface and excellent and responsive customer service. And the reviews are also pretty accurate. Compare amenities and prices next to a hotel's in the same area, and you're likely to see Airbnb come out on top.

We captured a frame-by-frame look just for you.

Other moms can be ruthless when it comes to picking apart your parenting choices. From dissing your decision to go back to work to criticizing when you started baby on solids, here are the most ridiculous comments moms have heard. Bonus, we've got just the right way to respond to the haters! You're welcome.

Nope, you don't have to spend the next nine months in black elastic-waist pants and oversize sweaters. And you don't have to shell out a fortune on your "temporary" wardrobe either. Check out these stylish and affordable maternity clothes.

Because society crumbles without us

Another kid figured out how to get into a claw machine.