Spanking in public: Another great parenting debate
When you spank your kid in public, don't be surprised if strangers have something to say about it.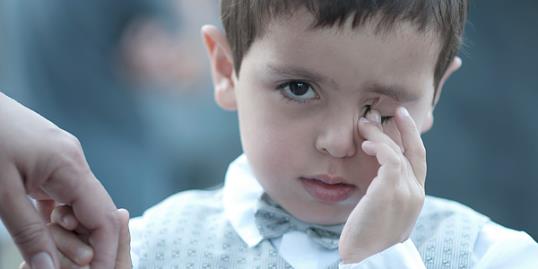 Doctors, academics, child-rearing experts and millions of parents all have an opinion on the topic of spanking.
It's not exactly a new debate, however, a writer over at The Stir raises an interesting point: When you hit your child in public, does it become everyone's business?
More from MSN Living: 4 musts for moms of boys
She recounts a recent incident on a New York City subway platform where she witnessed a mother was spanking her 4- or 5-year-old boy:
I'm not going to lie. I completely disapproved. I don't feel comfortable with the notion of spanking your kid in public. That feels like it's more about humiliation than discipline to me.  But I guess my face didn't reflect that because she looked at me and gave that exasperated mom look before saying, "He's a handful." She clearly expected me to sympathize with her. I didn't utter a word. I just turned my head, hoping that passive-aggressive move made it clear that we were not on the same page.
More from MSN Living: 10 single mom secrets
The author goes onto to say another passenger took a much more direct approach to show her displeasure by saying, "Spanking solves nothing."
The mom shot back, "Mind your own business, lady." Not exactly a shocking reaction.
So, is spanking ever OK? If so, under what circumstances is it acceptable?
The American Academy of Pediatrics does not endorse spanking under any circumstances. It's a form of punishment that becomes less effective with repeated use, according to the AAP; it also makes discipline more difficult as the child outgrows it.
Instead of spanking, the AAP recommends time-outs, which force children to calm down and think about their emotions rather than acting on them reflexively. Isn't the whole point of punishment to understand what they did wrong and reflect upon why they did it in the first place?
How do you feel about parents spanking their kids in public? Is it a personal choice for each parent and family? Or do you disapprove?
Bing: The long-term effects of spanking
More from Family Room:
Study: Same-sex parents raise well-adjusted kids
Some teachers ban kids from having best friends
Love content like this? Friend us on Facebook, follow us on Twitter and find us on Pinterest.
Readers: Calling all mom bloggers — we're looking for fresh voices on MSN Living. Email us your samples and contact info.
Photo: Pablo Baracat Photography/Getty Images
News, stories, tips and laughs for moms & dads
6-year-old has rare brain condition

He wanted to know if woman was pregnant

Did your state make the grade?

A new dad finds an Epcot Center's worth of innovation after expecting none at all.

Alcohol and tattoos are not meant for the pre-teen set

But Debra Harrell now has custody of daughter again

I am probably not the first to tell you this: Kids come with lots of stuff. Even if you try to be as minimal as possible, the little creatures require an awful lot to keep things running smoothly. Here's a master-plan slideshow of ways to cut corners on space in every room to accommodate all the things that come along with kids.

You never know for certain what type of parent you'll be until you've actually become one and your parenting style, as it becomes evident, may surprise you. Here are 4 parenting books to help you figure it all out.

Sunshine! Camping! Pool parties! BBQs! The sunny season is here and to help you make the most of it, we've hand-picked 7 great products to make this summer the best your family has ever had. Click through for our list to inspire your sunny day fun. From our sponsor: Walmart

We all love a picnic. But do one quick search for 'picnic ideas' on Pinterest and you're instantly teleported into a land of overachieving home chefs clearly looking for their big break on Food Network. Well, never mind that, we say. Scratch the 25-ingredient recipes and the incessant trips to the craft store for that perfect tablescape. Here are 5 truly simple picnic ideas that will look great, taste great, and make you feel like the winner you are! From our sponsor: Walmart

Admit it — you do these things, too! And that's OK. But maybe — just maybe — it's time to think about changing things up a little bit, for the sake of your sanity, your relationship with your kids, and because life's too short.

We asked veterinary experts and readers which breeds they think and if it is OK to shave longhaired pets in the summer.