Child Bikinis: Appropriate?
Elizabeth Hurley has a new line of bathing suits for young girls. Some are finding the bikinis 'disturbing.' Has fashion for young girls taken a dangerous turn?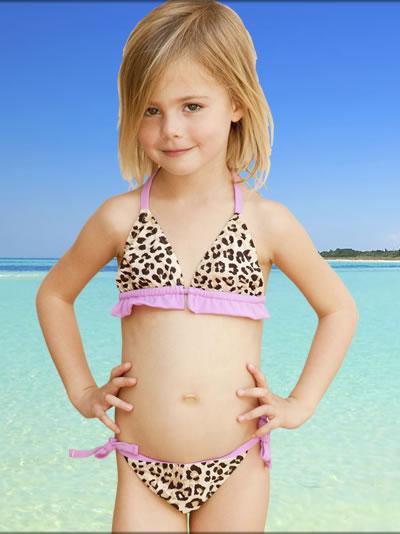 Actress Elizabeth Hurley has recently come under fire for her line of swimwear for young girls. On her website in the "8 and Under" section, the bikini shown here (the "Mini Cha Cha"), includes the description: "Teenagers love this, as well as younger girls. This is the mini version of a similar adult's bikini." That makes us wonder: Should young girls under 8 years old really be wearing the same styles as adult women?
Claude Knight, director of the child protective charity Kidscape, tells The Daily Mail, "It is very disturbing to see some inappropriate items in this swimwear range. The pieces that are very adult and which contribute to the sexualisation of young girls - especially in the poses portrayed - do not take account of the child protection concerns that have been well-aired."
So it's not just the designs that have come under fire, but the way in which the young models are posing which contributes to the sexualized effect, according to some.
Hurley's site also boasts a "Collette Bikini" for the 8-13 age range, the top of which is held together at the front by a gold ring. The site describes it as being "great for girls who want to look grown up."
As we prepare for Halloween season, this topic is particularly timely. As a mom, I recall many anxiety-filled trips to costume stores with my then-preteen daughter, leaving empty-handed because the selection was so sex-centric. Sexy fairy costumes, sexy bumblebees, sexy princesses and even sexy nuns were everywhere we looked. We managed to make do with the understanding that my daughter would wear leggings under her dress and flat shoes rather than the high heels pictured on the costume bag. Still, the entire process left a bad taste in my mouth.
How much is too much when it comes to dressing young girls? Are we overly sensitive or has "fashion" gone too far? Weigh in below in the comments, or on our Facebook page.
Photo: elizabethhurley.com
More Family & Parenting on MSN Living:
51 Perfect Day Trips for Families
The Most Popular Baby Names of All Time
Top Names for the Top 10 Dog Breeds
News, stories, tips and laughs for moms & dads
As all the kids line up to go to school, your son, Timmy, turns to you and says, "I don't want to take the bus. My stomach hurts. Please don't make me go." You cringe and think, Here we go again. What should be a simple morning routine explodes into a daunting challenge.

Learning these 10 things is a good base with which to begin the tough preteen and teen years. Helping our children maneuver life is our jobs as parents, even if we haven't quite figured it all out ourselves yet.

We've all seen her... But should we judge her?

Unique, or downright strange?

In a few short weeks you'll be dropping your child off at college, where they'll spend the next four years learning, laughing, and probably partying. Of course, in true teen fashion, your child has already started shopping for their dorm room essentials. Don't panic just yet!

When tots burst through the door after a busy day at school, the first order of business is securing a snack.

The only thing more important than what you pack your child for lunch is what you pack it in.

Frustrated mom invents Ignore No More app

Do you have the right mix of moms surrounding you?

It's hard to keep young kids entertained while being confined indoors, but fear not, for we have some fun ideas to keep the entire family from climbing the walls during rainy days.

Back in our day, ending up with the same exact backpack as your BFF was a legitimate back-to-school concern. Nowadays? There are so many options, it's dizzying!

It is a parent's eternal dilemma: What do I make the kids for lunch today? And tomorrow? And next week? We fall into ruts, succumb to the tried-and-true, give in to our children's demands for junk food. No more! These school lunch ideas—for everything from sandwiches to snacks to hot meals—will freshen up your daily routine, so much so you may be tempted to make them for yourself.