Child Bikinis: Appropriate?
Elizabeth Hurley has a new line of bathing suits for young girls. Some are finding the bikinis 'disturbing.' Has fashion for young girls taken a dangerous turn?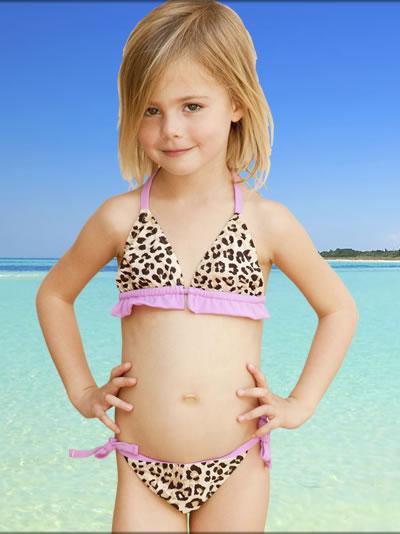 Actress Elizabeth Hurley has recently come under fire for her line of swimwear for young girls. On her website in the "8 and Under" section, the bikini shown here (the "Mini Cha Cha"), includes the description: "Teenagers love this, as well as younger girls. This is the mini version of a similar adult's bikini." That makes us wonder: Should young girls under 8 years old really be wearing the same styles as adult women?
Claude Knight, director of the child protective charity Kidscape, tells The Daily Mail, "It is very disturbing to see some inappropriate items in this swimwear range. The pieces that are very adult and which contribute to the sexualisation of young girls - especially in the poses portrayed - do not take account of the child protection concerns that have been well-aired."
So it's not just the designs that have come under fire, but the way in which the young models are posing which contributes to the sexualized effect, according to some.
Hurley's site also boasts a "Collette Bikini" for the 8-13 age range, the top of which is held together at the front by a gold ring. The site describes it as being "great for girls who want to look grown up."
As we prepare for Halloween season, this topic is particularly timely. As a mom, I recall many anxiety-filled trips to costume stores with my then-preteen daughter, leaving empty-handed because the selection was so sex-centric. Sexy fairy costumes, sexy bumblebees, sexy princesses and even sexy nuns were everywhere we looked. We managed to make do with the understanding that my daughter would wear leggings under her dress and flat shoes rather than the high heels pictured on the costume bag. Still, the entire process left a bad taste in my mouth.
How much is too much when it comes to dressing young girls? Are we overly sensitive or has "fashion" gone too far? Weigh in below in the comments, or on our Facebook page.
Photo: elizabethhurley.com
More Family & Parenting on MSN Living:
51 Perfect Day Trips for Families
The Most Popular Baby Names of All Time
Top Names for the Top 10 Dog Breeds
News, stories, tips and laughs for moms & dads
Make sure your go-to gadgets are as cute as your style, with these trendy tech finds!

Oh, how the times have changed...

Get ready to hit the mall! Check out the hottest back-to-school trends—and get ready to make a major style statement this year.

Unique, or downright strange?

This is Kevin Droniak and his grandma. They're besties, they're awesome and they're YouTube stars.

It can be difficult to entice little ones to eat anything at all, let alone to devour a healthy plate. But feeding your kids nutritious snacks after school just got way easier, thanks to these adorably clever and cute snack ideas! For more smart and fun ways to get your kids to enjoy healthful and delicious foods, try one of these amazingly artsy lunch ideas.

Through a tonsillectomy all the way to brain surgery, my mother deserves some recognition. She's my spine, my birthday shadow, my BFF, my thunder buddy, so Mommy, thank you.

My son needs me, as much as yours needs you. Sadly, my son needs me more. He needs someone to have his back, when it seems that the police, the men he'd wave to with excitement as a little boy, see him as a being worthy only of prison or death.

If you know someone who has adopted and have made some of these comments, don't fret... now you know!

"Because you shine from within," I said, touching my finger to her heart. "Not everybody sees it, but I do. I see it. And my job is to protect that light. So when people say mean comments that squelch that light, I want you to tell me. I will protect your light by listening and loving you, my brave, courageous, and unique little firefly."

Studies have shown that it helps, top education officials have recommended it, and now doctors are officially saying the same.

I may have accidentally dropped you a few times, forgotten to document your first fart, let a little pee fly and dressed you like an idiot, but I have also loved you with every piece of me, and you will never hear an apology for that.