Child Bikinis: Appropriate?
Elizabeth Hurley has a new line of bathing suits for young girls. Some are finding the bikinis 'disturbing.' Has fashion for young girls taken a dangerous turn?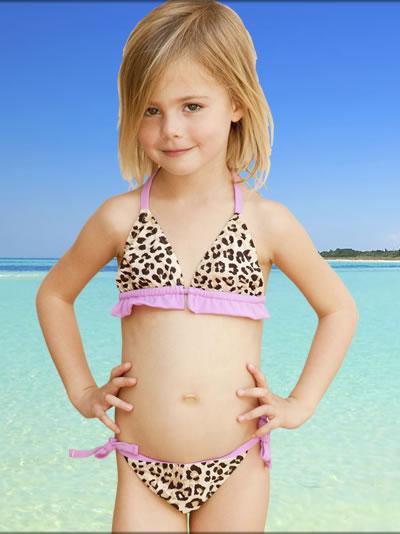 Actress Elizabeth Hurley has recently come under fire for her line of swimwear for young girls. On her website in the "8 and Under" section, the bikini shown here (the "Mini Cha Cha"), includes the description: "Teenagers love this, as well as younger girls. This is the mini version of a similar adult's bikini." That makes us wonder: Should young girls under 8 years old really be wearing the same styles as adult women?
Claude Knight, director of the child protective charity Kidscape, tells The Daily Mail, "It is very disturbing to see some inappropriate items in this swimwear range. The pieces that are very adult and which contribute to the sexualisation of young girls - especially in the poses portrayed - do not take account of the child protection concerns that have been well-aired."
So it's not just the designs that have come under fire, but the way in which the young models are posing which contributes to the sexualized effect, according to some.
Hurley's site also boasts a "Collette Bikini" for the 8-13 age range, the top of which is held together at the front by a gold ring. The site describes it as being "great for girls who want to look grown up."
As we prepare for Halloween season, this topic is particularly timely. As a mom, I recall many anxiety-filled trips to costume stores with my then-preteen daughter, leaving empty-handed because the selection was so sex-centric. Sexy fairy costumes, sexy bumblebees, sexy princesses and even sexy nuns were everywhere we looked. We managed to make do with the understanding that my daughter would wear leggings under her dress and flat shoes rather than the high heels pictured on the costume bag. Still, the entire process left a bad taste in my mouth.
How much is too much when it comes to dressing young girls? Are we overly sensitive or has "fashion" gone too far? Weigh in below in the comments, or on our Facebook page.
Photo: elizabethhurley.com
More Family & Parenting on MSN Living:
51 Perfect Day Trips for Families
The Most Popular Baby Names of All Time
Top Names for the Top 10 Dog Breeds
News, stories, tips and laughs for moms & dads
Two sociologists have found that parents who have daughters are more inclined to support the GOP and turn a cold shoulder to Democrats.

The experts at Nameberry.com predict what will be big in baby-naming next year

Famed event-planner David Stark shared tips for making chic holiday decorations using items you already have around the house. Take a look!

Sociologist Karen Z. Kramer found that over the past decade more than 550,000 men were stay-at-home fathers, which is about 3.5 percent of the married with kids population.

Ben Miller celebrates his wife's birthday and the anniversary of the day their premature son Ward Miles came home for good with a video documenting his first year.

Adopting an animal is a major commitment. Yet all too often people put more effort into researching what kind of car to get than the type of pet that would best fit their lifestyle.

'Tis the season to send out holiday greeting cards to all your friends and family. But, as our friends at Awkward Family Pet Photos know, not all holiday snapshots are the same. Some are just plain kooky — especially when pets are included. So with good tidings and great cheer, here are 10 wacky holiday animal portraits that are sure to make you laugh out loud and get you in the holiday spirit. And possibly make you think twice about dressing up the family cat this year.

King of the jungle? Nah, it's just a labradoodle!

Side-by-side images of adorable babies and their celebrity doppelgängers

Do you have a finicky furry friend on your holiday gift list this year? You're in luck! We've rounded up the coolest cat-approved products to bring you purrfect gift ideas for every kind of cat -- from the curious kitten to the most refined feline. Any one of these special gifts could make your resident kitty purr with pleasure and maybe, just maybe, like the present this year even more than the box and wrapping paper it came in!

Plus, puppy names to watch

This holiday season's hottest toy has yet to be revealed, but more often than not, the best gifts are the ones kids don't even know to ask for. So this year, surprise your kids with unique presents under the tree, and watch as their eyes light up when they unwrap them. From space-age sand to a DIY race track, these out-of-the-box gift ideas will provide some serious shopping inspiration. Click through the slideshow above for all our favorite picks.