Child Bikinis: Appropriate?
Elizabeth Hurley has a new line of bathing suits for young girls. Some are finding the bikinis 'disturbing.' Has fashion for young girls taken a dangerous turn?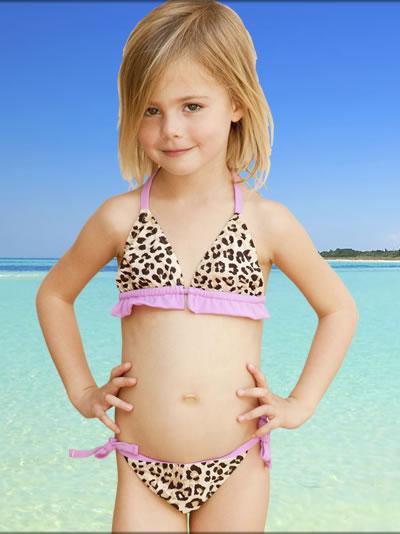 Actress Elizabeth Hurley has recently come under fire for her line of swimwear for young girls. On her website in the "8 and Under" section, the bikini shown here (the "Mini Cha Cha"), includes the description: "Teenagers love this, as well as younger girls. This is the mini version of a similar adult's bikini." That makes us wonder: Should young girls under 8 years old really be wearing the same styles as adult women?
Claude Knight, director of the child protective charity Kidscape, tells The Daily Mail, "It is very disturbing to see some inappropriate items in this swimwear range. The pieces that are very adult and which contribute to the sexualisation of young girls - especially in the poses portrayed - do not take account of the child protection concerns that have been well-aired."
So it's not just the designs that have come under fire, but the way in which the young models are posing which contributes to the sexualized effect, according to some.
Hurley's site also boasts a "Collette Bikini" for the 8-13 age range, the top of which is held together at the front by a gold ring. The site describes it as being "great for girls who want to look grown up."
As we prepare for Halloween season, this topic is particularly timely. As a mom, I recall many anxiety-filled trips to costume stores with my then-preteen daughter, leaving empty-handed because the selection was so sex-centric. Sexy fairy costumes, sexy bumblebees, sexy princesses and even sexy nuns were everywhere we looked. We managed to make do with the understanding that my daughter would wear leggings under her dress and flat shoes rather than the high heels pictured on the costume bag. Still, the entire process left a bad taste in my mouth.
How much is too much when it comes to dressing young girls? Are we overly sensitive or has "fashion" gone too far? Weigh in below in the comments, or on our Facebook page.
Photo: elizabethhurley.com
More Family & Parenting on MSN Living:
51 Perfect Day Trips for Families
The Most Popular Baby Names of All Time
Top Names for the Top 10 Dog Breeds
family: tips, trends & advice for all things family
With all the glitz and glamour that comes out of Tinseltown (not to mention the endless tabloid fodder), it's not always obvious that many celebrities are animal lovers, too.

From designer crosses to giant breeds, we scoured Vetstreet's data of millions of dog breeds to determine the trendiest breeds of the past decade.

One of the most unsettling consequences of bringing a child into your previously simple, happily oblivious manly life is that you're now unquestionably, inescapably…The Man.

Whether it was baby's first kick or the first time your boobs leaked in public, there's a point in every mom's life when the world as you know it ends and you realize -- Whoa, I'm someone's mom now. Some of our favorite mommy bloggers revealed what their aha moments were. They range from heartwarming to completely hilarious.

From DIY jewelry to homemade "flowers" to sweet vases, you can help your kid make mom's day with these crafty gifts.

The first parenting shock: They let you take the baby home. Like, without supervision. Only then do the real surprises unfold. Here's what readers told us was most unexpected for them as they embraced this whole mama thing.

Be prepared to say, 'awww,' multiple times while flipping through this collection super-sweet stuff for babies and kids on Etsy.com. Take a peek at some of our favorite finds for moms (and click 'More' to find out how to get this amazing gnome hat!)...By MSN Living editors

Your Mother's Day plans are all set, right? Brunch is booked and a fabulous gift is wrapped and ready to go. So take a breather and celebrate these stylish celebrity moms who work hard, care for their kids, and manage to look amazing in the process.

Find out this year's top baby names on Parenting.com, and see what we predict will be big in 2013

Sophia and Jacob reign supreme.

In an online contest, Parenting.com asked readers to tell us what it means to "have it all." Read the winner's moving essay on how that phrase has defined her motherhood, plus essays from the three runners up.

Tow lot employee finds abandoned pup.