Child Bikinis: Appropriate?
Elizabeth Hurley has a new line of bathing suits for young girls. Some are finding the bikinis 'disturbing.' Has fashion for young girls taken a dangerous turn?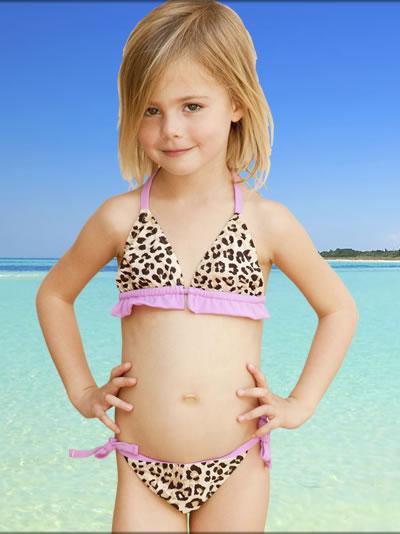 Actress Elizabeth Hurley has recently come under fire for her line of swimwear for young girls. On her website in the "8 and Under" section, the bikini shown here (the "Mini Cha Cha"), includes the description: "Teenagers love this, as well as younger girls. This is the mini version of a similar adult's bikini." That makes us wonder: Should young girls under 8 years old really be wearing the same styles as adult women?
Claude Knight, director of the child protective charity Kidscape, tells The Daily Mail, "It is very disturbing to see some inappropriate items in this swimwear range. The pieces that are very adult and which contribute to the sexualisation of young girls - especially in the poses portrayed - do not take account of the child protection concerns that have been well-aired."
So it's not just the designs that have come under fire, but the way in which the young models are posing which contributes to the sexualized effect, according to some.
Hurley's site also boasts a "Collette Bikini" for the 8-13 age range, the top of which is held together at the front by a gold ring. The site describes it as being "great for girls who want to look grown up."
As we prepare for Halloween season, this topic is particularly timely. As a mom, I recall many anxiety-filled trips to costume stores with my then-preteen daughter, leaving empty-handed because the selection was so sex-centric. Sexy fairy costumes, sexy bumblebees, sexy princesses and even sexy nuns were everywhere we looked. We managed to make do with the understanding that my daughter would wear leggings under her dress and flat shoes rather than the high heels pictured on the costume bag. Still, the entire process left a bad taste in my mouth.
How much is too much when it comes to dressing young girls? Are we overly sensitive or has "fashion" gone too far? Weigh in below in the comments, or on our Facebook page.
Photo: elizabethhurley.com
More Family & Parenting on MSN Living:
51 Perfect Day Trips for Families
The Most Popular Baby Names of All Time
Top Names for the Top 10 Dog Breeds
News, stories, tips and laughs for moms & dads
6-year-old has rare brain condition

He wanted to know if woman was pregnant

Did your state make the grade?

A new dad finds an Epcot Center's worth of innovation after expecting none at all.

Alcohol and tattoos are not meant for the pre-teen set

But Debra Harrell now has custody of daughter again

I am probably not the first to tell you this: Kids come with lots of stuff. Even if you try to be as minimal as possible, the little creatures require an awful lot to keep things running smoothly. Here's a master-plan slideshow of ways to cut corners on space in every room to accommodate all the things that come along with kids.

You never know for certain what type of parent you'll be until you've actually become one and your parenting style, as it becomes evident, may surprise you. Here are 4 parenting books to help you figure it all out.

Sunshine! Camping! Pool parties! BBQs! The sunny season is here and to help you make the most of it, we've hand-picked 7 great products to make this summer the best your family has ever had. Click through for our list to inspire your sunny day fun. From our sponsor: Walmart

We all love a picnic. But do one quick search for 'picnic ideas' on Pinterest and you're instantly teleported into a land of overachieving home chefs clearly looking for their big break on Food Network. Well, never mind that, we say. Scratch the 25-ingredient recipes and the incessant trips to the craft store for that perfect tablescape. Here are 5 truly simple picnic ideas that will look great, taste great, and make you feel like the winner you are! From our sponsor: Walmart

Admit it — you do these things, too! And that's OK. But maybe — just maybe — it's time to think about changing things up a little bit, for the sake of your sanity, your relationship with your kids, and because life's too short.

We asked veterinary experts and readers which breeds they think and if it is OK to shave longhaired pets in the summer.