Kate Middleton's birth plan will make history in England!
Prince William will be the first royal dad in the delivery room.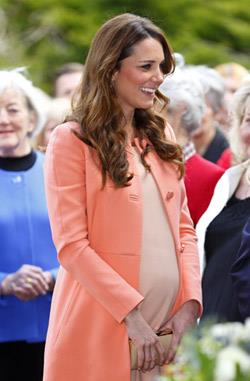 I don't know about you, but I'm already hunkering down for the arrival of the royal baby. I've planned a menu of small British heir-approved apps (in case you're curious, everything will be served "mini" and come with a British flag, we'll sip mocktails and say "Cheerio!" and "Brilliant!" as often as possible and for dessert, we'll munch on biscuits and cakes, and sip tea while chanting "God Save the Queen!"). I've invited all my prestigious friends (side note: I've defined "prestigious" as all those holding full-time jobs. I'm a commoner here, work with me people!) and even knitted a royal blanket (err..
started
to knit one, at least). Needless to say, I'm ready!
But, while Kate Middleton and Prince William's baby-on-deck continues to prepare for his (her?) summer debut, word on the street is that Kate's birth plan will make history in England — for more reasons than you think!
Aside from the fact that Kate will birth the future king or queen of England (baby will be third in line for the throne!), she and daddy-to-be will also break ground in the English way of arrival. Kate's birth will mark the first time EVER that dad will be present for the delivery. That's right — if you can even believe it — all the dads before Will were elsewhere when their babes were birthed. For starters, Prince Charles was playing polo during Diana's delivery with William and before that, Prince Philip was playing squash when Queen Elizabeth gave birth to Charles. Talk about royal no-shows!
Kate will likely give birth in the Lindo Wing of St. Mary's Hospital in London, the same locale where Diana gave birth to Prince William. It'll be a beautiful memory for the two parents, to connect both William's past with the new future they're planning together (it'll also be a beautiful way to honor his late mum) and apparently, Kate's gone so far as to consider a ton of alternative birth methods for her delivery, including water birth and Hypnobirthing. To be honest, I think Kate may deliver like the mums before her, but that's just me.
Regardless of the way Kate and Will choose to deliver — one thing is for sure: They're going to have a birth plan. Known as the "game plan" for baby's arrival, it'll serve as a check-list to make sure that both Will and Kate are totally in charge of labor, delivery and baby's arrival. Because the entire world will have their eyes glued to the news, it's super important for the couple to stick to their wishes as the moment of delivery draws nearer and nearer. And while the couple can expect for things to get a little chaotic, their birth plan will make sure that Kate and Will are on the same page as their doctors and nurses.
So, what can we expect their birth plan to look like?
First things first, it will make clear their desires about issues like pain meds, people involved, episiotomies and cord cutting. Their plan will document their wishes as parents (spoiler alert! Kate and Will's will most likely involve a lengthy legal agreement that keeps hospital staff from saying anything about delivery!), prepare them for hospital policies — their plan will make sure everyone involved knows what they want, how they want to do it, no further questions asked! That way, they can just focus on the pushin'.
Did you have a birth plan?
More from The Bump:
News, stories, tips and laughs for moms & dads
Remember the concept of weekends being a time for rest, relaxation, and togetherness? No? Us either. Between soccer games, playdates, dragging your kids to see the new exhibition at the local children's museum, and we need to pick up a gift for that birthday party that starts in . . . 20 minutes, juggling a busy family's weekend schedule can be more stressful than a weekday. While we know it's simply not realistic to cancel all your plans and obligations moving forward, clearing the calendar for just one weekend can be just the refresher that your family's craving. Here's why.

Any of these sound familiar?

4 steps for raising a child who doesn't feel emotionally stranded.

You just had a baby? You're a superstar! All those diapers, all that spit up, and you're makin' magic happen. But you're also likely tired - really tired - and busy (so, so busy). Taking time for yourself might seem like an indulgence but a happy mom makes for a happy baby. Here are 7 things you should definitely do to keep your sanity intact and your spirit high. <more, below>

Summertime is on, and the kids are out of school. Every mom knows that for these three months it's more important than ever to keep the kids busy. But you don't have to schedule your life away with camps, or drop a bundle on activities and games that come in a box. You can make your own fun, and even include the kids in the prep, with some simple, inexpensive DIY crafts that will keep them playing 'til the lightening bugs come out. Make your own fingerpaint, bubbles, and crayons. Create a fort-building kit and superhero capes that will kick their imaginations into overdrive. Here are 10 of our favorite kid-friendly DIY crafts to fuel your summertime fun.

Let these DIY dog bed projects be your inspiration and within a single weekend, you can construct something that really makes Rex feel like a king.

The task of finding an eco-friendly, safe-for-baby gift parents-to-be will actually use is kind of challenging. Add to that a price limit of $50, and the feat suddenly feels impossible! Fortunately, we combed the marketplace for some of the prettiest, most useful, sweetest gifts for baby and family. Many are fine on their own, while others would work well as part of a bigger basket — you know, if you wish to achieve that shower-goer hero status.

Jennifer Goodall gave birth Friday after much drama

My kids snapped a pic of me on my phone and it changed how I see myself

6-year-old has rare brain condition

He wanted to know if woman was pregnant

Did your state make the grade?