Kate Middleton's birth plan will make history in England!
Prince William will be the first royal dad in the delivery room.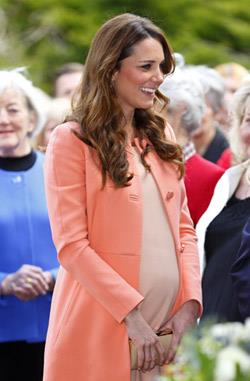 I don't know about you, but I'm already hunkering down for the arrival of the royal baby. I've planned a menu of small British heir-approved apps (in case you're curious, everything will be served "mini" and come with a British flag, we'll sip mocktails and say "Cheerio!" and "Brilliant!" as often as possible and for dessert, we'll munch on biscuits and cakes, and sip tea while chanting "God Save the Queen!"). I've invited all my prestigious friends (side note: I've defined "prestigious" as all those holding full-time jobs. I'm a commoner here, work with me people!) and even knitted a royal blanket (err..
started
to knit one, at least). Needless to say, I'm ready!
But, while Kate Middleton and Prince William's baby-on-deck continues to prepare for his (her?) summer debut, word on the street is that Kate's birth plan will make history in England — for more reasons than you think!
Aside from the fact that Kate will birth the future king or queen of England (baby will be third in line for the throne!), she and daddy-to-be will also break ground in the English way of arrival. Kate's birth will mark the first time EVER that dad will be present for the delivery. That's right — if you can even believe it — all the dads before Will were elsewhere when their babes were birthed. For starters, Prince Charles was playing polo during Diana's delivery with William and before that, Prince Philip was playing squash when Queen Elizabeth gave birth to Charles. Talk about royal no-shows!
Kate will likely give birth in the Lindo Wing of St. Mary's Hospital in London, the same locale where Diana gave birth to Prince William. It'll be a beautiful memory for the two parents, to connect both William's past with the new future they're planning together (it'll also be a beautiful way to honor his late mum) and apparently, Kate's gone so far as to consider a ton of alternative birth methods for her delivery, including water birth and Hypnobirthing. To be honest, I think Kate may deliver like the mums before her, but that's just me.
Regardless of the way Kate and Will choose to deliver — one thing is for sure: They're going to have a birth plan. Known as the "game plan" for baby's arrival, it'll serve as a check-list to make sure that both Will and Kate are totally in charge of labor, delivery and baby's arrival. Because the entire world will have their eyes glued to the news, it's super important for the couple to stick to their wishes as the moment of delivery draws nearer and nearer. And while the couple can expect for things to get a little chaotic, their birth plan will make sure that Kate and Will are on the same page as their doctors and nurses.
So, what can we expect their birth plan to look like?
First things first, it will make clear their desires about issues like pain meds, people involved, episiotomies and cord cutting. Their plan will document their wishes as parents (spoiler alert! Kate and Will's will most likely involve a lengthy legal agreement that keeps hospital staff from saying anything about delivery!), prepare them for hospital policies — their plan will make sure everyone involved knows what they want, how they want to do it, no further questions asked! That way, they can just focus on the pushin'.
Did you have a birth plan?
More from The Bump:
News, stories, tips and laughs for moms & dads
Make sure your go-to gadgets are as cute as your style, with these trendy tech finds!

Oh, how the times have changed...

Get ready to hit the mall! Check out the hottest back-to-school trends—and get ready to make a major style statement this year.

Unique, or downright strange?

This is Kevin Droniak and his grandma. They're besties, they're awesome and they're YouTube stars.

It can be difficult to entice little ones to eat anything at all, let alone to devour a healthy plate. But feeding your kids nutritious snacks after school just got way easier, thanks to these adorably clever and cute snack ideas! For more smart and fun ways to get your kids to enjoy healthful and delicious foods, try one of these amazingly artsy lunch ideas.

Through a tonsillectomy all the way to brain surgery, my mother deserves some recognition. She's my spine, my birthday shadow, my BFF, my thunder buddy, so Mommy, thank you.

My son needs me, as much as yours needs you. Sadly, my son needs me more. He needs someone to have his back, when it seems that the police, the men he'd wave to with excitement as a little boy, see him as a being worthy only of prison or death.

If you know someone who has adopted and have made some of these comments, don't fret... now you know!

"Because you shine from within," I said, touching my finger to her heart. "Not everybody sees it, but I do. I see it. And my job is to protect that light. So when people say mean comments that squelch that light, I want you to tell me. I will protect your light by listening and loving you, my brave, courageous, and unique little firefly."

Studies have shown that it helps, top education officials have recommended it, and now doctors are officially saying the same.

I may have accidentally dropped you a few times, forgotten to document your first fart, let a little pee fly and dressed you like an idiot, but I have also loved you with every piece of me, and you will never hear an apology for that.