Kate Middleton's birth plan will make history in England!
Prince William will be the first royal dad in the delivery room.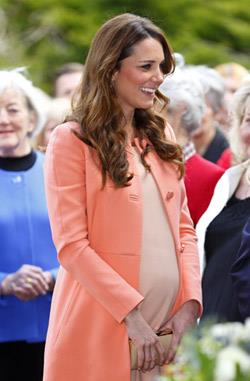 I don't know about you, but I'm already hunkering down for the arrival of the royal baby. I've planned a menu of small British heir-approved apps (in case you're curious, everything will be served "mini" and come with a British flag, we'll sip mocktails and say "Cheerio!" and "Brilliant!" as often as possible and for dessert, we'll munch on biscuits and cakes, and sip tea while chanting "God Save the Queen!"). I've invited all my prestigious friends (side note: I've defined "prestigious" as all those holding full-time jobs. I'm a commoner here, work with me people!) and even knitted a royal blanket (err..
started
to knit one, at least). Needless to say, I'm ready!
But, while Kate Middleton and Prince William's baby-on-deck continues to prepare for his (her?) summer debut, word on the street is that Kate's birth plan will make history in England — for more reasons than you think!
Aside from the fact that Kate will birth the future king or queen of England (baby will be third in line for the throne!), she and daddy-to-be will also break ground in the English way of arrival. Kate's birth will mark the first time EVER that dad will be present for the delivery. That's right — if you can even believe it — all the dads before Will were elsewhere when their babes were birthed. For starters, Prince Charles was playing polo during Diana's delivery with William and before that, Prince Philip was playing squash when Queen Elizabeth gave birth to Charles. Talk about royal no-shows!
Kate will likely give birth in the Lindo Wing of St. Mary's Hospital in London, the same locale where Diana gave birth to Prince William. It'll be a beautiful memory for the two parents, to connect both William's past with the new future they're planning together (it'll also be a beautiful way to honor his late mum) and apparently, Kate's gone so far as to consider a ton of alternative birth methods for her delivery, including water birth and Hypnobirthing. To be honest, I think Kate may deliver like the mums before her, but that's just me.
Regardless of the way Kate and Will choose to deliver — one thing is for sure: They're going to have a birth plan. Known as the "game plan" for baby's arrival, it'll serve as a check-list to make sure that both Will and Kate are totally in charge of labor, delivery and baby's arrival. Because the entire world will have their eyes glued to the news, it's super important for the couple to stick to their wishes as the moment of delivery draws nearer and nearer. And while the couple can expect for things to get a little chaotic, their birth plan will make sure that Kate and Will are on the same page as their doctors and nurses.
So, what can we expect their birth plan to look like?
First things first, it will make clear their desires about issues like pain meds, people involved, episiotomies and cord cutting. Their plan will document their wishes as parents (spoiler alert! Kate and Will's will most likely involve a lengthy legal agreement that keeps hospital staff from saying anything about delivery!), prepare them for hospital policies — their plan will make sure everyone involved knows what they want, how they want to do it, no further questions asked! That way, they can just focus on the pushin'.
Did you have a birth plan?
More from The Bump:
News, stories, tips and laughs for moms & dads
Two sociologists have found that parents who have daughters are more inclined to support the GOP and turn a cold shoulder to Democrats.

The experts at Nameberry.com predict what will be big in baby-naming next year

Famed event-planner David Stark shared tips for making chic holiday decorations using items you already have around the house. Take a look!

Sociologist Karen Z. Kramer found that over the past decade more than 550,000 men were stay-at-home fathers, which is about 3.5 percent of the married with kids population.

Ben Miller celebrates his wife's birthday and the anniversary of the day their premature son Ward Miles came home for good with a video documenting his first year.

Adopting an animal is a major commitment. Yet all too often people put more effort into researching what kind of car to get than the type of pet that would best fit their lifestyle.

'Tis the season to send out holiday greeting cards to all your friends and family. But, as our friends at Awkward Family Pet Photos know, not all holiday snapshots are the same. Some are just plain kooky — especially when pets are included. So with good tidings and great cheer, here are 10 wacky holiday animal portraits that are sure to make you laugh out loud and get you in the holiday spirit. And possibly make you think twice about dressing up the family cat this year.

King of the jungle? Nah, it's just a labradoodle!

Side-by-side images of adorable babies and their celebrity doppelgängers

Do you have a finicky furry friend on your holiday gift list this year? You're in luck! We've rounded up the coolest cat-approved products to bring you purrfect gift ideas for every kind of cat -- from the curious kitten to the most refined feline. Any one of these special gifts could make your resident kitty purr with pleasure and maybe, just maybe, like the present this year even more than the box and wrapping paper it came in!

Plus, puppy names to watch

This holiday season's hottest toy has yet to be revealed, but more often than not, the best gifts are the ones kids don't even know to ask for. So this year, surprise your kids with unique presents under the tree, and watch as their eyes light up when they unwrap them. From space-age sand to a DIY race track, these out-of-the-box gift ideas will provide some serious shopping inspiration. Click through the slideshow above for all our favorite picks.